BRIGHT SUNS! Welcome to blog three of our countdown to 
Star Wars: Galaxy's Edge
, opening August 29th at
Disney's Hollywood Studios®
! During our visit to the preview event on August 17th, we were lucky enough to find characters throughout our journey through 
Batuu
. Today, we're going to show you WHO we saw and WHERE you may spot some of your favorite's from the movies, here in real life! (Haven't read our last blog yet? Make sure you check that out 
here
! Hint: Blue and Green Milk and a galactic bar, anyone?)
The Stormtroopers
Credit: Nicolette / Magical Vacation Homes Roaming around 
Batuu
, you may bump into a
Stormtrooper
, or two, or five. During our visit, we noticed them throughout the land both walking and on rooftops. You have to make sure to look everywhere because they pop up from every nook and cranny. And don't be alarmed if they question you about your allegiance, just, make sure you have an answer for them.
Chewbacca
Credit: Nicolette / Magical Vacation Homes Well, it DEFINITELY wouldn't be 
Batuu
if you didn't see
Chewbacca
around, and we saw a lot of him. Keep an eye out when you enter
Batuu
because you may find him most often at the entrance area. We noticed him around the
Rebel Outpost
interacting with travelers while checking on his landed ship.
Kylo Ren
Credit: Nicolette / Magical Vacation Homes
Kylo Ren
has arrived in 
Batuu 
in search of the Resistance. He's entirely intimidating but we were in awe watching him walk with the
Stormtroopers
. When we spotted him, he was walking through the
Black Spire Outpost
just past
Savi's Workshop
.
Rey
Famous for being in Episodes VII through IX, Rey makes many appearances throughout 
Star Wars: Galaxy's Edge
. One of our Magical members noticed her roaming around just as you enter 
Batuu
, probably planning her recruitment efforts for the Resistance.
Vi Moradi
Now we didn't spot this character until the sun was set, but 
Vi Moradi
 is one you'll want to keep an eye out for. A newer character to most, 
Vi Moradi
 was introduced to us in 2017 in the novel, 
Star Wars:
 Phasma, and can now be found in 
Star Wars: Galaxy's Edge
. We were caught by surprise as she found 
us
 instead of the other way around. Usually, when wanting to meet characters you will go 
to
 them. This time around, we were unexpectedly approached, which was a one-of-a-kind experience. When 
Vi Moradi
 found us, she was debating if we were those she could trust as she hid from the 
Stormtroopers
, just before darting off. By the looks of it, you may bump into her just about anywhere as she keeps her guard up and presence hidden (or if you have our experience, she may just bump into you).
Til The Spire!
Ready to spot these characters? 
Get your Disney Theme Park tickets
 and get ready for 
Star Wars: Galaxy's Edge
! With exactly one week away until the grand opening, we're thrilled for you all to experience what we witnessed in 
Batuu
. There's still time to 
book your stay with Magical Vacation Homes
. We have plenty of villas that are perfect for any party on your future galactic getaway. We'll be back tomorrow with our exciting experience on 
Millennium Falcon: Smugglers Run
. Until next time, Til the Spire, and have a Magical day!
*As to Disney artwork, logos, and properties: ©Disney*
BRIGHT SUNS! It's blog two on our countdown to 
Star Wars: Galaxy's Edge
. This past weekend we were lucky enough to attend an exclusive preview of
Batuu
. We learned SO much about what this park extension will offer!
Oga's Cantina
and the
Milk Stand
were definite stand-outs! So we're here today to tell you what we saw, tasted, and loved about these two VERY important places! (Haven't read the first blog yet? Make sure you check that out 
here
! Hint: We talked about building some really cool stuff!)
Oga's Cantina
We've got to admit, seeing
Oga's Cantina
in person felt entirely surreal. We've read about it online and browsed through many photos of it for sure. But to actually stand there, ready to walk in, we felt like we won the grand prize.
Oga's Cantina
is the "It" spot for bounty hunters, smugglers, and others (now, including you). Take a moment to break away from the walkways of
Batuu
and refuel on an assortment of food and drink. Gather around with others at the bar or in your own private booth before heading out to take on your next journey through the galaxy.
When we walked in, we were greeted by dim lighting, upbeat music, and a very lighthearted atmosphere. For those who are always in search of the next great bar, this hangout spot takes the cake.
Unusual(ly Good) Drinks and Eats
At the time of our preview, we were not able to purchase anything. However, that didn't stop us from sneaking a peek at the menus. We took a look at what galactic offerings will be featured on the grand opening and we think you're all going to like the selection.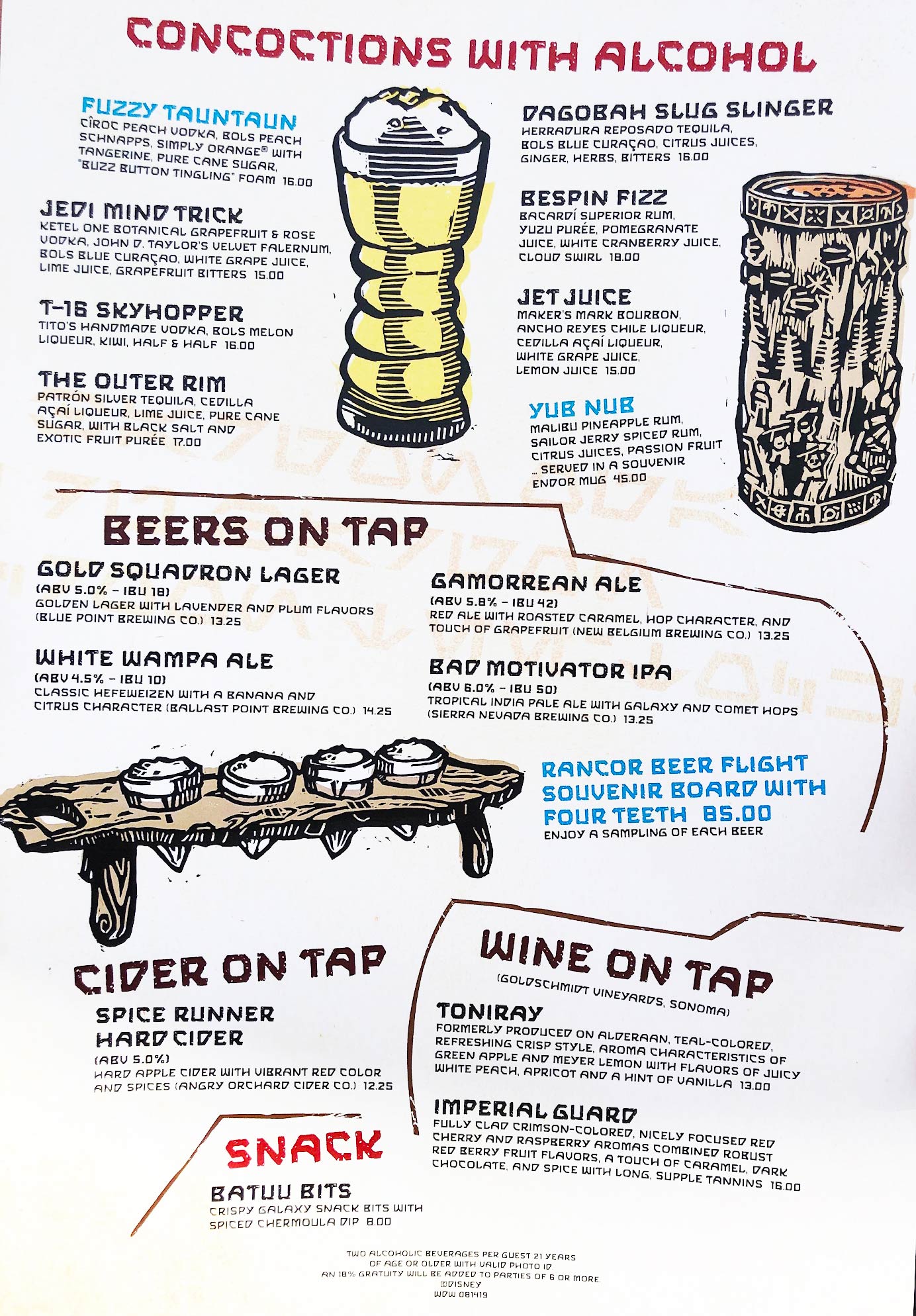 As you can see, there's really something for everyone. From hot to cold beverages, to even non-alcoholic drinks and snacks, everyone in your party will leave
Oga's Cantina
satisfied. Pricing per item varies, with the low-end looking at $4 for a double espresso, up to $85 for the
Rancor Beer Flight
. But regardless of pricing, each concoction on the menu looks very promising. And, food for thought, we did have the opportunity to sample the
Jedi Mind Trick
. This drink sells at $16 and is created with grapefruit & rose vodka, velvet falernum bols blue curacao, white grape and lime juice, and grapefruit bitters. We found it to be the PERFECT combination and a definite buy when you decide to visit.
Get ready for your intergalactic travel at
Oga's Cantina
! Reservations are now available, so go ahead and
reserve your spot
at this must-visit bar.
The Milk Stand 
How could we talk about one drink location without diving into the
Milk Stand
? The go-to beverage for all of
Batuu 
(and
Luke Skywalker
) has to be the blue and green milk (and it's all vegan). We tried both of these delicious options and were very surprised by the flavor!
With the consistency of an icy smoothie (PERFECT for those hot, Florida days), the blue milk's (left) rice and coconut milk-based drink is sweet and fruity. The green milk (right) tasted like a cup full of springtime with a dash of citrus. If we HAD to pick, we'd go blue, but for citrus, fans should definitely aim for green! It's the summer beverage we've been needing!
If you're over 21, try either milk with a dash of rum (for blue) or tequila (for green). Non-alcoholic milk runs at $7.99 and $14 with alcohol. And if you're one to collect souvenir items, you can ask for your (non-alcoholic) milk of choice in the
Bubo Wampa Family Farms Sipper
! These can be purchased for $24.99 at the
Milk Stand
.
Til The Spire…
So, what are you waiting for?
Star Wars
: Galaxy's Edge may not open until August 29th, however, it's never too early to
purchase your Disney Theme Park tickets
! Get them early and get prepared to travel to
Batuu
for an out of this world galactic journey. And after your journey back from
Batuu
, look no further than
Magical Vacation Homes
for your magical galaxy villa. Our homes are perfect for the Orlando vacation and close by to all things
Star Wars
. We'll see you tomorrow when we talk about
Chewbacca
,
Stormtroopers
and other galactic friends. Until next time, Til the Spire, and have a Magical day!
*As to Disney artwork, logos, and properties: ©Disney*
*
Oga's Cantina may require a reservation. For Milk Stand and Oga's Cantina, prices subject to change. Food and drinks subject to availability.
We can all hear the beep-beep-boop sounds in our heads when we think of the infamous 
BB-8
. But, what if those sounds were even closer? What if you could choose the beeps and the boops and build it from the bottom up? Looks like the 
Droid Depot
 is here to fulfill your wildest dreams of droid-building and imaginative creation. BRIGHT SUNS! We are VERY excited to share with you the first blog in our countdown to 
Star Wars: Galaxy's Edge
, opening August 29th at 
Disney's Hollywood Studios
®. And we know, you're probably wondering "The first blog? How much could there be to talk about?" A lot, fellow readers. This remarkable land has many sights to see and MANY things to do, just like our first topic of many, the 
Droid Depot
!
Entering the Droid Depot
Droid parts, ASSEMBLE! Journey into 
Black Spire Outpost
 where you will find the assembly location. Here, you can immerse yourself into the world of many kinds of droids, droid parts, droid accessories, and just about anything droid-related. From the moment you walk in, make sure you watch your step because there may be a fellow droid making his way around the depot! When we entered, we were greeted by this little guy and we couldn't get enough of him.
Building Your Droid
If you're looking to create your own droid from scratch, this conveyor belt will be at your service! For $99.99, you can experience what it's like to build your newest robotic friend. This includes the droid build, carrier box, and Bluetooth® technology. Carry your droid around the park to watch it interact with elements in Batuu!* When deciding to create your droid, you are presented with two options being either the 
R-Series Astromech
or the 
BB-Series Astromech
. If we personally had to pick, it would definitely be the 
BB-Series
with the Imperial Body and Imperial Dome. But, that's the magic of creating your own! You can choose from 7 different body types and 10 different domes. And, if you're sticking to the R-Series, yours will come with legs!
Each series comes in a variety of colors which you will find on the conveyor belt (colors subject to availability). Once you choose your parts from the belt, now it's time to build! Walk up to the building station and be greeted by one of the cast members of Batuu, where you will then begin the assembly process of your droid!
It's a fairly simple step-by-step process as you can see with the instruction above, and if you ever need help, someone is always close by to assist! After putting your droid together, you're finally ready to bring it to life.
When you're ready to activate, you will place your droid into the activation station either to the left or right of your instruction board (in our case from this photo, it is the left). It only takes a moment to watch each level light up and entirely activate your very own droid. Your new friend is complete and ready to take home!
Droid Sounds and Accessories
However, let's say you're one to accessorize. After you finish your droid, it's time to take a look around the walls to add some touches to your creation. One of the MOST essential add-ons in our opinion is the personality chips. Located by the conveyor belts, these chips are what will give your droid a bit of character and those beep-boop's we talked about earlier! We caught a quick clip of what each sound effect sounds like based on color and how much personality it can add to your droid.
And there you have it! Droid, complete. Experience, worth every penny. We loved the atmosphere and the concept behind creating your own droid, and we definitely plan on returning in the future to create our own. But for now, we will reminisce on what we saw and what we learned. Now for you all, it's time to prepare for your future build. How you will make the droid your own? We can't wait for everyone to experience this journey!
Til The Spire!
That's all (for now) for day 1 of our 
Star Wars
: Galaxy's Edge countdown! Keep an eye out as tomorrow (August 21), we will give you the inside scoop on our visit to 
Oga's Cantina
 and the 
Milk Stand
.
Star Wars
: Galaxy's Edge will make its long-awaited grand opening on August 29th, 2019 in 
Disney's Hollywood Studios
®. Make sure you're prepared for your galactic getaway to Batuu by
 booking your galactic
stay and 
purchasing your Disney Theme Park tickets
 today! Until tomorrow, Til the Spire, and have a Magical day!
-CHECK OUT THE NEXT BLOG, WE VISIT OGA'S CANTINA AND TASTE BLUE AND GREEN MILK, HERE–
*
Experience may require a reservation. Droid parts and accessories subject to availability.  Prices subject to change. View more information and FAQ here