The vacation rental industry is decidedly on the rise and owning a
Reunion Resort vacation home
in Orlando comes with a list of benefits that's just as dynamic and exciting! The following are just a few of the many reasons why owning a vacation home here is well worth your while.
Incredible Access to Premier Golf Courses
For many vacation homeowners and travelers alike, a trip anywhere wouldn't be the same without tee times included. When getaway sights are set on Orlando, Florida, it's no exception to the rule! Owning a vacation home in Reunion Resort gives homeowners and their guests incredible access to not one, but three signature golf courses right on-site. Each course offers up a unique experience on the greens, but the thread that connects them all is that they're designed by golf greats. Pick and choose from a golf experience designed by Jack Nicklaus, Arnold Palmer, and Tom Watson all in one place at Reunion Resort.
Book Our Reunion Resort Rentals Here!
Exciting Waterparks to Enjoy
A trip to Orlando is always a great chance for travelers to enjoy time poolside. When you own a Reunion Resort vacation home, you can feel free to market not only the resort's 7 community pools but their 5-acre water park to those who are looking to enjoy a stay! Far from an average pool experience, this water park provides guests with access to water slides, shaded cabanas, lawn games, a lazy river, and more!
Savory Restaurant Options Designed to Delight the Tastebuds
Convenience is always key to an exceptional guest experience. While Orlando is packed with delicious eateries for travelers to try, Reunion Resort vacation homeowners can seamlessly promote the benefit of 7 on-site dining options for guests as well. The resort is home to a plethora of savory destinations including the 7593 Chophouse, a rooftop bar and restaurant called Eleven, the Watson & Palmer Clubhouse, a sushi bar, and The Cove Bar & Grille just to name a few. No matter what place guests pick, they're in for a delicious experience every day of their stay.
Prime Proximity to Area Fun
Reunion Resort sits within easy reach of some of Orlando's most exciting attractions. Among them, Walt Disney World®  is included which tops most traveler lists in Orlando. For Reunion Resort vacation homeowners, these added services in combination with proximity to great attractions ensure a high guest demand year-round.  This makes it simple to not only set profitable goals for a rental but know they can be reached!
Exciting Added Reunion Resort Vacation Home Amenities
Creating a one-of-a-kind stay is the ticket to having guests return to a vacation rental time and again. It's also important when it comes to establishing referrals. Vacation homeowners who set their sights on Reunion Resort will find it simple to guarantee a great experience for guests when so many added amenities are within reach! Reunion Resort offers visitors access to exciting extras like tennis courts and pickleball courts too. Both courts can be booked for private or group lessons upon request. Additionally, resort guests will have access to a footgolf course which is fun for the entire family. Mini-golf is also available on-site while the resort fitness center is open to guests looking to stay on track with their health goals while traveling to Florida. There are two playgrounds for little ones looking to burn off extra energy during a stay and bocce ball for those looking to enjoy leisurely lawn game time with those they love most. From golf cart rentals and bike rentals to a comprehensive gift shop and transportation services, Reunion Resort makes it simple for guests to customize their stay down to the very details.
Learn More About Reunion Resort Amenities Here!
Safety Standards That Offer Peace of Mind
As a vacation homeowner, it's imperative that you can provide guests with a safe stay complete with the peace of mind they deserve. Those who own vacation homes in Reunion Resort will find top-notch security procedures already in place. From manned gates to high-end security technology throughout the resort, guests and homeowners alike can rest easy knowing they're well cared for here.
Enjoy a Worry-free Investment When You Partner with Magical Vacation Homes
Investing in a vacation home is a significant choice, but when you partner with Magical Vacation Homes to manage your
Reunion Resort
rental, you can enjoy the journey worry-free. Our team provides turn-key solutions that make the rental ownership process exciting and profitable alike. We're a local team of experts who understands the market and can provide homeowners with dynamic rates and pricing, guest support, top-notch marketing channels, and help with everything from reservations to property care.
Reach Out Today
When you're ready to take your vacation rental business to the next level of excellence within Reunion Resort, Magical Vacation Homes is here to help.
Get in touch today
to learn more!Travelers from across the map looking for a place to relax, restore the senses and unwind in style will find everything they're looking for and more in an Orlando-bound getaway. This central Florida oasis of fun and entertainment is a wonderful place to soak up the sunshine, make the most of a vibrant downtown scene or spend time embracing the magic to be found at all of the inviting Disney theme parks the city hosts as well. Whether you're traveling with the kids or still a kid at heart, Orlando is a city that has something new and wonderful to be discovered with each and every trip this way. That said, knowing you've booked the absolute best in terms of accommodations to meet the moment can make all the difference in your experience. When you're looking for a home away from home in Orlando that not only meets your travel needs but keeps you close to the places you want to explore and exceeds style and design expectations as well, there's no place better than Reunion Resort.
Check out our Villas North at Reunion Here!
In fact, it's fair to say that booking your stay at
Reunion Resort in Orlando
means immersing yourself in the ultimate experience in luxury, comfort, convenience, and style available in Orlando! Guests who make Reunion Resort their home away from home will find that they are never far from Disney theme park fun, but can also enjoy a world of wonder, fun, and restorative moments right on-site as well. Here, world-class resort amenities meet above and beyond getaway realities. Guests at Reunion Resort can seamlessly access services, activities, and extras that make them feel like royalty from the moment they arrive. No matter when you arrive in Orlando or how many others you're traveling with, a stay in Reunion Resort promises to be a customized experience from start to finish.
Upscale Vacation Homes with Florida Flair
While the entirety of Reunion Resort is endlessly appealing to guests in terms of amenities, activities, and on-site fun, visitors will find that every individual vacation rental on-site is a dream come true too! Offering up impeccable space, style, luxury, and comfort, it's easy to settle into the home away from home you'll find in Orlando when you choose Reunion Resort. You might say these properties are fit for a Disney prince or princess in terms of upscale furnishings and world-class design elements. Guests who book a stay will find that many of Reunion Resort's properties pair sprawling open living floorplans with amazing views to be enjoyed through large floor-to-ceiling windows throughout. The vast majority of Reunion Resort rentals offer guests vaulted ceilings to further enhance the sense of overall living space as well as a collection of tasteful and stylish furnishings to savor every day of their stay. From plush sofas and decorative loveseats to eye-catching area rugs, wall art, light fixtures and more, everything you need is right here! Many of these properties perfectly balance home comforts with stunning Florida-inspired color palettes, design, interior décor and beyond to create an aesthetic experience that's unforgettable. While these properties can certainly be customized according to needs like number of bedrooms, size of living space, access to Wi-Fi and much more, there are also options at Reunion Resort to take the excellence factor of your stay to the next level. Customize your experience here by booking a Reunion Resort rental that includes a full game room, comes with whimsical and themed bedrooms, enjoys extraordinary outdoor entertainment areas and kitchens, or offers up world-class technology in the way of theater rooms, surround sound systems and beyond. Hoping to make time for some home-cooked meals during your stay? Guests can easily book a property that includes a chef-inspired kitchen to enjoy.
Check out our Reunion Resort Non-Membership Rentals Here!
Reunion Resort Community Features to Enhance the Fun
The impressive scope of options and luxury found within each Reunion Resort home makes it easy for guests to cozy up and indulge in the stylish accommodations they've found. However, a stay here comes with much more to explore beyond your private residence! Reunion Resort is home to a vast number of water parks and pools for visitors to enjoy when the Orlando temperatures are on the rise. On-site resort dining options range from casual eateries to upscale dining establishments designed to impress the taste buds. Those who can't imagine a getaway without time on the golf course will enjoy booking tee times on the greens that are found at Reunion Resort. Fitness centers and spa services are readily available on-site as well when a restorative moment would go a long way. Reunion Resort services even extend to shuttle transportation, concierge services and in-home chef options when you're looking to indulge but want experts to lead the way in the kitchen. At Reunion Resort, anything is possible and if guests can dream it, this resort experience can make it happen!
Check out our Reunion Resort Platinum Membership Homes Here!
Book Your Getaway to Orlando Today
When you're ready to embrace the very best of Orlando living, a stay at Reunion Resort is exactly what you need.
Reach out to Magical Vacation Homes
today to learn more about booking a stay the next time your travel plans bring you this direction. Your magical adventure awaits!When amazing weather, access to magical fun, and time spent exploring the best of nature, wildlife, and amusement parks alike is just your style—there's no better vacation destination on the map for you than Orlando, Florida. This appealing locale is loved by Disney enthusiasts from across the globe with good reason but also proves to be an amazing place for those excited to enjoy a vibrant downtown scene, incredible nature tours, and opportunities to golf and dine your way through a stay as well. While a robust Orlando-bound itinerary is sure to thrill, guests who know they have a beautiful and luxurious home away from home waiting to be enjoyed during their stay enjoy even more satisfaction from their booking. At Magical Vacation Homes, we know how important the right accommodations are when it's time to make the most of a well-earned getaway. We're proud to provide Orlando travelers with access to a portfolio of property options that not only provide the essentials but go above and beyond in the way of luxury, style, and Orlando-specific details too! When variety is a priority, our rental property options are a perfect match. We offer visitors access to rentals that range from ultra-modern abodes where guests can indulge in luxury to whimsical stays near the Disney Parks that are colorful, captivating, and built to inspire. While the rentals themselves are enjoyable, guests who book with us are often thrilled to learn that they'll have seamless access to Reunion Resort amenities as well during their stay. From pools and splash pads to golf courses, spas and beyond, Reunion Resort is packed with potential for fun. Among the many activities to enjoy,
Reunion Resort tennis
, pickleball, and bocce ball options tend to be a fan-favorite across the board with good reason.
Check out our Reunion Resort Non-Membership Rentals Here!
Enjoy Time on the Reunion Resort Tennis Court
You don't have to be a tennis pro to enjoy time on the Reunion Resort tennis courts. Of course, if you do happen to be an expert with a racket, you'll find these courts to be a testament to quality and fun! No matter what your skill level may be, courts can be booked in advance for 90-minute sessions and check-in is required at the Tennis Centre Pro Shop. Here, guests will enjoy access to racquets and tennis balls as well as on-the-court apparel if needed. The shop is conveniently open Monday through Friday between 8:00 am and 4:00 pm. Even if you've booked an evening session, be sure to check in at the shop prior to 4:00 pm closing. If you're planning to play on the weekend, the shop is open between 8:00 am and 1:00 pm. All reservations for both sessions and lessons can be made by calling 407-662-1630. Beginners and those looking for a refresher course will want to consider signing up for the daily drill clinic on-site that runs from 8:30 am until 10:00 am. Co-ed clinics are also available for those who play at a level 3.0.
Check out our Reunion Resort Platinum Membership Homes Here!
Bocce Ball and Pickleball Fun
When you're not testing out your tennis skills, those who book a stay with Magical Vacation Homes can also enjoy access to Reunion Resort bocce ball and pickleball courts! Those who opt for bocce ball will be participating in an activity that's long been considered an Italian lawn bowling classic. Bring 2 to 4 players for a game when you head to the court that's located at The Cove at Seven Eagles. Pickleball proves just as enjoyable for those willing to give it a try. This sport is a unique combination of badminton, tennis, and ping pong. It's played on a full-sized court which can be reserved for 30-minute time slots in advance any time of day between 7:00 am and 10:00 pm. Pickleballs and racquets can be rented on-site and those looking for some instruction will benefit from time spent in the daily drill clinics run between 10:00 am and 11:00 am. Those who prefer private lessons are encouraged to book those as well! Hoping to elevate your experience? Reunion Resort is proud to host high-intensity clinics on Thursdays between 6:00 pm and 7:00 pm. While you're certain to work up a sweat, the fact that the clinic includes high-energy music from start to finish amps up the fun factor as well.
Book One of our Orlando Resort Rentals Here!
Book Your Getaway Today
There's never been a better time to book an amazing getaway to beautiful Orlando, Florida. There's also no reason to wait when you're ready to stop planning and start putting the details of your vacation into place! When you know you'll want incredible accommodations to match the fun, the team at Magical Vacation Homes is here to help every step of the way. We'll handle all of those vacation rental details so that when you arrive, the only thing left to do is focus on the fun that you're going to have.
Reach out today
to learn more about our many exciting options!Life gets busy, and it's simply a fact that everyone needs a great getaway from time to time. When you're looking for an inviting and scenic destination to enjoy that pairs exquisite options for fun with the warm weather to match, heading towards Orlando and Kissimmee promises to be just the right choice! While some come for sensational shopping options and delicious dining, others are decidedly drawn in this direction in the name of Disney magic. Whatever the reason may be, finding accommodations that are luxurious, comfortable, and keep you close to the fun is a must when the goal is to create an unforgettable getaway. That's where the team at Magical Vacation Homes steps in. We proudly provide visitors from near and far with access to superior standard vacation rentals that are sure to elevate their Florida fun to the next level. While our portfolio of property options is designed to impress, proximity to iconic landmarks and our premier partnerships sets us apart from the rest as well. If you happen to be a golf enthusiast who can't imagine any vacation without time on the greens, you'll be thrilled to learn that Magical Vacation Homes enjoys a long-standing partnership with
Reunion Resort
and the world-class golf courses it hosts!
Check out our Reunion Resort Rentals Here!
Golf Courses That Are a Step Above the Rest
It's no secret that Reunion Resort's golf courses are recognized across the golf community as some of the best to be found in all of Florida! These signature golf courses are a great place to polish your clubs and put your skills to the test across 54 holes. Each course is sure to test even the most seasoned golf enthusiasts. In total,
Reunion Resort
hosts three golf courses. Each was designed by an iconic name in the golf world, giving golfers even more reason to make their way in this direction and enjoy a round or two. The Legacy Course was designed by Arnold Palmer, the Independence Course was crafted by Tom Watson and the Tradition Course came from the mind of Jack Nicklaus.
Linger on the Legacy Course
If you're the type of golfer that loves a course that pairs beauty and challenge, then Arnold Palmer's Legacy Course is certainly for you. The course covers 18 holes and comes complete with plenty of water features and woodlands across the dynamic terrain. This course is particularly popular for its wide fairways and grass-sloped bunkers. While it asks golfers to be on the top of their game, it's also endlessly inspiring!
Take Time to Enjoy the Independence Course While You're in Town
Those who make their way to the Tom Watson Independence Course will find themselves on the very first course the legend ever designed in Florida! This automatically makes your round of golf a part of history and the legacy of excellence every golfer looks to be a part of. The Independence Course is designed with the exceptional shot maker in mind and promises to be a challenge that's also plenty of fun!
Check out our Reunion Resort Platinum Rentals Here!
Tackle the Tradition Course
Design skills and challenging terrain are paired with beautiful surroundings to create a Tradition Course experience that's exactly in the spirit of Jack Nicklaus's approach to golf. A round here is always an enjoyable moment and one that often showcases a golfer's greatest strengths on the course. If time on the Tradition Course offers up some areas of improvement, there's a nearby driving range with your name on it! Head on over and take time to practice your swing in Florida style.
Planning Your Round of Golf at Reunion Resort
The opportunity to enjoy a round of golf at this world-class resort is one that shouldn't be missed. Whether you're an avid golfer or just getting into the sport, it's an experience that's sure to be a highlight of your Florida stay. Booking a round of golf here does involve green fees, so it's important to call the golf pro shop on-site ahead of time to check in on specifics. It's possible to reserve a tee time two weeks in advance if scheduling allows for availability. Once your tee time is booked, the resort offers up the option of reserving a convenient golf car to carry equipment and make the most of the vast terrain in style. Need a golf cart with windshield and headlights included? They have that too. Golf carts can even be booked in princess and pirate themes if your round includes the company of little ones excited to be in the Orlando and Kissimmee area! Golf cart rentals for 4 people here run $50 a day and bump up to $95 a day for a 6-person car rental. Do keep in mind that drivers need to be at least 16 years old and have a valid driver's license to operate the cart.
Click Here to Book our Luxury Rentals!
Book Your Adventure Today
Your Orlando adventure is calling, so what are you waiting for?
Reach out
to Magical Vacation Homes today to get your accommodations in place and make the most of the fun whether your plans include Disney, golf, or the best of it all!Our Signature Golden Villa is a 6-bedroom, 5.5-bathroom home with room for up to 12 guests in its sprawling 3,419 square feet. From the moment you step in you'll feel as if you've stepped into your home away from home while being close to all Orlando fun and attractions you desire.
Book the Property Here!
Orlando Reunion Resort Excitement
Guest looking for a fun and exciting yet relaxing stay in Orlando will find all they desire in Signature Golden Villa. Stylish furnishings and finishes, and even touches of fun for kids and adults alike, can be found at every turn in both the bedrooms and living spaces. Signature Golden Villa is just moments away from everything you want to see and do. Enjoy exciting activities, bars, shops, and countless other attractions to keep you busy during your stay.
Exterior Features
You'll feel rest and relaxation from the moment you arrive at Signature Golden Villa
Reunion Resort rental
. A cobblestone driveway leads you to your paradise and continues up the walk to the front door. The contemporary design is simple yet eye-pleasing. The neutral colors of white, tan, and brown are showcased by different building materials such as brick and stone. The flat roof lines of the home stand out against the pitched roofs of neighboring homes. Mature landscaping, including palm trees and shrubs line the sharp angles of the home and provide a brilliant show of greenery all year long. Around the back you will find your own private oasis. A covered patio plays host to a BBQ grill, bar with sink and mini-fridge, and outdoor dining for eight. Spread out on a poolside lounge chair, splash around in the private pool, try to score the most points against your friends in a game of basketball with the poolside hoop, or relax tired muscles in the spillover spa. Kids and adults alike with enjoy the oversize four-in-a-row game! In the evening you can watch the sun set over the lake while you gather around the fire pit. Occupants of the master bedroom will enjoy morning coffee or watching the sun set from a private balcony.
Check out our Rental Homes Luxury Collection Here!
Interior Amenities
Step into luxury. An understated entry way leads you to the great room. Splashes of color are highlighted against neutral gray and white and throughout the space. Sink into a comfortable chair or on the couch to relax and talk with companions, read, or watch something on the wall-mounted flat-screen TV. The chef of the group will love preparing home-cooked meals in the fully equipped kitchen. Stainless steel appliances stand out against white cabinetry and black granite counters. There is plenty of prep space on the counters as well as the expansive central island. A full-size sink and ample counter space make meal prep a breeze, and the bar seating for four means extra hands preparing meals, or a place to enjoy breakfast or a snack. For group meals, take a seat at the elegant dining table that seats eight. No matter what you're doing, there is plenty of natural light pouring in from the large windows and glass doors that offer access to the outdoor living space. Challenge your housemates to a game in the arcade/theater room or pop some popcorn and grab your movie snacks and settle in for the show on the large wall-mounted flat-screen TV. If everyone else has grabbed the theater-style seating, control the snacks at the bar and sit at one of four bar stools. For more entertainment, head upstairs to the loft area where you'll find comfortable seating and another wall-mounted flat-screen TV, as well as a challenging foosball table. When playtime is over or you need a refreshing nap before another adventure, relax and unwind in a private bedroom. All bedrooms feature a wall-mounted flat-screen TV to watch whatever movie or show you're interested in. The master boasts wood floors in the gray tone found in the living spaces of the upper floor. Sink into a king-size bed and drift off to dreamland or watch a show on the wall-mounted flat-screen TV. Getting ready for the day is a pleasure in the large, tiled shower stall, and the double-sink vanity has plenty of storage for your toiletries and personal items. Relax after a day of fun in the garden tub. The second bedroom continues features a king bed and en suite ¾ bath with shower stall and single-sink vanity. The third bedroom features tile flooring in gray that runs into the en suite bath. Curl up in soft sheets on a king-size bed or pamper yourself in the spa-like bathroom. A large frameless shower features two rain heads with separate controls. An expansive vanity with granite counter top boasts two sinks and plenty of storage for your personal items. The fourth bedroom features a single bed and a twin bed of matching frames in olive green. A matching chest of drawers offers plenty of storage space for your things. The gray wood floors seen in other rooms are repeated here. The fifth bedroom features a detailed mural of Frozen characters and is perfect for fans of the movies. Gray wood floors host a set of twin-over-full bunks features a roll-out trundle for extra space on the lower bunk. A chest of drawers lends storage for everything you brought with you as well as the souvenirs you pick up during your adventures. These two bedrooms share a ¾ hall bath with single-sink vanity and shower stall. The Star Wars-themed bunk room includes two sets of twin-over-twin bunks. The entire room is decorated in the theme, including a painted ceiling, wall murals, and a futuristic chandelier. Inside each bunk the fun continues with more wall art as well as fun sheets and comforters. The top bunk of one set even has its own tube slide in addition to a ladder for getting in and out of bed. This is the only bedroom with carpet, to give the kiddos a soft place to land out of the slide. Occupants of this room can watch Star Wars or another show on the wall-mounted flat-screen TV. This room has an en suite bath with shower stall and double-sink vanity. Everyone truly has their own space!
Browse our Reunion Resort Rental Homes Here!
Contact Us
No matter when or how long you plan to stay in Orlando, Signature Golden Villa
Reunion Resort rental
will give you all the fun, rest, relaxation, and excitement you're looking for.
Book your stay
in this fantastic home today!The most magical time of the year has finally arrived. And though this year has been one of uncertainty, one thing you can always count on is our special holiday giveaways. We've partnered with our good friends at
Inside the Magic
to give you the opportunity to win a
7-night stay at Orlando's Designed For Vacation | RVH_320M
as part of Inside the Magic's
25 Days of Magic
. Those interested may enter from now until December 24th at 8 p.m. EST for a 2021 vacation from the available dates: 1/06/21 – 02/28/21 04/12/21 – 05/27/21 08/20/21 – 11/21/21 06/1/21 – 06/9/21 08/20/21 – 09/02/21 09/07/21 – 11/19/21 11/29/21 – 12/18/21
Browse our Condo Rentals Here!
Staying at Designed for Vacation | RVH_320M
Designed for Vacation is our 5-bedroom, 5.5-bathroom villa boasting 3,300 sq. ft. of excitement. From a galaxy-inspired theater and superhero bedroom to a private pool and classic game room, this vacation rental never fails to entertain. This home also features additional kids' rooms like the Ice Princess-inspired bedroom, plenty of bedroom suites for the adults, a spacious living, kitchen, and dining area, as well as an outdoor summer kitchen for backyard grilling. Stay with up to 14 guests in the heart of Reunion Resort and enjoy the plethora of amenities including access to three championship golf courses, Reunion Resort Water Park, multiple tennis courts, and more. This home has truly been designed for the ultimate vacation experience, all while maintaining the ultimate privacy for your family.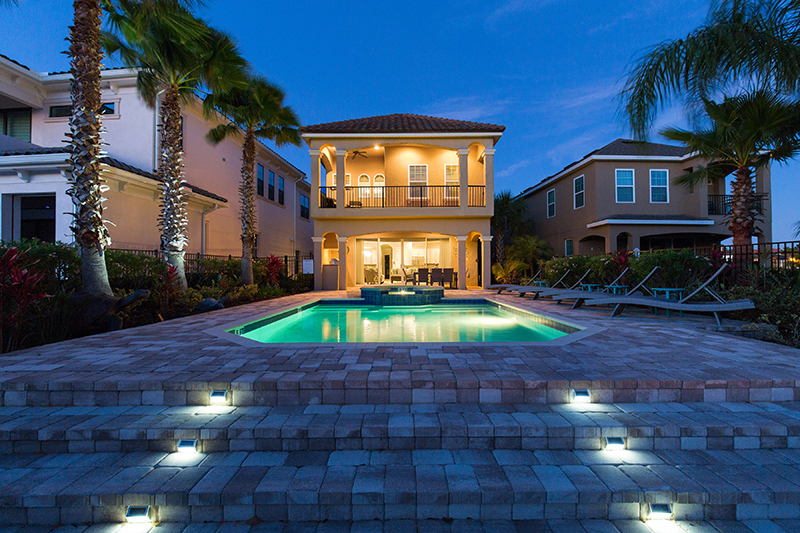 While you're waiting for the giveaway to be drawn, make sure to check out our additional photos and a full description of
Designed for Vacation | RVH_320M
.
Check out our Homes with a Pool Here!
Giving Back to Our Community
As mentioned by Inside the Magic,
A driving force behind our 25 Days of Magic promotion is to bring awareness to the various Children's Hospitals that make up Children's Miracle Network.
Today, December 1st marks the annual,
Giving Tuesday
. Every 1st Tuesday after Thanksgiving, individuals across the United States share their kindness and generosity by giving back to others, including many national charities. By entering this giveaway, not only are you potentially winning a 2021 Orlando vacation, but you're also giving back to your community. For every
25 Days of Magic
entry, $1 is donated to the
Children's Miracle Network
(up to $30,000) with the goal of providing kids a fighting chance at a healthy life. – To learn more about the giveaway and to enter, please visit Inside the Magic's
Day 24 giveaway article
and check out the rest of the giveaways
here
. Until the next blog post, have a magical merry day!
Book one of our Vacation Rentals Here!
Reunion Resort has hit yet another milestone. Condé Nast Traveler has recognized Kissimmee, Florida's largest resort community as one of the "
Top 30 Resorts in Florida
". Part of its
Readers' Choice Awards 2020
, Condé Nast is known for highlighting top global vacation destinations, making this accomplishment paramount for Reunion.
On the list of 30 spectacular resorts, Reunion Resort snagged the 18th spot with a score of 96.21/100.
"Groups of all sizes will feel at home in a condominium, private villa, or vacation home at the Reunion Resort with onsite facilities to accommodate family gatherings and business meetings. With an "amazing water park," three signature golf courses, "excellent, 5-star restaurants," and an "all-around beautiful development," there's plenty for guests of all ages to enjoy." – Condé Nast Traveler
Browse our Reunion Resort Rentals Here!
Reunion Resort Has it All…
As a property management company with over 200 villas at Reunion, we are thrilled over the resort's latest achievement. Reunion's vast variety of villas offer unique rooms ranging from in-home theaters to riveting arcades. And with custom-built bedrooms inspired by everyone's favorite characters, you'll feel immersed in the entire Orlando-area experience. With most properties featuring their own private pool and spacious layouts, Reunion has become overwhelmingly attractive amid COVID-19. This world-class location gives guests the opportunity to vacation, physical distancing style, adding to the comfort of this premier resort.
Beyond its custom-built estates and luxury condos, this magnificent community continues to one-up itself with seemingly endless new amenities. The AAA Four-Diamond rated destination is home to three award-winning golf courses, a water park, 10 resort-style pools, and more. With new additions like the
Reunion Resort Miniature Golf course
and a
water park expansion in the works
, it's no wonder this destination continues to drive in guests to our sunny city of Kissimmee.
Book our Vacation Homes with Pools Here!
Whether you're a Florida local or traveling to the state, Reunion Resort is a must-add to your destination bucket list. For golfers, families, retreats, and everything in between, take a moment to browse
Reunion's leading properties
for your dream vacation. And as always, until the next blog post, have a magical (vacation planning) day.When planning your Orlando family vacation, one of the main factors is location, location, location! We can all agree that choosing a place that's both private (especially in 2020) and fun for the little ones is THE key to an amazing trip. For many years, Reunion Resort has been a prime destination for families looking to be in the center of it all while in their own luxury home. But while the home has plenty to offer, Reunion Resort itself has even more than you'd expect! As veterans to Reunion, we know firsthand that there's something special about this city-sized resort. With the plethora of activities on-site, it takes Orlando vacationing to the next level of convenience, keeping the kiddos entertained for days. So if you're deciding between places to stay around Orlando, check out our 5 favorite kid-friendly Reunion Resort activities to see if this resort is destined to be in your future travel plans.
Check out our Vacation Rentals with Themed Rooms Here!
1- Reunion Resort Water Park
It's no secret that most of Orlando's most popular attractions are up and running again. However, water park options have become unfortunately limited. Disney's Typhoon Lagoon and Disney's Blizzard Beach have both remained closed for the summer season. And non-Disney water parks like Universal's Volcano Bay, Island H2O Live, and SeaWorld's Aquatica continue to run on limited capacity and hours. This adds to the challenge of enjoying a day in the sun, which is why
Reunion Resort Water Park
is a fan-favorite amongst Reunion Resort families. Tackle the twisty water slides and relax as you float along the lazy river. Or even chill at your own private cabana! The best part about this location is that it offers plenty of room to physical distance and doesn't require you to leave Reunion. It's the tranquil vacation paradise you've needed all summer, and your kids are sure to have a blast.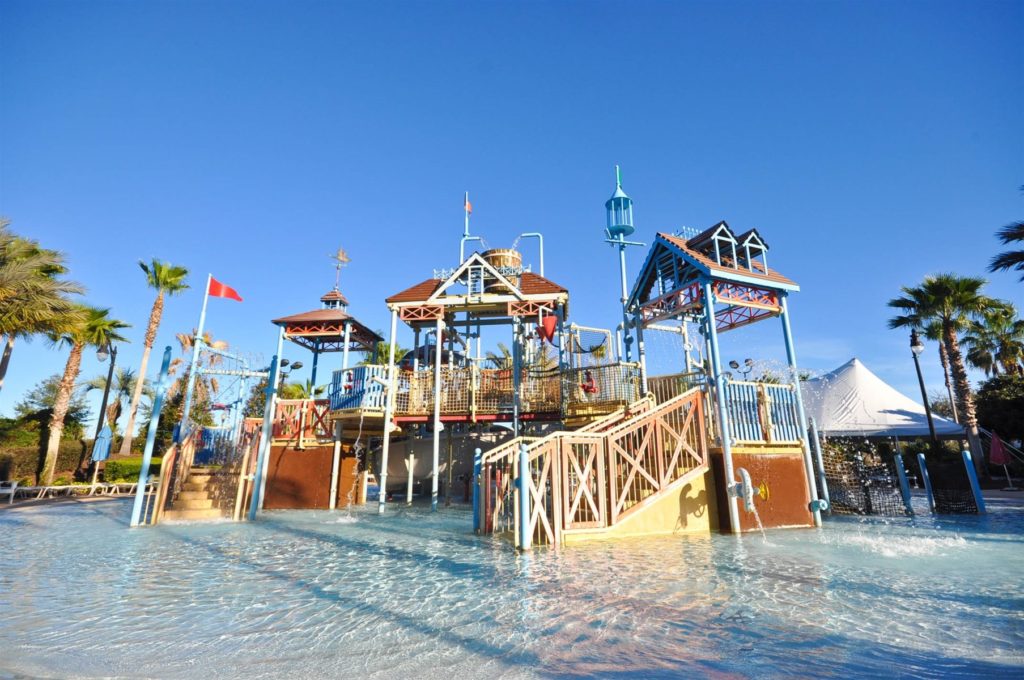 2 – Reunion Resort Miniature Golf
Honestly, no Orlando vacation is complete without a miniature golfing day with the family. Recently, Reunion Resort opened its very own
Reunion Resort Miniature Golf
for the entire fam bam to enjoy. The mini-course challenges family members to test their golfing skills with its provided golfing equipment available at the Tennis Shop. And as mentioned before, you don't have to venture out to enjoy the fun! The location is open Wednesday-Sunday and welcomes guests of all ages to play.
3- The Sandy Ridge Splash Pad
No matter what your vacation plans are, there's no way you can visit Orlando without a day at the pool. Reunion Resort offers many community pool areas throughout, but Sandy Ridge Splash Pad is definitely a family favorite. Just by the Reunion Resort Water Park, Sandy Ridge Splash Pad features built-in fountains, slides, and massive water buckets! Its beach-style entry also makes it great for families needing shallow waters for their tiny tots.
Browse our Signature Series Vacation Rental Homes Here!
4 – Reunion Resort Bike Rentals
Reunion Resort's acres and acres of neighborhoods and biking trails are great for the outdoorsy family. Guests can embrace the surrounding scenery while bonding with their loved ones with Reunion Resort's Bike Rentals. Choose from single-rider bicycles or ride together on one of the Surrey bike options. Whether it's a bright morning or a sunny afternoon, your family will enjoy every moment biking around Reunion.
5- Reunion Resort Playgrounds
A playground is such a simple activity but in kids' eyes its hours worth of fun. Swing by Centre Court Ridge or Villas South to visit one of the two on-site playgrounds designed to help your little ones use up their energy with slides and monkey bars. They're also conveniently near a few of resort pools, perfect for a day on-site. — Planning a trip is never an easy task, but we hope that we've narrowed your mind down a bit with these awesome on-site amenities. Make sure to check out the best of
Reunion Resort's homes and condos
and see which one best suits your family's needs. Until the next blog post, have a magical day!
Looking for a 3 Bedroom Townhome? Find One Here!
What's not to love about renovations?  We, the Magical Team, asked ourselves this just over a year ago and we immediately got to work. Over the past 12+ months, our staff has slowly begun introducing little changes, from a shiny new logo to exciting new email layouts. And now the day has arrived where we can introduce our greatest reno of all. We are thrilled to finally introduce to all of our guests the stunning new magical website revamp of
MagicalVacationHomes.com
. We've taken your comments and suggestions and used these to bring you the best site yet. Rebuilt from top to bottom, our new magical website has been enhanced with a gorgeous modern layout, user-friendly features throughout, and added convenience to the guest booking process. Whether you're browsing our villas on desktop or checking out property availability via mobile, we've worked to make sure that each visit experience is equally fast, convenient, and easy to understand.
Book our Vacation Rentals Luxury Collection Here!
Our Newest Features
Flexible Dates
We understand that there are times when you have a general idea of when you're traveling, but you're flexible on the set dates! This is why we've added the "Dates Flexible" tool, giving you the option to, well, weigh out your options! This tool not only allows you to view different check-in/check-out pricing, but it also may provide additional rentals to choose from. Select from one to three days in flexibility and the timeframe you're looking to travel around, and let our advanced property software do the rest. It's that simple.
The Magical Blog
Read all about it (like you're doing right now)! With so much going on in Central Florida every day, we know it may be challenging to keep up. Add ease to planning your getaway adventures with
The Magical Blog
, your guide to all things theme park, entertainment, holiday events, and more. View our most recent posts on the main page for the most up-to-date news in the area and even within our company! Guests can also browse our organized categories to read about particular topics, like Walt Disney World® Resort or Universal Orlando™. We've also implemented a search box for those looking to go back to a blog they've already read. Ready to read about the magic happening in Orlando? Head to our
Magical Blog main page
to view our other great posts.
The My Stay Guest Portal, Powered by Happy Stays
For the first time ever, your confirmed reservation will now be accessible through our new online guest portal,
My Stay
, powered by
Happy Stays
. Here, guests can view their property documents, booking information, add-on vacation services, and more. To review an existing reservation on desktop, guests can locate the My Stay portal at the footer of our website. You may also head over directly to
https://magicalvacationhomes.happystays.com/visitor-guide/#/login
at any time. All you need to log on via desktop is your registered email address and check-in date.
Book our Rentals at Orlando Resort Communities Here!
For those using their mobile device, you can download the free Happy Stays app from the
App Store
and
Google Play
. Once you've downloaded the app, sign in with the access code provided in your
Happy Stays
email. You are now on your way to having all the information needed right at your fingertips. It's that simple!
Once you're in, you can click on any existing reservations you have on file and access everything you need to know for your upcoming getaway. From check-in and check-out times to the address and wifi password, you'll be instantly prepared for your journey to Orlando. Guests may also utilize our remote check-out option. Just let us know through the portal that you are on your way out and our teams will take care of the rest! Have multiple guests in your party? Not a problem. Invite your family and friends through the "Invite Friends"  tab so everyone can view the reservation whenever they please, keeping all guests in the loop 24/7. For those deciding that they may want to add special services, such as pool heat, for example, may do so on the portal without having to call or email.
Browse our Rentals with Pools Here!
Our Magical Guest Moments
Each year we welcome guests from all over the world, and we are always thrilled when guests share their magical experience with us. With Our Magical Guest Moments, we are able to share with YOU the magical memories these families made.
We are always welcoming more guest experiences and would love to hear and see your vacation experience! If you would like the chance to be featured on our site or social media, just submit your favorite vacation photos and a small story about your getaway at the bottom of the page. We can't wait to hear about your trip! – These are only some of the amazing features you'll encounter while visiting our new and improved website, and we cannot wait for you to witness it for yourself! See the best of it all at MagicalVacationHomes.com and while you're here, feel free to book a vacation (or two) with one of our many Book Direct deals and specials. Until the next blog post, have a Magical rest of your day!
Happy Holidays from everyone here at Magical Vacation Homes! To celebrate another year of making magical memories, we're offering 12 days of Magical Giveaways on our
Instagram Account
! Enter to win 12 days of amazing prizes, with an incredible grand prize of a FREE STAY in Luxury Vacation Villa (RVH_092M), a beautiful 5 bedroom
Reunion Resort vacation home
.
Enter to WIN the Magical Sweepstakes
Want to win a stay at the vacation home of your dreams? Of course, you do! Entering is very simple, just follow these steps:
1) Follow @MagicalHomes on Instagram
2) Like the daily posts on our Instagram
3) Comment what you would do on your Orlando vacation
4) Tag a friend in the comments of the Instagram post
Don't forget to enter every day, as each daily entry is automatically entered to win our Grand Prize package of a
FREE STAY in RVH_092M
. The contest runs from December 13th – December 25th, 2018. 
Want to know more? The contest is open to
US Residents only, Must be 18 years of age or older to enter. No Purchase Necessary. Winner will be selected at random from valid entries. Contest closes on December 25th at 10:00 am EST and the winner will be announced within 24 hours! Read the full Contest Rules. 
Luxury Vacation Villa
The vacation home of your dreams! Our grand prize for the 12 Days of Christmas Sweepstakes is a FREE 4 night stay in low or mid season in RVH_092M, a 5 bedroom vacation villa located in Reunion Resort!
This is the perfect place to stay for your Orlando vacation, located close to all of the Orlando attractions while away from the hustle and bustle of the crowds. Relax in luxury at your own villa complete with private pool, game and theater room and customized bedrooms for the kids!
Make delicious meals in the fully equipped kitchen and sit down together as a family to enjoy quality time together. Even be able to hire a private chef or spa services to come to your villa. Learn more about
Magical's Concierge Services
!
Located in an unbeatable location in Reunion Resort, you will be close to all of the amazing attractions and still able to have a private getaway to retreat to.
Enter to win a free stay at Luxury Vacation Villa!
Find out more details about this gorgeous house on the
Magical Website
! Good luck to everyone entering, we wish you a Magical day! Until next time!