The most magical time of the year has finally arrived. And though this year has been one of uncertainty, one thing you can always count on is our special holiday giveaways. We've partnered with our good friends at
Inside the Magic
to give you the opportunity to win a
7-night stay at Orlando's Designed For Vacation | RVH_320M
as part of Inside the Magic's
25 Days of Magic
. Those interested may enter from now until December 24th at 8 p.m. EST for a 2021 vacation from the available dates: 1/06/21 – 02/28/21 04/12/21 – 05/27/21 08/20/21 – 11/21/21 06/1/21 – 06/9/21 08/20/21 – 09/02/21 09/07/21 – 11/19/21 11/29/21 – 12/18/21
Browse our Condo Rentals Here!
Staying at Designed for Vacation | RVH_320M
Designed for Vacation is our 5-bedroom, 5.5-bathroom villa boasting 3,300 sq. ft. of excitement. From a galaxy-inspired theater and superhero bedroom to a private pool and classic game room, this vacation rental never fails to entertain. This home also features additional kids' rooms like the Ice Princess-inspired bedroom, plenty of bedroom suites for the adults, a spacious living, kitchen, and dining area, as well as an outdoor summer kitchen for backyard grilling. Stay with up to 14 guests in the heart of Reunion Resort and enjoy the plethora of amenities including access to three championship golf courses, Reunion Resort Water Park, multiple tennis courts, and more. This home has truly been designed for the ultimate vacation experience, all while maintaining the ultimate privacy for your family.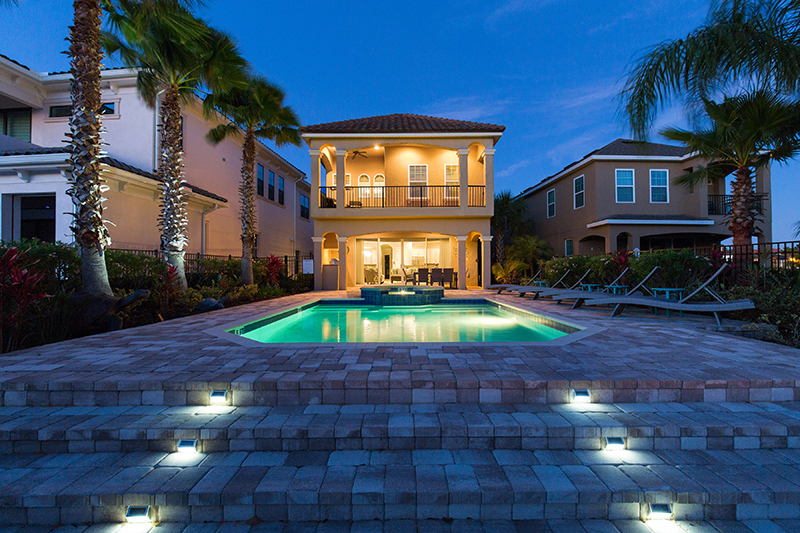 While you're waiting for the giveaway to be drawn, make sure to check out our additional photos and a full description of
Designed for Vacation | RVH_320M
.
Check out our Homes with a Pool Here!
Giving Back to Our Community
As mentioned by Inside the Magic,
A driving force behind our 25 Days of Magic promotion is to bring awareness to the various Children's Hospitals that make up Children's Miracle Network.
Today, December 1st marks the annual,
Giving Tuesday
. Every 1st Tuesday after Thanksgiving, individuals across the United States share their kindness and generosity by giving back to others, including many national charities. By entering this giveaway, not only are you potentially winning a 2021 Orlando vacation, but you're also giving back to your community. For every
25 Days of Magic
entry, $1 is donated to the
Children's Miracle Network
(up to $30,000) with the goal of providing kids a fighting chance at a healthy life. – To learn more about the giveaway and to enter, please visit Inside the Magic's
Day 24 giveaway article
and check out the rest of the giveaways
here
. Until the next blog post, have a magical merry day!
Book one of our Vacation Rentals Here!
Reunion Resort has hit yet another milestone. Condé Nast Traveler has recognized Kissimmee, Florida's largest resort community as one of the "
Top 30 Resorts in Florida
". Part of its
Readers' Choice Awards 2020
, Condé Nast is known for highlighting top global vacation destinations, making this accomplishment paramount for Reunion.
On the list of 30 spectacular resorts, Reunion Resort snagged the 18th spot with a score of 96.21/100.
"Groups of all sizes will feel at home in a condominium, private villa, or vacation home at the Reunion Resort with onsite facilities to accommodate family gatherings and business meetings. With an "amazing water park," three signature golf courses, "excellent, 5-star restaurants," and an "all-around beautiful development," there's plenty for guests of all ages to enjoy." – Condé Nast Traveler
Browse our Reunion Resort Rentals Here!
Reunion Resort Has it All…
As a property management company with over 200 villas at Reunion, we are thrilled over the resort's latest achievement. Reunion's vast variety of villas offer unique rooms ranging from in-home theaters to riveting arcades. And with custom-built bedrooms inspired by everyone's favorite characters, you'll feel immersed in the entire Orlando-area experience. With most properties featuring their own private pool and spacious layouts, Reunion has become overwhelmingly attractive amid COVID-19. This world-class location gives guests the opportunity to vacation, physical distancing style, adding to the comfort of this premier resort.
Beyond its custom-built estates and luxury condos, this magnificent community continues to one-up itself with seemingly endless new amenities. The AAA Four-Diamond rated destination is home to three award-winning golf courses, a water park, 10 resort-style pools, and more. With new additions like the
Reunion Resort Miniature Golf course
and a
water park expansion in the works
, it's no wonder this destination continues to drive in guests to our sunny city of Kissimmee.
Book our Vacation Homes with Pools Here!
Whether you're a Florida local or traveling to the state, Reunion Resort is a must-add to your destination bucket list. For golfers, families, retreats, and everything in between, take a moment to browse
Reunion's leading properties
for your dream vacation. And as always, until the next blog post, have a magical (vacation planning) day.When planning your Orlando family vacation, one of the main factors is location, location, location! We can all agree that choosing a place that's both private (especially in 2020) and fun for the little ones is THE key to an amazing trip. For many years, Reunion Resort has been a prime destination for families looking to be in the center of it all while in their own luxury home. But while the home has plenty to offer, Reunion Resort itself has even more than you'd expect! As veterans to Reunion, we know firsthand that there's something special about this city-sized resort. With the plethora of activities on-site, it takes Orlando vacationing to the next level of convenience, keeping the kiddos entertained for days. So if you're deciding between places to stay around Orlando, check out our 5 favorite kid-friendly Reunion Resort activities to see if this resort is destined to be in your future travel plans.
Check out our Vacation Rentals with Themed Rooms Here!
1- Reunion Resort Water Park
It's no secret that most of Orlando's most popular attractions are up and running again. However, water park options have become unfortunately limited. Disney's Typhoon Lagoon and Disney's Blizzard Beach have both remained closed for the summer season. And non-Disney water parks like Universal's Volcano Bay, Island H2O Live, and SeaWorld's Aquatica continue to run on limited capacity and hours. This adds to the challenge of enjoying a day in the sun, which is why
Reunion Resort Water Park
is a fan-favorite amongst Reunion Resort families. Tackle the twisty water slides and relax as you float along the lazy river. Or even chill at your own private cabana! The best part about this location is that it offers plenty of room to physical distance and doesn't require you to leave Reunion. It's the tranquil vacation paradise you've needed all summer, and your kids are sure to have a blast.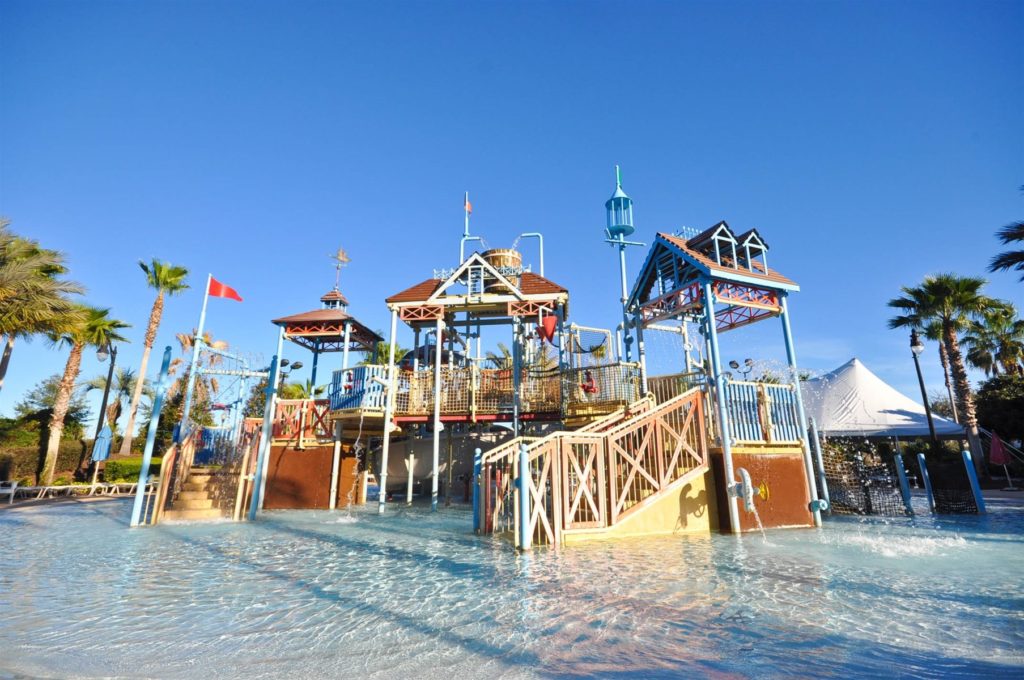 2 – Reunion Resort Miniature Golf
Honestly, no Orlando vacation is complete without a miniature golfing day with the family. Recently, Reunion Resort opened its very own
Reunion Resort Miniature Golf
for the entire fam bam to enjoy. The mini-course challenges family members to test their golfing skills with its provided golfing equipment available at the Tennis Shop. And as mentioned before, you don't have to venture out to enjoy the fun! The location is open Wednesday-Sunday and welcomes guests of all ages to play.
3- The Sandy Ridge Splash Pad
No matter what your vacation plans are, there's no way you can visit Orlando without a day at the pool. Reunion Resort offers many community pool areas throughout, but Sandy Ridge Splash Pad is definitely a family favorite. Just by the Reunion Resort Water Park, Sandy Ridge Splash Pad features built-in fountains, slides, and massive water buckets! Its beach-style entry also makes it great for families needing shallow waters for their tiny tots.
Browse our Signature Series Vacation Rental Homes Here!
4 – Reunion Resort Bike Rentals
Reunion Resort's acres and acres of neighborhoods and biking trails are great for the outdoorsy family. Guests can embrace the surrounding scenery while bonding with their loved ones with Reunion Resort's Bike Rentals. Choose from single-rider bicycles or ride together on one of the Surrey bike options. Whether it's a bright morning or a sunny afternoon, your family will enjoy every moment biking around Reunion.
5- Reunion Resort Playgrounds
A playground is such a simple activity but in kids' eyes its hours worth of fun. Swing by Centre Court Ridge or Villas South to visit one of the two on-site playgrounds designed to help your little ones use up their energy with slides and monkey bars. They're also conveniently near a few of resort pools, perfect for a day on-site. — Planning a trip is never an easy task, but we hope that we've narrowed your mind down a bit with these awesome on-site amenities. Make sure to check out the best of
Reunion Resort's homes and condos
and see which one best suits your family's needs. Until the next blog post, have a magical day!
Looking for a 3 Bedroom Townhome? Find One Here!
BRIGHT SUNS! It's blog two on our countdown to 
Star Wars: Galaxy's Edge
. This past weekend we were lucky enough to attend an exclusive preview of
Batuu
. We learned SO much about what this park extension will offer!
Oga's Cantina
and the
Milk Stand
were definite stand-outs! So we're here today to tell you what we saw, tasted, and loved about these two VERY important places! (Haven't read the first blog yet? Make sure you check that out 
here
! Hint: We talked about building some really cool stuff!)
Oga's Cantina
We've got to admit, seeing
Oga's Cantina
in person felt entirely surreal. We've read about it online and browsed through many photos of it for sure. But to actually stand there, ready to walk in, we felt like we won the grand prize.
Oga's Cantina
is the "It" spot for bounty hunters, smugglers, and others (now, including you). Take a moment to break away from the walkways of
Batuu
and refuel on an assortment of food and drink. Gather around with others at the bar or in your own private booth before heading out to take on your next journey through the galaxy.
When we walked in, we were greeted by dim lighting, upbeat music, and a very lighthearted atmosphere. For those who are always in search of the next great bar, this hangout spot takes the cake.
Unusual(ly Good) Drinks and Eats
At the time of our preview, we were not able to purchase anything. However, that didn't stop us from sneaking a peek at the menus. We took a look at what galactic offerings will be featured on the grand opening and we think you're all going to like the selection.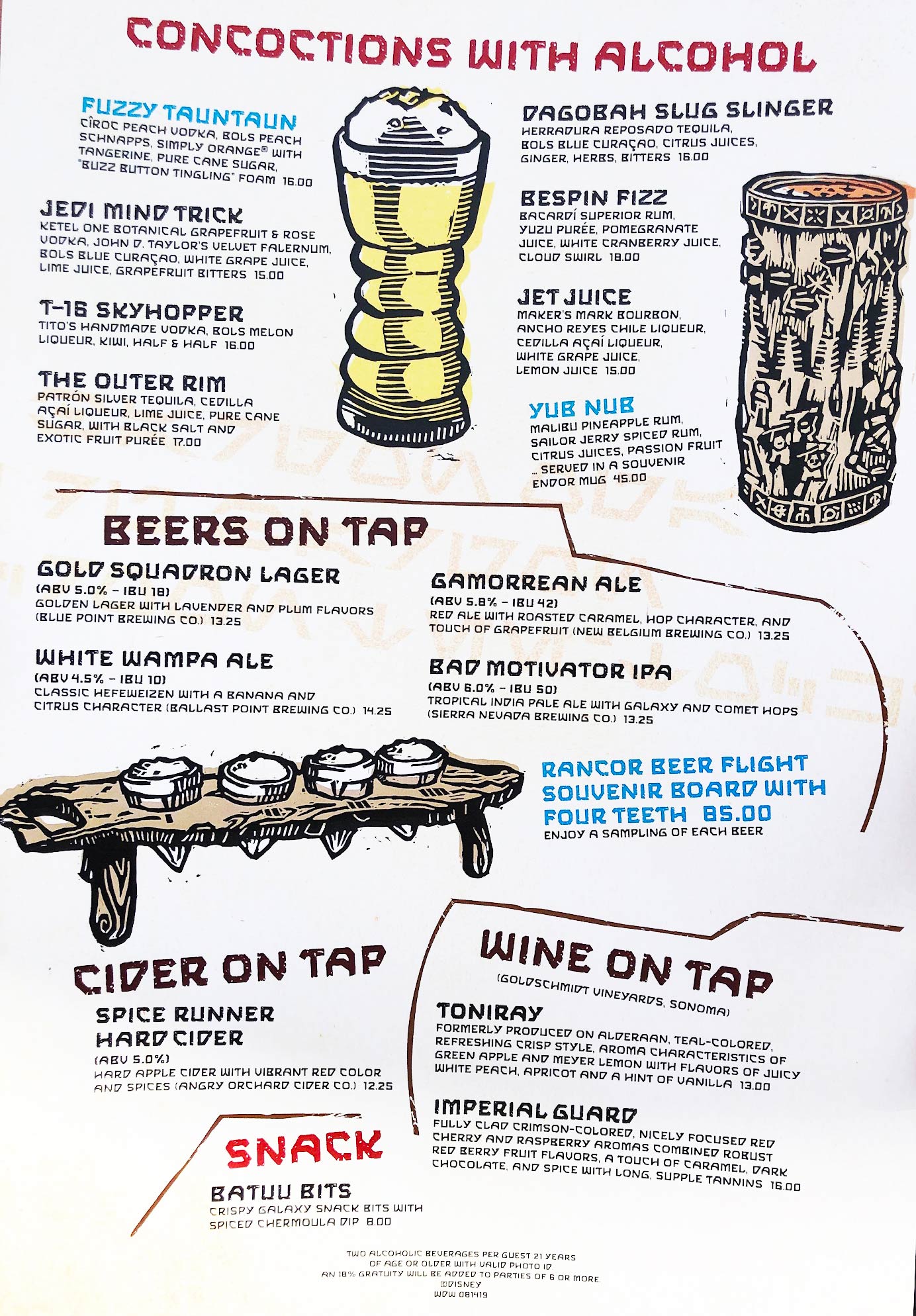 As you can see, there's really something for everyone. From hot to cold beverages, to even non-alcoholic drinks and snacks, everyone in your party will leave
Oga's Cantina
satisfied. Pricing per item varies, with the low-end looking at $4 for a double espresso, up to $85 for the
Rancor Beer Flight
. But regardless of pricing, each concoction on the menu looks very promising. And, food for thought, we did have the opportunity to sample the
Jedi Mind Trick
. This drink sells at $16 and is created with grapefruit & rose vodka, velvet falernum bols blue curacao, white grape and lime juice, and grapefruit bitters. We found it to be the PERFECT combination and a definite buy when you decide to visit.
Get ready for your intergalactic travel at
Oga's Cantina
! Reservations are now available, so go ahead and
reserve your spot
at this must-visit bar.
The Milk Stand 
How could we talk about one drink location without diving into the
Milk Stand
? The go-to beverage for all of
Batuu 
(and
Luke Skywalker
) has to be the blue and green milk (and it's all vegan). We tried both of these delicious options and were very surprised by the flavor!
With the consistency of an icy smoothie (PERFECT for those hot, Florida days), the blue milk's (left) rice and coconut milk-based drink is sweet and fruity. The green milk (right) tasted like a cup full of springtime with a dash of citrus. If we HAD to pick, we'd go blue, but for citrus, fans should definitely aim for green! It's the summer beverage we've been needing!
If you're over 21, try either milk with a dash of rum (for blue) or tequila (for green). Non-alcoholic milk runs at $7.99 and $14 with alcohol. And if you're one to collect souvenir items, you can ask for your (non-alcoholic) milk of choice in the
Bubo Wampa Family Farms Sipper
! These can be purchased for $24.99 at the
Milk Stand
.
Til The Spire…
So, what are you waiting for?
Star Wars
: Galaxy's Edge may not open until August 29th, however, it's never too early to
purchase your Disney Theme Park tickets
! Get them early and get prepared to travel to
Batuu
for an out of this world galactic journey. And after your journey back from
Batuu
, look no further than
Magical Vacation Homes
for your magical galaxy villa. Our homes are perfect for the Orlando vacation and close by to all things
Star Wars
. We'll see you tomorrow when we talk about
Chewbacca
,
Stormtroopers
and other galactic friends. Until next time, Til the Spire, and have a Magical day!
*As to Disney artwork, logos, and properties: ©Disney*
*
Oga's Cantina may require a reservation. For Milk Stand and Oga's Cantina, prices subject to change. Food and drinks subject to availability.
#MagicalStays Contest (CONTEST CLOSED)
Have you always dreamed of staying in a magical home, where you can choose from sleeping in a castle to watching your favorite superhero movie while surrounded by your favorite characters? All of your vacation dreams can come true with a stay at The Fun House at Reunion! This luxury 5 bedroom villa located in Reunion Resort has everything you need for a magical vacation — and you now have the chance to win a free week!
That's right — enter to win a free week at The Fun House at Reunion (RVH_520) by submitting your favorite Orlando vacation memory photo HERE. 
The Fun House at Reunion
By entering our #MagicalStays contest, you're entering for a chance to win a free 7-night stay in this incredible new vacation home rental. Every inch of the 3,374 square foot house features luxurious furnishings, the latest technology, and magical details to truly make it a home away from home.
Each bedroom is customized for both the kids and the adults. Little princesses will love the opportunity to sleep in their own castle, and Jedi knights will love to sleep in their own galactic getaway complete with a fun slide! Adults enjoy King sized beds, and beautiful decor. One room even features a life-size astronaut and fiber optic star ceiling! All bedrooms have their own SMART TV and ensuite bathroom.
A great feature is the west-facing private pool and spillover spa. Soak up the famous Florida sunshine while lounging on the patio furniture, or cook a meal outdoors in the summer kitchen and dine outdoors!
Play all day in the lounge games room with fun arcade games and a Star Wars Battle Pod Arcade. Get your game on playing foosball or going head to head on the video game systems.
At the end of the day, curl up and watch your favorite superhero movie on this 120-inch movie screen in the private home theater. This amazing property is only minutes away from Walt Disney World Resort, and close to other amazing Orlando Area attractions including Universal Studios and SeaWorld.
Enter the Contest
What are you waiting for? Enter the contest now! Find it on our website HERE or on our Facebook page HERE
Share a photo of your favorite Orlando vacation memory with us. Be sure to keep sharing with your friends and family to get the most votes and win a free stay at The Fun House at Reunion!
Until the next blog post, we hope you have a Magical Day!
Magical Dining Month 2018 is returning to Orlando area restaurants! Starting August 24th and lasting every day until September 30th, 2018, Magical Dining Month serves up opportunities to enjoy three-course meals at 100+ of Orlando's best restaurants for $35 plus tax and gratuity. This is an exciting event for both tourists and locals!
A Great Selection
Restaurants are located all around the greater Orlando area, and you can see them divided based on location. Districts include the Disney/Lake Buena Vista Area, Universal/CityWalk, Convention Center Area, and Downtown, so there are many options. See the full list of 100+ Restaurants
HERE
!
Support Local Charities
Best Buddies
and
Down Syndrome Association of Central Florida
. A great way to give back to two great causes and support local businesses at the same time!
Enjoy Magical Dining Month 2018
Magical Dining Month 2018 is one of the most anticipated events of the year, so reservations are highly encouraged to ensure that you'll be able to participate. There's no limit to how many times you can enjoy Magical Dining meals, so use this amazing event as an opportunity to try out new restaurants. If you're looking for some great recommendations, all of our Magical staff members are locals and Orlando experts! We all have a favorite local Orlando restaurant and love to share advice with our guests. Are you currently planning your Orlando vacation and want to experience amazing events like Magical Dining Month and other amazing Orlando attractions and theme parks? Check out
Magical Vacation Homes
 and find the perfect vacation rental for every type of vacation. Head to our
website
or call our reservations team toll free at  and book your Magical vacation today!A brand new splash park and water slides just opened at Windsor Hills! Windsor Hills Resort, located only two miles from Walt Disney World, opened their brand new multi-million dollar water park in August 2018. This new Windsor Hills Water Park features a splash pad area and two dueling water slides! The water park area is open for all Windsor Hills Resort guests staying in a vacation rental, as well as Windsor Hills owners.
Splash Park
Dueling Water Slides
Resort Amenities
In addition to the new splash park and water slides, Windsor Hills Resort opened up a new oval hot tub for total relaxation and new expanded deck space. All of these amenities, including the Double Olympic Size Pool, Tennis Courts, Castle Playground and Community Clubhouse (including 40 person movie theater!), are included in your reservation and free to use when you stay in a Windsor Hills rental!
Stay at Windsor Hills
Check out our
amazing selection of Windsor Hills Rentals
, from value 2 bedroom condos to luxury 5 bedroom homes, all of them located only minutes away from Walt Disney World!
Vacation Fun
, pictured above, is a new 3 bedroom condo with luxury furnishings and a custom kids bedroom, starting at only $89 a night! If you're planning your next Orlando family vacation and want to talk to someone about booking a vacation rental, our reservations team is happy to assist! Contact them by email at
[email protected]
 or by phone at  Until the next blog post, we hope you have a magical day!Here at Magical Vacation Homes, we know that capturing your magical memories is an essential part of your vacation. From Snapchat selfies to professional family portraits, everyone has their own favorite way of documenting their trip. If you're headed to the Walt Disney World Resort Theme Parks on your Orlando vacation, chances are you will see PhotoPass photographers taking pictures of you with characters or in front of landmarks like Cinderella's Castle. Keep reading to learn more about
Disney Photopass Day
2018 and how to submit your Orlando vacation photos for your chance to win a free 7 night stay in a magical rental home.
Disney PhotoPass Day 2018
Disney PhotoPass Day 2018, happening Sunday, August 19th, 2018, is a great way to celebrate this awesome service to have professional photos taken of your family on vacation. If you will be in the theme parks on August 19, 2018, there will be some unique photo opportunities to celebrate! Special photo ops include rare characters, like meeting Pinocchio in Magic Kingdom, or some villains like Cruella de Vil and Jafar at Epcot. There will also be special photo props and "Magic Shots" to enhance your fun family vacation photos. Start your day at Disney's Animal Kingdom Theme Park for some awesome Pixar photo props from Up and Finding Nemo, then head to Hollywood Studios at night for a special Beauty and the Beast light painting photo opportunity. This special event has photo opportunities starting at park open in the morning at 9 am and lasting until 8 pm, but be sure to check each park's times guide for special character meeting times.
#MagicalStays Photo Contest
Can't join us at the Disney Theme Parks for PhotoPass day? No need to worry, you can still join in on the photo fun by sharing your Orlando vacation memories with us for our #MagicalStays Photo Contest! The winner of this Magical Contest will receive a FREE 7 Night Stay in
RVH_520
, The Fun House at Reunion. Enter for your chance to make more magical memories here in Orlando in this amazing house with custom kids bedrooms, a super home movie theater, Enter our contest by submitting your photo
HERE
, or heading over to our
Facebook page
to enter! Vote for your favorite Orlando area vacation photo once a day until September 30th, 2018. Share with friends and family to get as many votes as possible to win your 7 night stay at The Fun House at Reunion!
Here at Magical Vacation Homes, we know what it takes to make your vacation extra magical. If you're looking at planning your Orlando vacation and are looking for advice on where to stay, contact our Reservations Team either by phone at 1-866-991-3158 or email 
[email protected]
. Until the next blog post, we hope you have a magical day!Orlando is a dream vacation destination for princesses of all ages. Here's our guide to help you plan a dream
vacation in Orlando
with all of the royal essentials, including a stay in your very own castle!
1. A Princess Carriage Stroller Rental
A princess deserves a royal ride! Get the VIP (Very Important Princess) treatment with a Princess Carriage stroller. The theme parks can involve a lot of walking around, and a carriage stroller can be a lifesaver for families not wanting to carry everything around (It's also perfect for holding all the royal purchases!) Does your little one need a midday nap? The stroller allows for a restful royal sleep by converting into a bed. The Princess Carriage Stroller will soon be available as a checkout option when you book a stay with us, or on their official website found
here
.
2. A Trip to the Bibbidi Bobbidi Boutique

Plan a visit to the Fairy Godmothers in Training for a magical makeover! This experience at Walt Disney World requires advanced reservations, available at two locations: Cinderella Castle in Magic Kingdom or the Boutique in Disney Springs. There are different levels of this royal makeover available for princesses (and handsome young knights!) ages 3 -12. Get the details
here
and plan for an extra enchanted experience.
3. Dining with the Princesses
Enjoy a royal meal with some Princess friends! On a trip around the World Showcase in Epcot, a stop at
Akershus Royal Banquet Hall
is a great way to have food for everyone with a buffet, and a visit directly to your table from Princesses! Character Dining is a great way to meet characters, get autographs and photos without having to wait in long lines. Magic Kingdom has some great Royal dining options including Cinderella's Royal Table and Be Our Guest — dine in Castles with a prix fixe menu!
4. A Ride on the Royal Carrousel
At the heart of Fantasyland is Prince Charming Regal Carrousel, a must-ride for every princess! Get to choose your own royal horse, and it's a perfect opportunity to get photos from the designated royal photographers (AKA Mom and Dad). The carrousel usually doesn't have too long of wait to ride, and does not have any height restrictions so guests of all ages are welcome to ride!
5. A Stay in your very own Castle
After a long day exploring the Theme Parks, every Princess needs to retreat to her own royal castle! With a stay at The Fun House at Reunion, little princesses are given the full royal treatment with a custom-built bedroom just for them! Wake up in a bed fit for a princess and play all day in a custom-built castle! See rates and availability for this amazing home
HERE!
Here at Magical Vacation Homes, we know what it takes to make your vacation extra magical. Every family deserves the royal treatment! If you're looking at planning your Orlando vacation and are looking for advice on where to stay, contact our Reservations Team either by phone at 1-866-991-3158 or email
[email protected]
. Until the next blog post, we hope you have a magical day!I hope everyone is having a magical week! It's time for our next installment of area attractions in the Central Florida Area, featuring
Kissimmee Go-Karts
. Here at Magical Vacation Homes, we're proud to be a local company and support other local area businesses. We also like to use our local advantage to help you create the most magical vacation possible! Keep reading for more information about
Kissimmee Go-Karts
!
Kissimmee Go-Karts
For over 20 years, Kissimmee Go-Karts has been providing affordable family fun to the Central Florida Area. At the center of everything is the Go Kart track. This is the largest track in Central Florida at around 1 mile long! Race on some of the fastest karts around, designed for drivers of all ages and experience levels. Need a break from racing? Check out the amazing arcade! Kissimmee Go-Karts features over 70 arcade games, with classics like Pac Man as well as Skee Ball and Air Hockey!
Want to get a full Florida experience? Visit the pool of real Florida alligators! You will even have the opportunity to feed these live gators! Spend the day playing away at Kissimmee Go-Karts and keep the fun of racing going all vacation long by staying at the
Oasis Estate
. This amazing 8 bedroom rental vacation home in Championsgate provides fun for everyone! Keep playing your favorite games and reminisce on racing around the longest go-kart track in Central Florida — just like Lightning McQueen!
If you're planning a Central Florida vacation and need some help planning where to stay,
contact us today
to get started planning the magical vacation of your dreams! Until the next blog post, we hope you have a magical day!