When planning your Orlando family vacation, one of the main factors is location, location, location! We can all agree that choosing a place that's both private (especially in 2020) and fun for the little ones is THE key to an amazing trip. For many years, Reunion Resort has been a prime destination for families looking to be in the center of it all while in their own luxury home. But while the home has plenty to offer, Reunion Resort itself has even more than you'd expect! As veterans to Reunion, we know firsthand that there's something special about this city-sized resort. With the plethora of activities on-site, it takes Orlando vacationing to the next level of convenience, keeping the kiddos entertained for days. So if you're deciding between places to stay around Orlando, check out our 5 favorite kid-friendly Reunion Resort activities to see if this resort is destined to be in your future travel plans.
Check out our Vacation Rentals with Themed Rooms Here!
1- Reunion Resort Water Park
It's no secret that most of Orlando's most popular attractions are up and running again. However, water park options have become unfortunately limited. Disney's Typhoon Lagoon and Disney's Blizzard Beach have both remained closed for the summer season. And non-Disney water parks like Universal's Volcano Bay, Island H2O Live, and SeaWorld's Aquatica continue to run on limited capacity and hours. This adds to the challenge of enjoying a day in the sun, which is why
Reunion Resort Water Park
is a fan-favorite amongst Reunion Resort families. Tackle the twisty water slides and relax as you float along the lazy river. Or even chill at your own private cabana! The best part about this location is that it offers plenty of room to physical distance and doesn't require you to leave Reunion. It's the tranquil vacation paradise you've needed all summer, and your kids are sure to have a blast.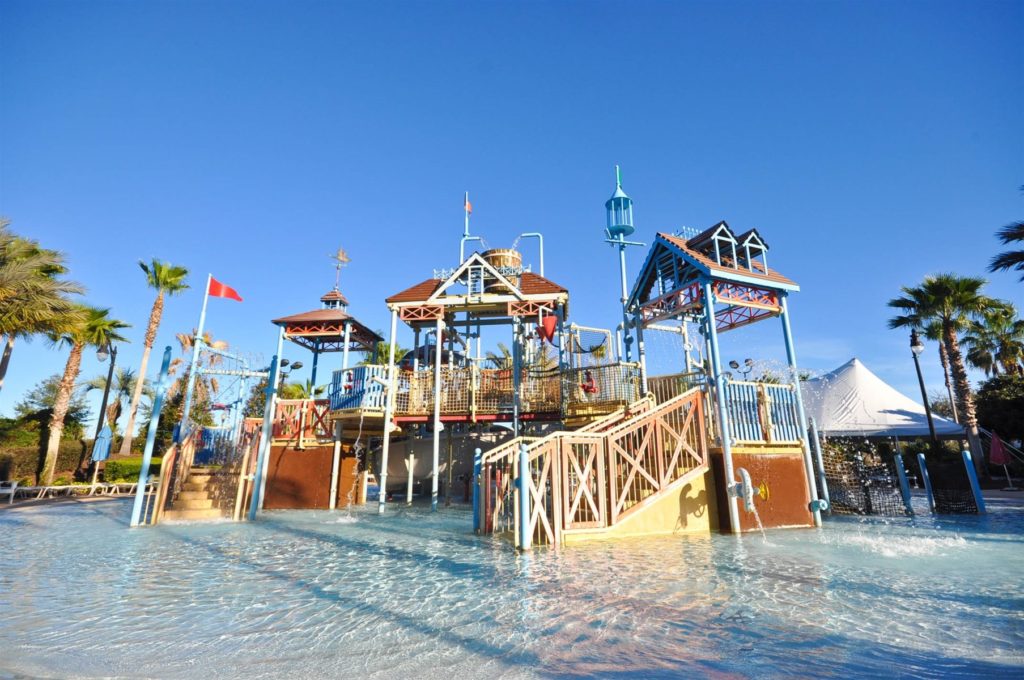 2 – Reunion Resort Miniature Golf
Honestly, no Orlando vacation is complete without a miniature golfing day with the family. Recently, Reunion Resort opened its very own
Reunion Resort Miniature Golf
for the entire fam bam to enjoy. The mini-course challenges family members to test their golfing skills with its provided golfing equipment available at the Tennis Shop. And as mentioned before, you don't have to venture out to enjoy the fun! The location is open Wednesday-Sunday and welcomes guests of all ages to play.
3- The Sandy Ridge Splash Pad
No matter what your vacation plans are, there's no way you can visit Orlando without a day at the pool. Reunion Resort offers many community pool areas throughout, but Sandy Ridge Splash Pad is definitely a family favorite. Just by the Reunion Resort Water Park, Sandy Ridge Splash Pad features built-in fountains, slides, and massive water buckets! Its beach-style entry also makes it great for families needing shallow waters for their tiny tots.
Browse our Signature Series Vacation Rental Homes Here!
4 – Reunion Resort Bike Rentals
Reunion Resort's acres and acres of neighborhoods and biking trails are great for the outdoorsy family. Guests can embrace the surrounding scenery while bonding with their loved ones with Reunion Resort's Bike Rentals. Choose from single-rider bicycles or ride together on one of the Surrey bike options. Whether it's a bright morning or a sunny afternoon, your family will enjoy every moment biking around Reunion.
5- Reunion Resort Playgrounds
A playground is such a simple activity but in kids' eyes its hours worth of fun. Swing by Centre Court Ridge or Villas South to visit one of the two on-site playgrounds designed to help your little ones use up their energy with slides and monkey bars. They're also conveniently near a few of resort pools, perfect for a day on-site. — Planning a trip is never an easy task, but we hope that we've narrowed your mind down a bit with these awesome on-site amenities. Make sure to check out the best of
Reunion Resort's homes and condos
and see which one best suits your family's needs. Until the next blog post, have a magical day!
Looking for a 3 Bedroom Townhome? Find One Here!