Love is in the air here in Orlando, The City Beautiful, and Valentine's Day events are no stranger to the area. From Kissimmee to Downtown and from the thrill-seekers to the romantics, there's an endless variety of date ideas for the 2020 holiday. Valentine's Day is only a day away and we know that there are a few (or a lot) of you who are still trying to choose the perfect place, reserve the best dinner, or book that out-of-this-world Valentine's event that will wow your other half. Not to worry! We've compiled a lovely list of date ideas that are guaranteed to make your partner swoon and, hopefully, love you forever (because we're striving for true love this new decade).
A Valentine's Dinner at Eleven
"Elevate your love to Eleven" at
Eleven inside of Reunion® Resort
. On Friday, February 14th, dine from 5:30 – 10:00 p.m. with your partner and feast on a delectable four-course prix fixe dinner (view the menu
here
) prepared by Chef Sabrina Green with wine pairings chosen by Joel Vodola.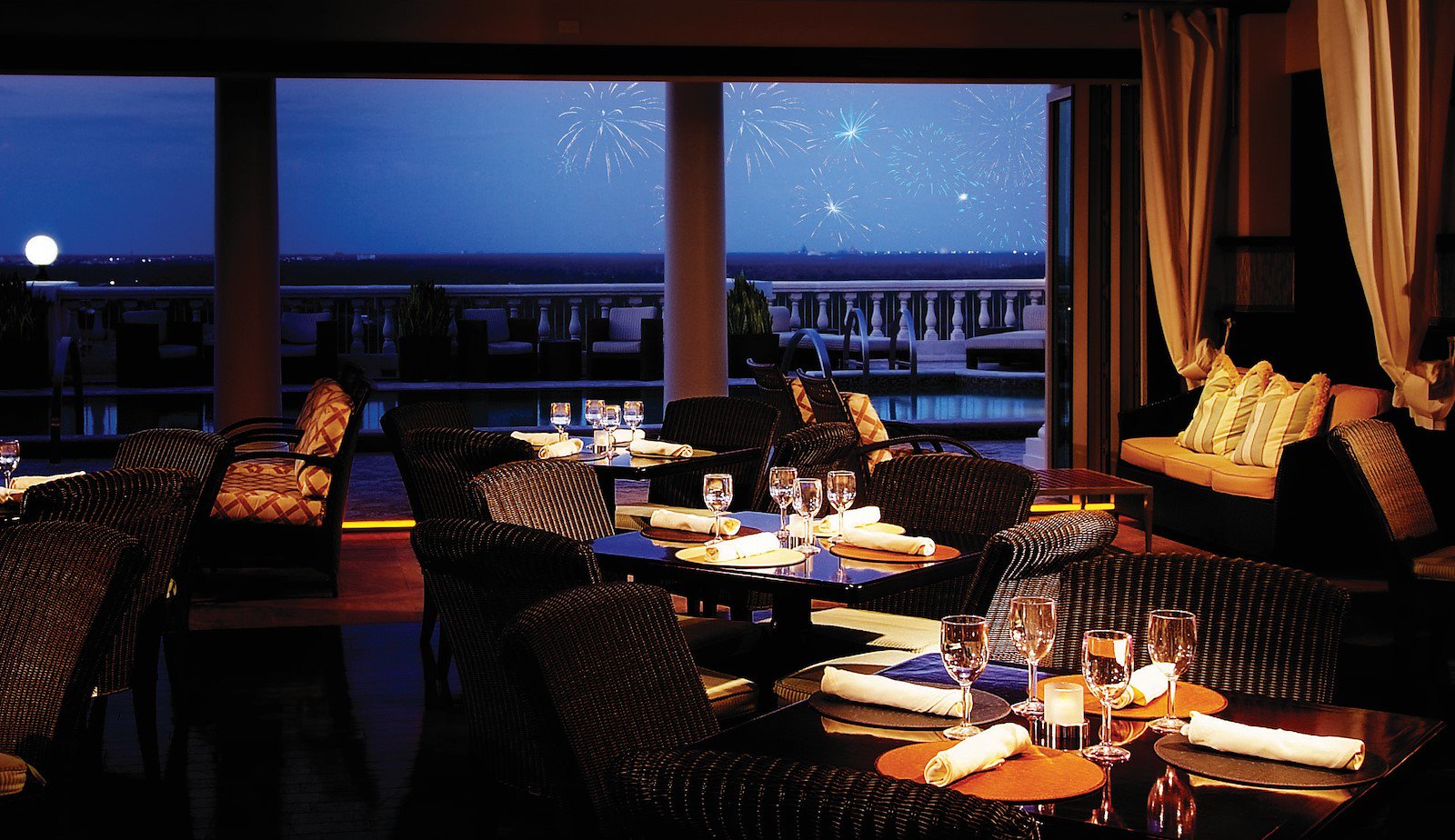 Your dinner will be complemented with breathtaking rooftop views of the entire resort grounds, making for an intimate evening surrounded by the beauty of Orlando. Prices range from $59 to $75 per person, depending on entree choice. Reservations are strongly recommended and can be made
online
or by phone at (407) 396-5397.
Wine Bar George
Situated in Disney Springs®,
Wine Bar George
is celebrating a weekend full of Valentine's dishes (view the menu
here
) for those who can't make it on Valentine's Day. Enter this urban-style bar and restaurant's warm and inviting dim-lit atmosphere and enjoy anything from small plates to fan-favorite charcuterie boards.
Choose from an assortment of over 20 different cocktails, beer, ciders, and frozen alcoholic beverages, or branch off of the Valentine's Weekend menu by trying a wine from Wine Bar George's award-winning list. Reservations are strongly recommended and can be made
online
, the My Disney Experience App, or by phone at (407) 490-1800.
Enzo's Hideaway Tunnel Bar
Join
Enzo's Hideaway Tunnel Bar
in the "Tunnel of Love" this Valentine's Day with a delectable dinner and dessert pairing inside of this intimate Italian restaurant.
Located in Disney Springs®, share a meal for two of a Stuffed Baked Maine Lobster complete with Lumache Pasta and finished off with a Torta Setteveli for dessert. Your date will be amazed by the collection of flavors in this one-of-a-kind Valentine's dinner. Those who like to dine with a glass of fine wine, Enzo's extensive beverage menu is sure to satisfy all guests that enter. Reservations can be made
online
, the My Disney Experience App, or by phone at (407) 560- 3696.
Love Month at ICON Park
Share your love high above the city of Orlando during Love Month at
ICON Park
. Until February 29th, 2020, surprise your love with one of two romantic Valentine's packages.
The "I'm Sweet On You" Package (starting at $110) lets your special someone know that you're "sweet on them" with its delightful touches of a private capsule for two, a rose, two glasses of champagne, wine or soft drinks, and a box of chocolate truffles to give or share. If you're on a group date, reserve for extra guests in the same capsule for only $25 per person (includes ride and beverage). Want to share a full bottle of wine or champagne? You can do so starting at as low as $30. Upgrade your night with the Romance Capsule Package (starting at $185) and have your capsule romantically themed with your full bottle of wine or champagne and box of chocolate truffles included with your package. Additional riders can be added as well for $25 including the beverage. Reserve your romantic capsule
online
anytime before the end of February to secure your romantic evening with your significant other.
2020 Epcot® International Festival of the Arts
If you're going to visit any theme park during Valentine's Day, you'll have to stop by
Epcot
® for the 2020
Epcot® International Festival of the Arts
.
From now until February 24th, 2020, walk from country to country with your special someone as you try a variety of festival booths with small plates designed for the art enthusiasts of the world. You may even discover a piece of art too beautiful to pass up, making for a memorable and unique gift for your loved one. Capture the moments with fun and exciting photo-op spots, visit stunning art galleries and so much more at the 2020
Epcot
® International Festival of the Arts! Get your tickets with us here and add color to your heart this Valentine's Day.
Cinderella at the Orlando Ballet
Enchant your date with the timeless tale of triumphant love at Cinderella, the ballet performance being held by Orlando Ballet at the Dr. Phillips Center for the Performing Arts. With live music by the Orlando Philharmonic Orchestra, this magical evening will take you back to your childhood while adding a sophisticated twist to the story.
Watch the art of ballet come to life with your partner from February 14th to February 16th, 2020. Times may vary, so please check the website for more details. Tickets start at $24 per person. Book in advance online or by calling (407) 426-1733.
Valentine's Day at Island H2O Live!
While some look forward to a romantic evening, others plan for a day of thrills.
Island H2O Live!
, Kissimmee's newest Water Park is offering a 2-for-1 special this Valentine's Day.
Purchase a single-day ticket to the park by February 14th and receive one for your date for free! It's a great way to enjoy the sun, relax down the lazy river or zoom down the slides together. Add some spark to your romance by spending your Valentine's Day at Island H2O Live! With these special places to visit and more beyond words, your Orlando Valentine's Day, weekend, or month is sure to bring the magic of love to the two of you. Looking to book a long-weekend getaway for your partner as your Valentine's Day present? Make sure to swing by our website and see all of the
Magical Vacation Homes
we offer for your much-needed romantic vacation. Until the next blog post, have a magical week and an enchanting 2020 Valentine's Day!