We have to admit (and not because we're biased), Orlando is no stranger to putting on some of the best Halloween celebrations in Florida. And despite some of the setbacks we've all faced due to COVID-19, that hasn't stopped Orlando from coming up with frightening fun ways to celebrate the spooky season. From drive-ins to trick-or-treating and some of the best haunted houses around, here's your ultimate spooky guide to Halloween in Orlando for 2020.
Book a Property near Disney Here!
If you're having the fall blues over the cancellation of Mickey's Not-So-Scary Halloween Party, turn that frown upside down for some daytime fall fun at the theme park. Feast on frightfully delicious treats and get into your favorite costume as the park welcomes daytime guests to dress up and enjoy the Halloween festivities. 
Expect to see surprise Halloween floats heading down Main Street U.S.A. chauffeuring some of the most iconic characters from Jafar to Maleficent (and of course, we can't forget Mickey Mouse and all of his pals)! And don't forget to grab some of the exclusive Walt Disney World merchandise before you head out. With new items like the Madame Leota sipper and the Walt Disney World Halloween 2020 pins, you'll go home with more goodies than you expected.
The Magic Kingdom® Park's daytime festivities are in full swing and will go on through October 31st, 2020. Make sure to check out the full details here!
Book a Rental with Themed Rooms Here!
Get ready for a blast from the past and revel in the nostalgia of drive-in movies at SeaWorld Orlando! Flicks & Frights is SeaWorld's first-ever Halloween drive-in experience and it's sure to deliver both friendly spooks and horror without ever having to leave your car. This activity is great for physical distancing and caters to guests of all ages.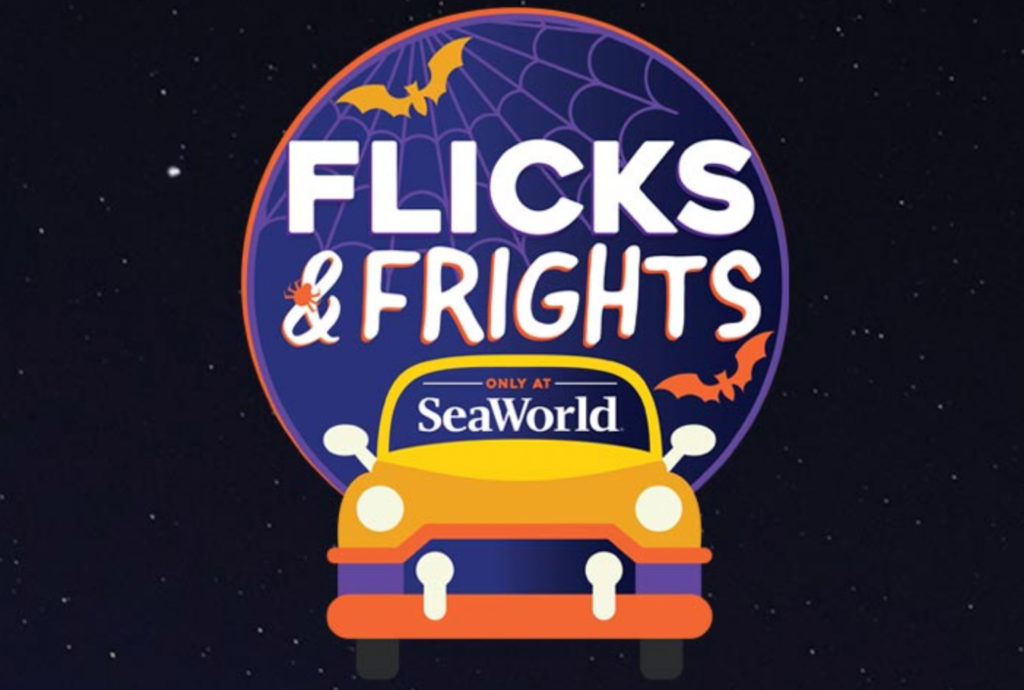 Choose from a family-friendly Halloween flick as the first showing, or come to the late-night showing for some of the most iconic horror movies of all time. Choose from popular films like Disney's Frankenweenie, Beetlejuice, and The Purge. And what's a good movie without a meal to munch on? Choose from the variety of food trucks on-site or stick with two soft drinks and two bags of good ol' popcorn for $12.
Flicks & Frights can be reserved online at just $40 per vehicle (20% off for annual pass holders). Check out SeaWorld Orlando's website for the movie lineup, dates, and to reserve your vehicle spot.
The little ones will absolutely love this event! Head over to SeaWorld Orlando for its annual SeaWorld Spooktacular, an all-day trick-or-treating event at the theme park. Let the kids pick out their best Halloween costume and venture down the walkways of the Trick-Or-Treat Trail to collect the yummiest candy around.
Add onto your experience with Count Von Count's Spooktacular Breakfast or visit the Cookie Monster and decorate your own festive cookie at the Cookie Decorating station. There's also plenty of games, a live DJ, and face painting to add some extra excitement to your child's already awesome costume! Spooktacular is a great way to experience all of the Halloween fun while still being immersed in the fun attractions SeaWorld Orlando has to offer.
To learn about the weekend event, including dates and hours, please visit SeaWorld Orlando online for more information.
(Writers note: Events were added to the blog after the announcement from Universal Orlando Resort, 2:15 p.m., Sept. 22).
Halloween season at Universal Orlando Resort is going to be SCARY good this year. Though we won't get the chance to experience the 30th year of
Halloween Horror Nights
, Universal Studios will be hosting two haunted houses on Sept. 26-27 and Oct. 3-Nov. 1. Included with your day admission ticket, guests can brave
Universal Monsters: The Bride of Frankenstein Lives
and
Revenge of the Tooth Fairy
all day long.
These two heart-pounding houses also have the option for Virtual Line™ through the Universal Orlando Resort app, giving you the chance to reserve your spot and enjoy the rest of the park. For the shoppers, explore four terrifyingly immersive rooms inside of the Halloween Horror Nights Tribute Store. Here, you'll discover the best merchandise and specialty food items themed around houses of Horror Nights past, present, and possibly future. It's a great spot to visit for your ultimate Halloween fix.
For the little ones (12 years of age and younger), head over to Universal's Islands of Adventure for trick-or-treating at participating retail locations! Keep an eye out for the pumpkin-marked locations to ensure every spot is visited! It's time to fill their free trick-or-treat bag with the tastiest Halloween goodies. And whether you're visiting one park or both, guests can now come in costume throughout the day! Dress up in your favorite classics or match with your children's Halloween attire.
With all of this and more, it looks like we're going to be pretty spoiled for choice at Universal Orlando Resort. Check out
Universal Orlando's website
for all of the details, terms, and conditions.
You don't have to leave your vehicle for a good scare. Experience Central Florida's first contactless drive-thru theatrical event at The Haunted Road. This immersive experience takes you through a "world of disarray" with terrifying encounters as you drive between scenes. Similar to a drive-in theater concept, you'll turn on your radio to the corresponding station as scary tales tell the story of The Haunted Road. It's a haunting drive unlike any other that has been one of the most anticipated Halloween 2020 events in Orlando. 
For those of you who are interested in a family-friendly version, check out The Haunted Road's daytime experience. This adventure takes you and your family through an enchanted forest where you'll encounter some friendly fairytale creatures. This experience promises to provide music, storytelling, and plenty of fun (along with a contactless sweet treat) for the whole family!
Think you have what it takes to brave The Haunted Road? Visit The Haunted Road on select dates from September 25 through November 7, 2020 for the most unique Halloween experience around! Tickets must be purchased in advance, so please head to The Haunted Road's website for more information on how to reserve your vehicle. (Photo Credit: The Haunted Road)
Book a Galaxy Themed Home Here!
Fall at Southern Hill Farms, Festival
There's something special about being on a farm during the fall season. Before you even ask the question, yes, even Central Florida has its own gorgeous farm for everyone to visit. Southern Hill Farms Fall Festival is a yearly event occurring between September 26 and November 8, 2020, just outside of Kissimmee in Clermont, Florida. 
Take the kiddos down the dirt roads to discover a pumpkin patch offering some of the best variety of pumpkins grown in the U.S. If you're dreaming of sunflowers and zinnias, Southern Hill is well known for its stunning sunflower and zinnia fields. Choose your favorite blooms and take them with you as a souvenir, or capture breathtaking photos to share with family and friends!
And what's a day to the farm without treats? Munch on Southern Hill's popular blueberry doughnuts and sip some of the best blueberry lemonade you've ever tasted. Guests may also visit 8 food trucks during the weekends and the gift shop offering homemade jams, candles, and more.
Enjoy a relaxing afternoon at the Southern Hill Farms Fall Festival and learn more by checking out their website and reserving your day! It'll be one of the best fall days you'll have all season.
Halloween Drive-In Movie at Old Town
For those of you exploring the Kissimmee area, Old Town now offers Halloween Drive-In Movie nights! Pull up in your car with your best snacks and food for an evening of jump scares and Halloween classics.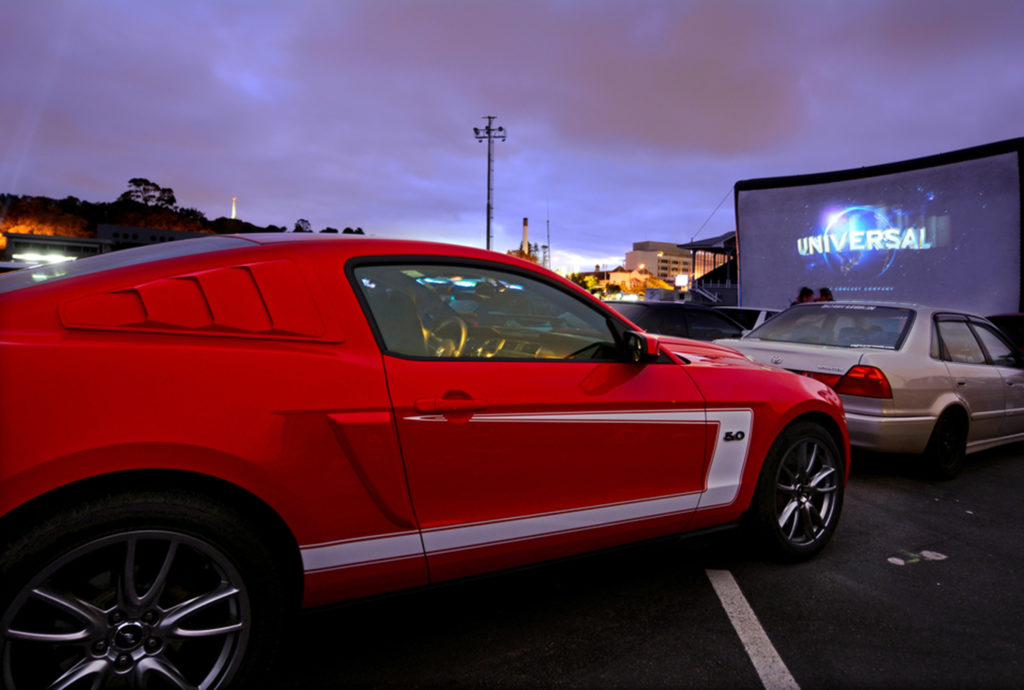 Choose from one of the four Sunday's in October to face your fears with flicks like Scream and Hocus Pocus! Tickets are $10 per vehicle and must be purchased in advance to reserve your spot. Check out Old Town's Halloween Drive-In event on their website to learn more.
You may have heard of Boggy Creek River Adventures, but you've never heard of it like this! Come for the candy or prepare for the scares at Scream N' Stream, Kissimmee's ultimate driving experience. Choose between the family-friendly trick-or-treating drive or the haunted drive-thru house. No matter which one better fits your group, you're bound to have a ghoulish time.
View this post on Instagram
The events run every Friday and Saturday through the end of October and start at $56 per vehicle when booked in advance. Learn more about each frightful experience online and reserve your spooky (or candy-filled) evening today!
With all of the ghoulish things to do during Halloween in Orlando, your visit will be nothing short of eventful. Let us know in the comments which event you're looking forward to the most and be sure to check out our
available magical vacation homes on special for the fall season
! As always, we'll see you in the next blog post! Have a magically frightful day.
*As to Disney artwork, logos, and properties: ©Disney*
Before you say anything, we already know what you're probably thinking. A 2020 WDW vacation? That doesn't even seem possible! Well, my fellow magical readers, the wonderful magic of Disney is a lot closer than you think. With
all 4 Orlando theme parks re-opening their doors this past J
uly operating on enhanced procedures and experiences, the Disney theme parks have made it possible for guests to re-discover the magic in newer and safer ways.
What we also know is that you do have to dive deeper into planning out your days. Park tickets are now requiring reservations and the Disney FastPass+ service is on hiatus until further notice. But don't let this deter you from strolling down Main Street U.S.A, and don't think you're in this completely alone, either! We recently discovered a truly magical way to plan your visit to Walt Disney World® with the awesome
WDW Park Planners
and we wanted to give you the inside scoop as to why this MAY be the best way to say hello to the mouse!
Book a Galaxy Themed Home Here!
What is WDW Park Planners?
So what exactly is WDW Park Planners? Well, we're glad you asked! WDW Park Planners is the stress-free way to plan your entire WDW vacation, minus the hassle of planning. You'll connect with your own full-service concierge and receive super exciting perks like customized itineraries that feature day by day,  line by line, the BEST order to follow throughout your park visit, tailored to your family's requests.  
Your Custom Itinerary (Parks, Food, Stroller Rentals, and More!)
These customized itineraries also help optimize your time in the parks so you can get the most out of your vacation experience (with corresponding parks maps for added convenience). Your personal concierge will even put together the tiniest of details, like your daily stroller rentals for the little ones. At the moment, Disney FastPass+ service is unavailable, but once these are back in action you can trust WDW Park Planners to get these together for you as well!
And what's a visit to Walt Disney World® without chowing down on their infamous meals and desserts? WDW Park Planners generates a reservation schedule for your favorite food stops to tie into your daily park visits, giving you peace of mind all the way down to the scrumptious meals you'll feast on. Whether you're ready to enjoy endless options at one of the many on-site character buffets, or you're leaning toward a romantic dinner for two, your personal concierge will have it completely covered. 
And with plenty of adjustments we've seen at the parks, there's always a possibility that new policies or rules may arise. WDW Park Planners promises to constantly update you and your family with any changes the parks may have, keeping you in the loop at all times.
Book a Rental with Themed Rooms Here!
Meet the Owner and Founder
We were delighted to have an opportunity to chat with Colleen, the owner and founder of WDW Park Planners! An Annual Passholder and DVC Member herself, Colleen always finds time to venture from her Chicago home to our sunny Orlando. Colleen, who has recently visited the parks after their reopening, takes her personal theme park experience to create the most beneficial plans for your family.
Book a Luxury Rental Home near Disney Here!
In her words to us, she stated that "this is a once in a lifetime trip, so we want you to get the most out of it…" and we couldn't agree more! As a vacation home business ourselves, we understand the importance of making the most out of your vacation experience. With all of the stressors of 2020, adding that touch of magic from a personal concierge can truly make a difference in your much needed Orlando vacation. 
If you're ready to make your magical Disney dreams a reality, book your
Magical Vacation Home
and head over to
WDW Park Planners
website to begin your Disney planning journey! You can also find WDW Park Planners on their
Instagram
and Facebook for the best theme park content. 
And as always, see you in the next blog post and have a magical vacation planning day!
*All photos courtesy of WDW Park Planners*
As the sun rises on the Cinderella Castle and the Tree of Life,
Walt Disney World
® Resort welcomes guests to its theme parks once again. With two Disney theme parks now open and two more on the way on July 15, 2020, there have been many changes to ensure the safety of cast members and guests. We knew that the
Magic Kingdom
® Park was going to be a must-visit during the opening weekend, so we wanted to give you guys a glimpse at its nearby neighbor,
Disney's Animal Kingdom
® Theme Park. We had the opportunity to visit and gather some insight on what to expect, and while we were there to bring you the scoop, we realized how much fun the theme parks still are! So what can you expect in your future visit? We broke down some of the key changes you'll notice on your trip to the theme parks.
Book a Luxury Rental Home near Disney Here!
Quick Notes Before Beginning…
Before guests may visit any of the four Disney theme parks, you must reserve your day online.
At this time, guests are only allowed to visit one park per day. The Park Hopper® and Park Hopper Plus® options are on hold until further notice.
The Disney FastPass+ service is on hold until further notice.
For more information on updated policies and procedures, please visit Disney Parks 
Returning to the World of Magic
.
Park Entry and "Health and Safety" Notices
When you reach the park entrance, you'll already begin to notice the stark difference in crowds just by the number of cars that enter. Upon our arrival, we didn't even have to wait to pay for parking. It's a nice change from the usual congestion we see and really does provide that peace-of-mind on arrival.
Once you hop out of your vehicle and make your way to the gates, you'll be greeted with the new Health and Safety Notice sign that helps you determine if you're able to enter the park.
As seen above, the notice notifies that they will be required to wear face coverings, undergo temperature screening, and practice physical distancing of 6 feet (2m) during their visit. The notice also states that "By entering
Walt Disney World
® Resort, you are confirming that you are not experiencing any of the following symptoms:
Cough
Shortness of breath or difficulty breathing
Fever
Chills
Muscle pain
Sore throat
New loss of taste or smell
Nausea, vomiting, or diarrhea
You have not been in contact with someone with confirmed or suspected COVID-19 symptoms without completing a 14-day quarantine
You are not under any self-quarantine orders
If you are unable to confirm all of the above listed, you must not enter
Walt Disney World
® Resort. And while these newly enforced policies do seem a bit strict, they definitely aid in preventing the spread of sickness and we truly appreciate the effort that has been implemented! Once you pass this notice, you will undergo a temperature screening prior to officially entering the park.
As long as your temperature falls below 100.4 after screening with a no-touch thermometer and you are wearing an approved face covering, you are granted entry (with your reserved admission, of course) into the parks! Guests will notice upon entry that all Cast Members will be equipped with two types of face coverings, including protective masks and shields. Guests will also only be asked to scan their admission cards or
MagicBand
rather than scanning your thumbprint for sanitary reasons.
Book an Orlando Resort Rental Here!
Physical Distancing and Inside the Theme Parks
The first thing you'll come to notice when entering the theme parks is the stark difference in crowd size (for the better). Because of capacity limits in all four Disney theme parks, you'll notice that entering the park and maintaining a distance between you and other guests will be a breeze.
This also makes for a fantastic opportunity to take amazing photos inside the theme park! Pose nearly wherever you'd like without interruption or heavy crowds walking by, just like below at
Pandora: World of Avatar
.
Attraction Wait Queues
It would only make sense that if the parks are less crowded, so are the queues, right? Well, that's entirely correct. Over the weekend,
Disney's Animal Kingdom
® Theme Park rarely saw a wait time that jumped over 5 MINUTES.
Yes, we're serious about this one. Most, if not all attractions at the theme park were practically walk-on's, giving guests the chance to complete everything and still have plenty of time to re-ride their favorites. And before you even ask the question, yes, this includes
Avatar Flight of Passage
, which is well-known for being one of the consistently busiest attractions on
Walt Disney World
® Resort property. Have you ever been able to walk onto this ride without a wait? It seemed near impossible in the past, but now it is a completely common occurrence. Time for those back-to-back attraction visits!
We'd also like to note that while fewer guests are riding the attractions, that doesn't stop the Cast Members from ensuring that all rides are properly sanitized throughout the day as a way to minimize bacteria transfer on high-contact surfaces!
Quick Service Dining
Just like the rest of the theme park, the on-site quick service dining options were also extremely low capacity. This made it extremely easy to grab food and a physically distanced table without worry.
Walt Disney World
® Resort is also recommending contactless payment by either paying with a tap debit or credit card, through a smartphone wallet or by completing a mobile order through the
My Disney Experience
app. All of these are additional ways to minimize the handling of high-touch surfaces for both cast members and guests.
Parade Viewings
Unfortunately (for now) parades and character meet & greet sessions have been put on hold in order to ensure guests have the chance to physical distance. BUT, you will have the chance to spot some of your favorite character friends and floats throughout the day! At Disney's Animal Kingdom® Theme Park, guests may see water floats pass by during their visit, just like this one here!
Check out our Vacation Rentals Luxury Collection Here!
And May the Magic Continue…
While things may be a bit different on your future visit to the theme parks, we guarantee that the magic still remains. We hope this overview gave you the insight you need for when you decide to plan your next vacation. And when you do, make sure to
check out some of our extraordinary vacation rentals
that may be ideal for your Orlando family vacation! Thank you for coming along the
Walt Disney World
® journey with us! Until the next blog post, have a magical (and safe) day.
*As to Disney artwork, logos, and properties: ©Disney*
BRIGHT SUNS! Welcome to blog three of our countdown to 
Star Wars: Galaxy's Edge
, opening August 29th at
Disney's Hollywood Studios®
! During our visit to the preview event on August 17th, we were lucky enough to find characters throughout our journey through 
Batuu
. Today, we're going to show you WHO we saw and WHERE you may spot some of your favorite's from the movies, here in real life! (Haven't read our last blog yet? Make sure you check that out 
here
! Hint: Blue and Green Milk and a galactic bar, anyone?)
The Stormtroopers
Credit: Nicolette / Magical Vacation Homes Roaming around 
Batuu
, you may bump into a
Stormtrooper
, or two, or five. During our visit, we noticed them throughout the land both walking and on rooftops. You have to make sure to look everywhere because they pop up from every nook and cranny. And don't be alarmed if they question you about your allegiance, just, make sure you have an answer for them.
Chewbacca
Credit: Nicolette / Magical Vacation Homes Well, it DEFINITELY wouldn't be 
Batuu
if you didn't see
Chewbacca
around, and we saw a lot of him. Keep an eye out when you enter
Batuu
because you may find him most often at the entrance area. We noticed him around the
Rebel Outpost
interacting with travelers while checking on his landed ship.
Kylo Ren
Credit: Nicolette / Magical Vacation Homes
Kylo Ren
has arrived in 
Batuu 
in search of the Resistance. He's entirely intimidating but we were in awe watching him walk with the
Stormtroopers
. When we spotted him, he was walking through the
Black Spire Outpost
just past
Savi's Workshop
.
Rey
Famous for being in Episodes VII through IX, Rey makes many appearances throughout 
Star Wars: Galaxy's Edge
. One of our Magical members noticed her roaming around just as you enter 
Batuu
, probably planning her recruitment efforts for the Resistance.
Vi Moradi
Now we didn't spot this character until the sun was set, but 
Vi Moradi
 is one you'll want to keep an eye out for. A newer character to most, 
Vi Moradi
 was introduced to us in 2017 in the novel, 
Star Wars:
 Phasma, and can now be found in 
Star Wars: Galaxy's Edge
. We were caught by surprise as she found 
us
 instead of the other way around. Usually, when wanting to meet characters you will go 
to
 them. This time around, we were unexpectedly approached, which was a one-of-a-kind experience. When 
Vi Moradi
 found us, she was debating if we were those she could trust as she hid from the 
Stormtroopers
, just before darting off. By the looks of it, you may bump into her just about anywhere as she keeps her guard up and presence hidden (or if you have our experience, she may just bump into you).
Til The Spire!
Ready to spot these characters? 
Get your Disney Theme Park tickets
 and get ready for 
Star Wars: Galaxy's Edge
! With exactly one week away until the grand opening, we're thrilled for you all to experience what we witnessed in 
Batuu
. There's still time to 
book your stay with Magical Vacation Homes
. We have plenty of villas that are perfect for any party on your future galactic getaway. We'll be back tomorrow with our exciting experience on 
Millennium Falcon: Smugglers Run
. Until next time, Til the Spire, and have a Magical day!
*As to Disney artwork, logos, and properties: ©Disney*
BRIGHT SUNS! It's blog two on our countdown to 
Star Wars: Galaxy's Edge
. This past weekend we were lucky enough to attend an exclusive preview of
Batuu
. We learned SO much about what this park extension will offer!
Oga's Cantina
and the
Milk Stand
were definite stand-outs! So we're here today to tell you what we saw, tasted, and loved about these two VERY important places! (Haven't read the first blog yet? Make sure you check that out 
here
! Hint: We talked about building some really cool stuff!)
Oga's Cantina
We've got to admit, seeing
Oga's Cantina
in person felt entirely surreal. We've read about it online and browsed through many photos of it for sure. But to actually stand there, ready to walk in, we felt like we won the grand prize.
Oga's Cantina
is the "It" spot for bounty hunters, smugglers, and others (now, including you). Take a moment to break away from the walkways of
Batuu
and refuel on an assortment of food and drink. Gather around with others at the bar or in your own private booth before heading out to take on your next journey through the galaxy.
When we walked in, we were greeted by dim lighting, upbeat music, and a very lighthearted atmosphere. For those who are always in search of the next great bar, this hangout spot takes the cake.
Unusual(ly Good) Drinks and Eats
At the time of our preview, we were not able to purchase anything. However, that didn't stop us from sneaking a peek at the menus. We took a look at what galactic offerings will be featured on the grand opening and we think you're all going to like the selection.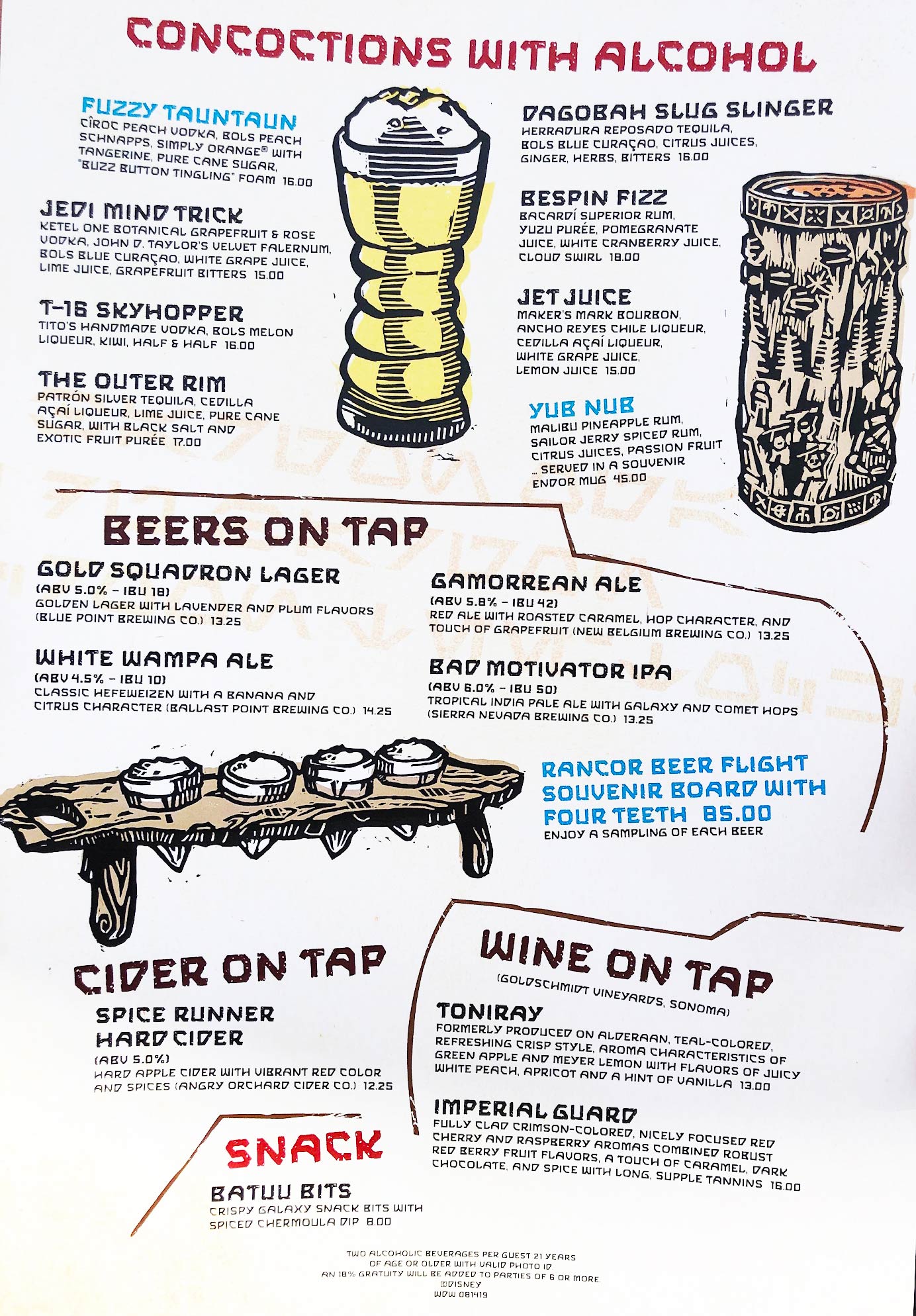 As you can see, there's really something for everyone. From hot to cold beverages, to even non-alcoholic drinks and snacks, everyone in your party will leave
Oga's Cantina
satisfied. Pricing per item varies, with the low-end looking at $4 for a double espresso, up to $85 for the
Rancor Beer Flight
. But regardless of pricing, each concoction on the menu looks very promising. And, food for thought, we did have the opportunity to sample the
Jedi Mind Trick
. This drink sells at $16 and is created with grapefruit & rose vodka, velvet falernum bols blue curacao, white grape and lime juice, and grapefruit bitters. We found it to be the PERFECT combination and a definite buy when you decide to visit.
Get ready for your intergalactic travel at
Oga's Cantina
! Reservations are now available, so go ahead and
reserve your spot
at this must-visit bar.
The Milk Stand 
How could we talk about one drink location without diving into the
Milk Stand
? The go-to beverage for all of
Batuu 
(and
Luke Skywalker
) has to be the blue and green milk (and it's all vegan). We tried both of these delicious options and were very surprised by the flavor!
With the consistency of an icy smoothie (PERFECT for those hot, Florida days), the blue milk's (left) rice and coconut milk-based drink is sweet and fruity. The green milk (right) tasted like a cup full of springtime with a dash of citrus. If we HAD to pick, we'd go blue, but for citrus, fans should definitely aim for green! It's the summer beverage we've been needing!
If you're over 21, try either milk with a dash of rum (for blue) or tequila (for green). Non-alcoholic milk runs at $7.99 and $14 with alcohol. And if you're one to collect souvenir items, you can ask for your (non-alcoholic) milk of choice in the
Bubo Wampa Family Farms Sipper
! These can be purchased for $24.99 at the
Milk Stand
.
Til The Spire…
So, what are you waiting for?
Star Wars
: Galaxy's Edge may not open until August 29th, however, it's never too early to
purchase your Disney Theme Park tickets
! Get them early and get prepared to travel to
Batuu
for an out of this world galactic journey. And after your journey back from
Batuu
, look no further than
Magical Vacation Homes
for your magical galaxy villa. Our homes are perfect for the Orlando vacation and close by to all things
Star Wars
. We'll see you tomorrow when we talk about
Chewbacca
,
Stormtroopers
and other galactic friends. Until next time, Til the Spire, and have a Magical day!
*As to Disney artwork, logos, and properties: ©Disney*
*
Oga's Cantina may require a reservation. For Milk Stand and Oga's Cantina, prices subject to change. Food and drinks subject to availability.
We can all hear the beep-beep-boop sounds in our heads when we think of the infamous 
BB-8
. But, what if those sounds were even closer? What if you could choose the beeps and the boops and build it from the bottom up? Looks like the 
Droid Depot
 is here to fulfill your wildest dreams of droid-building and imaginative creation. BRIGHT SUNS! We are VERY excited to share with you the first blog in our countdown to 
Star Wars: Galaxy's Edge
, opening August 29th at 
Disney's Hollywood Studios
®. And we know, you're probably wondering "The first blog? How much could there be to talk about?" A lot, fellow readers. This remarkable land has many sights to see and MANY things to do, just like our first topic of many, the 
Droid Depot
!
Entering the Droid Depot
Droid parts, ASSEMBLE! Journey into 
Black Spire Outpost
 where you will find the assembly location. Here, you can immerse yourself into the world of many kinds of droids, droid parts, droid accessories, and just about anything droid-related. From the moment you walk in, make sure you watch your step because there may be a fellow droid making his way around the depot! When we entered, we were greeted by this little guy and we couldn't get enough of him.
Building Your Droid
If you're looking to create your own droid from scratch, this conveyor belt will be at your service! For $99.99, you can experience what it's like to build your newest robotic friend. This includes the droid build, carrier box, and Bluetooth® technology. Carry your droid around the park to watch it interact with elements in Batuu!* When deciding to create your droid, you are presented with two options being either the 
R-Series Astromech
or the 
BB-Series Astromech
. If we personally had to pick, it would definitely be the 
BB-Series
with the Imperial Body and Imperial Dome. But, that's the magic of creating your own! You can choose from 7 different body types and 10 different domes. And, if you're sticking to the R-Series, yours will come with legs!
Each series comes in a variety of colors which you will find on the conveyor belt (colors subject to availability). Once you choose your parts from the belt, now it's time to build! Walk up to the building station and be greeted by one of the cast members of Batuu, where you will then begin the assembly process of your droid!
It's a fairly simple step-by-step process as you can see with the instruction above, and if you ever need help, someone is always close by to assist! After putting your droid together, you're finally ready to bring it to life.
When you're ready to activate, you will place your droid into the activation station either to the left or right of your instruction board (in our case from this photo, it is the left). It only takes a moment to watch each level light up and entirely activate your very own droid. Your new friend is complete and ready to take home!
Droid Sounds and Accessories
However, let's say you're one to accessorize. After you finish your droid, it's time to take a look around the walls to add some touches to your creation. One of the MOST essential add-ons in our opinion is the personality chips. Located by the conveyor belts, these chips are what will give your droid a bit of character and those beep-boop's we talked about earlier! We caught a quick clip of what each sound effect sounds like based on color and how much personality it can add to your droid.
And there you have it! Droid, complete. Experience, worth every penny. We loved the atmosphere and the concept behind creating your own droid, and we definitely plan on returning in the future to create our own. But for now, we will reminisce on what we saw and what we learned. Now for you all, it's time to prepare for your future build. How you will make the droid your own? We can't wait for everyone to experience this journey!
Til The Spire!
That's all (for now) for day 1 of our 
Star Wars
: Galaxy's Edge countdown! Keep an eye out as tomorrow (August 21), we will give you the inside scoop on our visit to 
Oga's Cantina
 and the 
Milk Stand
.
Star Wars
: Galaxy's Edge will make its long-awaited grand opening on August 29th, 2019 in 
Disney's Hollywood Studios
®. Make sure you're prepared for your galactic getaway to Batuu by
 booking your galactic
stay and 
purchasing your Disney Theme Park tickets
 today! Until tomorrow, Til the Spire, and have a Magical day!
-CHECK OUT THE NEXT BLOG, WE VISIT OGA'S CANTINA AND TASTE BLUE AND GREEN MILK, HERE–
*
Experience may require a reservation. Droid parts and accessories subject to availability.  Prices subject to change. View more information and FAQ here