BRIGHT SUNS! Welcome to blog three of our countdown to 
Star Wars: Galaxy's Edge
, opening August 29th at
Disney's Hollywood Studios®
! During our visit to the preview event on August 17th, we were lucky enough to find characters throughout our journey through 
Batuu
. Today, we're going to show you WHO we saw and WHERE you may spot some of your favorite's from the movies, here in real life! (Haven't read our last blog yet? Make sure you check that out 
here
! Hint: Blue and Green Milk and a galactic bar, anyone?)
The Stormtroopers
Credit: Nicolette / Magical Vacation Homes Roaming around 
Batuu
, you may bump into a
Stormtrooper
, or two, or five. During our visit, we noticed them throughout the land both walking and on rooftops. You have to make sure to look everywhere because they pop up from every nook and cranny. And don't be alarmed if they question you about your allegiance, just, make sure you have an answer for them.
Chewbacca
Credit: Nicolette / Magical Vacation Homes Well, it DEFINITELY wouldn't be 
Batuu
if you didn't see
Chewbacca
around, and we saw a lot of him. Keep an eye out when you enter
Batuu
because you may find him most often at the entrance area. We noticed him around the
Rebel Outpost
interacting with travelers while checking on his landed ship.
Kylo Ren
Credit: Nicolette / Magical Vacation Homes
Kylo Ren
has arrived in 
Batuu 
in search of the Resistance. He's entirely intimidating but we were in awe watching him walk with the
Stormtroopers
. When we spotted him, he was walking through the
Black Spire Outpost
just past
Savi's Workshop
.
Rey
Famous for being in Episodes VII through IX, Rey makes many appearances throughout 
Star Wars: Galaxy's Edge
. One of our Magical members noticed her roaming around just as you enter 
Batuu
, probably planning her recruitment efforts for the Resistance.
Vi Moradi
Now we didn't spot this character until the sun was set, but 
Vi Moradi
 is one you'll want to keep an eye out for. A newer character to most, 
Vi Moradi
 was introduced to us in 2017 in the novel, 
Star Wars:
 Phasma, and can now be found in 
Star Wars: Galaxy's Edge
. We were caught by surprise as she found 
us
 instead of the other way around. Usually, when wanting to meet characters you will go 
to
 them. This time around, we were unexpectedly approached, which was a one-of-a-kind experience. When 
Vi Moradi
 found us, she was debating if we were those she could trust as she hid from the 
Stormtroopers
, just before darting off. By the looks of it, you may bump into her just about anywhere as she keeps her guard up and presence hidden (or if you have our experience, she may just bump into you).
Til The Spire!
Ready to spot these characters? 
Get your Disney Theme Park tickets
 and get ready for 
Star Wars: Galaxy's Edge
! With exactly one week away until the grand opening, we're thrilled for you all to experience what we witnessed in 
Batuu
. There's still time to 
book your stay with Magical Vacation Homes
. We have plenty of villas that are perfect for any party on your future galactic getaway. We'll be back tomorrow with our exciting experience on 
Millennium Falcon: Smugglers Run
. Until next time, Til the Spire, and have a Magical day!
*As to Disney artwork, logos, and properties: ©Disney*
BRIGHT SUNS! It's blog two on our countdown to 
Star Wars: Galaxy's Edge
. This past weekend we were lucky enough to attend an exclusive preview of
Batuu
. We learned SO much about what this park extension will offer!
Oga's Cantina
and the
Milk Stand
were definite stand-outs! So we're here today to tell you what we saw, tasted, and loved about these two VERY important places! (Haven't read the first blog yet? Make sure you check that out 
here
! Hint: We talked about building some really cool stuff!)
Oga's Cantina
We've got to admit, seeing
Oga's Cantina
in person felt entirely surreal. We've read about it online and browsed through many photos of it for sure. But to actually stand there, ready to walk in, we felt like we won the grand prize.
Oga's Cantina
is the "It" spot for bounty hunters, smugglers, and others (now, including you). Take a moment to break away from the walkways of
Batuu
and refuel on an assortment of food and drink. Gather around with others at the bar or in your own private booth before heading out to take on your next journey through the galaxy.
When we walked in, we were greeted by dim lighting, upbeat music, and a very lighthearted atmosphere. For those who are always in search of the next great bar, this hangout spot takes the cake.
Unusual(ly Good) Drinks and Eats
At the time of our preview, we were not able to purchase anything. However, that didn't stop us from sneaking a peek at the menus. We took a look at what galactic offerings will be featured on the grand opening and we think you're all going to like the selection.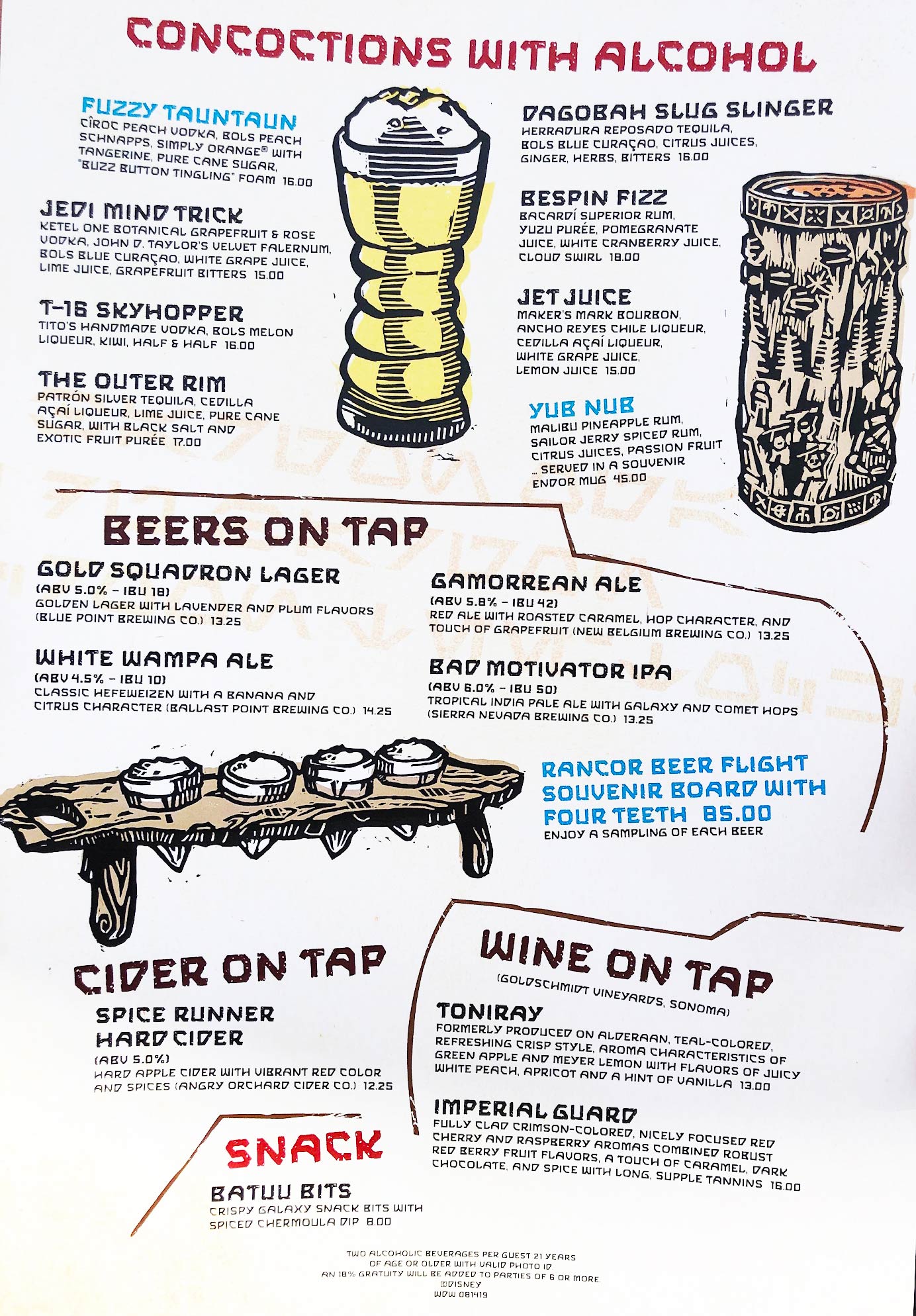 As you can see, there's really something for everyone. From hot to cold beverages, to even non-alcoholic drinks and snacks, everyone in your party will leave
Oga's Cantina
satisfied. Pricing per item varies, with the low-end looking at $4 for a double espresso, up to $85 for the
Rancor Beer Flight
. But regardless of pricing, each concoction on the menu looks very promising. And, food for thought, we did have the opportunity to sample the
Jedi Mind Trick
. This drink sells at $16 and is created with grapefruit & rose vodka, velvet falernum bols blue curacao, white grape and lime juice, and grapefruit bitters. We found it to be the PERFECT combination and a definite buy when you decide to visit.
Get ready for your intergalactic travel at
Oga's Cantina
! Reservations are now available, so go ahead and
reserve your spot
at this must-visit bar.
The Milk Stand 
How could we talk about one drink location without diving into the
Milk Stand
? The go-to beverage for all of
Batuu 
(and
Luke Skywalker
) has to be the blue and green milk (and it's all vegan). We tried both of these delicious options and were very surprised by the flavor!
With the consistency of an icy smoothie (PERFECT for those hot, Florida days), the blue milk's (left) rice and coconut milk-based drink is sweet and fruity. The green milk (right) tasted like a cup full of springtime with a dash of citrus. If we HAD to pick, we'd go blue, but for citrus, fans should definitely aim for green! It's the summer beverage we've been needing!
If you're over 21, try either milk with a dash of rum (for blue) or tequila (for green). Non-alcoholic milk runs at $7.99 and $14 with alcohol. And if you're one to collect souvenir items, you can ask for your (non-alcoholic) milk of choice in the
Bubo Wampa Family Farms Sipper
! These can be purchased for $24.99 at the
Milk Stand
.
Til The Spire…
So, what are you waiting for?
Star Wars
: Galaxy's Edge may not open until August 29th, however, it's never too early to
purchase your Disney Theme Park tickets
! Get them early and get prepared to travel to
Batuu
for an out of this world galactic journey. And after your journey back from
Batuu
, look no further than
Magical Vacation Homes
for your magical galaxy villa. Our homes are perfect for the Orlando vacation and close by to all things
Star Wars
. We'll see you tomorrow when we talk about
Chewbacca
,
Stormtroopers
and other galactic friends. Until next time, Til the Spire, and have a Magical day!
*As to Disney artwork, logos, and properties: ©Disney*
*
Oga's Cantina may require a reservation. For Milk Stand and Oga's Cantina, prices subject to change. Food and drinks subject to availability.
#MagicalStays Contest (CONTEST CLOSED)
Have you always dreamed of staying in a magical home, where you can choose from sleeping in a castle to watching your favorite superhero movie while surrounded by your favorite characters? All of your vacation dreams can come true with a stay at The Fun House at Reunion! This luxury 5 bedroom villa located in Reunion Resort has everything you need for a magical vacation — and you now have the chance to win a free week!
That's right — enter to win a free week at The Fun House at Reunion (RVH_520) by submitting your favorite Orlando vacation memory photo HERE. 
The Fun House at Reunion
By entering our #MagicalStays contest, you're entering for a chance to win a free 7-night stay in this incredible new vacation home rental. Every inch of the 3,374 square foot house features luxurious furnishings, the latest technology, and magical details to truly make it a home away from home.
Each bedroom is customized for both the kids and the adults. Little princesses will love the opportunity to sleep in their own castle, and Jedi knights will love to sleep in their own galactic getaway complete with a fun slide! Adults enjoy King sized beds, and beautiful decor. One room even features a life-size astronaut and fiber optic star ceiling! All bedrooms have their own SMART TV and ensuite bathroom.
A great feature is the west-facing private pool and spillover spa. Soak up the famous Florida sunshine while lounging on the patio furniture, or cook a meal outdoors in the summer kitchen and dine outdoors!
Play all day in the lounge games room with fun arcade games and a Star Wars Battle Pod Arcade. Get your game on playing foosball or going head to head on the video game systems.
At the end of the day, curl up and watch your favorite superhero movie on this 120-inch movie screen in the private home theater. This amazing property is only minutes away from Walt Disney World Resort, and close to other amazing Orlando Area attractions including Universal Studios and SeaWorld.
Enter the Contest
What are you waiting for? Enter the contest now! Find it on our website HERE or on our Facebook page HERE
Share a photo of your favorite Orlando vacation memory with us. Be sure to keep sharing with your friends and family to get the most votes and win a free stay at The Fun House at Reunion!
Until the next blog post, we hope you have a Magical Day!
Magical Dining Month 2018 is returning to Orlando area restaurants! Starting August 24th and lasting every day until September 30th, 2018, Magical Dining Month serves up opportunities to enjoy three-course meals at 100+ of Orlando's best restaurants for $35 plus tax and gratuity. This is an exciting event for both tourists and locals!
A Great Selection
Restaurants are located all around the greater Orlando area, and you can see them divided based on location. Districts include the Disney/Lake Buena Vista Area, Universal/CityWalk, Convention Center Area, and Downtown, so there are many options. See the full list of 100+ Restaurants
HERE
!
Support Local Charities
Best Buddies
and
Down Syndrome Association of Central Florida
. A great way to give back to two great causes and support local businesses at the same time!
Enjoy Magical Dining Month 2018
Magical Dining Month 2018 is one of the most anticipated events of the year, so reservations are highly encouraged to ensure that you'll be able to participate. There's no limit to how many times you can enjoy Magical Dining meals, so use this amazing event as an opportunity to try out new restaurants. If you're looking for some great recommendations, all of our Magical staff members are locals and Orlando experts! We all have a favorite local Orlando restaurant and love to share advice with our guests. Are you currently planning your Orlando vacation and want to experience amazing events like Magical Dining Month and other amazing Orlando attractions and theme parks? Check out
Magical Vacation Homes
 and find the perfect vacation rental for every type of vacation. Head to our
website
or call our reservations team toll free at  and book your Magical vacation today!A brand new splash park and water slides just opened at Windsor Hills! Windsor Hills Resort, located only two miles from Walt Disney World, opened their brand new multi-million dollar water park in August 2018. This new Windsor Hills Water Park features a splash pad area and two dueling water slides! The water park area is open for all Windsor Hills Resort guests staying in a vacation rental, as well as Windsor Hills owners.
Splash Park
Dueling Water Slides
Resort Amenities
In addition to the new splash park and water slides, Windsor Hills Resort opened up a new oval hot tub for total relaxation and new expanded deck space. All of these amenities, including the Double Olympic Size Pool, Tennis Courts, Castle Playground and Community Clubhouse (including 40 person movie theater!), are included in your reservation and free to use when you stay in a Windsor Hills rental!
Stay at Windsor Hills
Check out our
amazing selection of Windsor Hills Rentals
, from value 2 bedroom condos to luxury 5 bedroom homes, all of them located only minutes away from Walt Disney World!
Vacation Fun
, pictured above, is a new 3 bedroom condo with luxury furnishings and a custom kids bedroom, starting at only $89 a night! If you're planning your next Orlando family vacation and want to talk to someone about booking a vacation rental, our reservations team is happy to assist! Contact them by email at
[email protected]
 or by phone at  Until the next blog post, we hope you have a magical day!Here at Magical Vacation Homes, we know that capturing your magical memories is an essential part of your vacation. From Snapchat selfies to professional family portraits, everyone has their own favorite way of documenting their trip. If you're headed to the Walt Disney World Resort Theme Parks on your Orlando vacation, chances are you will see PhotoPass photographers taking pictures of you with characters or in front of landmarks like Cinderella's Castle. Keep reading to learn more about
Disney Photopass Day
2018 and how to submit your Orlando vacation photos for your chance to win a free 7 night stay in a magical rental home.
Disney PhotoPass Day 2018
Disney PhotoPass Day 2018, happening Sunday, August 19th, 2018, is a great way to celebrate this awesome service to have professional photos taken of your family on vacation. If you will be in the theme parks on August 19, 2018, there will be some unique photo opportunities to celebrate! Special photo ops include rare characters, like meeting Pinocchio in Magic Kingdom, or some villains like Cruella de Vil and Jafar at Epcot. There will also be special photo props and "Magic Shots" to enhance your fun family vacation photos. Start your day at Disney's Animal Kingdom Theme Park for some awesome Pixar photo props from Up and Finding Nemo, then head to Hollywood Studios at night for a special Beauty and the Beast light painting photo opportunity. This special event has photo opportunities starting at park open in the morning at 9 am and lasting until 8 pm, but be sure to check each park's times guide for special character meeting times.
#MagicalStays Photo Contest
Can't join us at the Disney Theme Parks for PhotoPass day? No need to worry, you can still join in on the photo fun by sharing your Orlando vacation memories with us for our #MagicalStays Photo Contest! The winner of this Magical Contest will receive a FREE 7 Night Stay in
RVH_520
, The Fun House at Reunion. Enter for your chance to make more magical memories here in Orlando in this amazing house with custom kids bedrooms, a super home movie theater, Enter our contest by submitting your photo
HERE
, or heading over to our
Facebook page
to enter! Vote for your favorite Orlando area vacation photo once a day until September 30th, 2018. Share with friends and family to get as many votes as possible to win your 7 night stay at The Fun House at Reunion!
Here at Magical Vacation Homes, we know what it takes to make your vacation extra magical. If you're looking at planning your Orlando vacation and are looking for advice on where to stay, contact our Reservations Team either by phone at 1-866-991-3158 or email 
[email protected]
. Until the next blog post, we hope you have a magical day!Orlando is a dream vacation destination for princesses of all ages. Here's our guide to help you plan a dream
vacation in Orlando
with all of the royal essentials, including a stay in your very own castle!
1. A Princess Carriage Stroller Rental
A princess deserves a royal ride! Get the VIP (Very Important Princess) treatment with a Princess Carriage stroller. The theme parks can involve a lot of walking around, and a carriage stroller can be a lifesaver for families not wanting to carry everything around (It's also perfect for holding all the royal purchases!) Does your little one need a midday nap? The stroller allows for a restful royal sleep by converting into a bed. The Princess Carriage Stroller will soon be available as a checkout option when you book a stay with us, or on their official website found
here
.
2. A Trip to the Bibbidi Bobbidi Boutique

Plan a visit to the Fairy Godmothers in Training for a magical makeover! This experience at Walt Disney World requires advanced reservations, available at two locations: Cinderella Castle in Magic Kingdom or the Boutique in Disney Springs. There are different levels of this royal makeover available for princesses (and handsome young knights!) ages 3 -12. Get the details
here
and plan for an extra enchanted experience.
3. Dining with the Princesses
Enjoy a royal meal with some Princess friends! On a trip around the World Showcase in Epcot, a stop at
Akershus Royal Banquet Hall
is a great way to have food for everyone with a buffet, and a visit directly to your table from Princesses! Character Dining is a great way to meet characters, get autographs and photos without having to wait in long lines. Magic Kingdom has some great Royal dining options including Cinderella's Royal Table and Be Our Guest — dine in Castles with a prix fixe menu!
4. A Ride on the Royal Carrousel
At the heart of Fantasyland is Prince Charming Regal Carrousel, a must-ride for every princess! Get to choose your own royal horse, and it's a perfect opportunity to get photos from the designated royal photographers (AKA Mom and Dad). The carrousel usually doesn't have too long of wait to ride, and does not have any height restrictions so guests of all ages are welcome to ride!
5. A Stay in your very own Castle
After a long day exploring the Theme Parks, every Princess needs to retreat to her own royal castle! With a stay at The Fun House at Reunion, little princesses are given the full royal treatment with a custom-built bedroom just for them! Wake up in a bed fit for a princess and play all day in a custom-built castle! See rates and availability for this amazing home
HERE!
Here at Magical Vacation Homes, we know what it takes to make your vacation extra magical. Every family deserves the royal treatment! If you're looking at planning your Orlando vacation and are looking for advice on where to stay, contact our Reservations Team either by phone at 1-866-991-3158 or email
[email protected]
. Until the next blog post, we hope you have a magical day!I hope everyone is having a magical week! It's time for our next installment of area attractions in the Central Florida Area, featuring
Kissimmee Go-Karts
. Here at Magical Vacation Homes, we're proud to be a local company and support other local area businesses. We also like to use our local advantage to help you create the most magical vacation possible! Keep reading for more information about
Kissimmee Go-Karts
!
Kissimmee Go-Karts
For over 20 years, Kissimmee Go-Karts has been providing affordable family fun to the Central Florida Area. At the center of everything is the Go Kart track. This is the largest track in Central Florida at around 1 mile long! Race on some of the fastest karts around, designed for drivers of all ages and experience levels. Need a break from racing? Check out the amazing arcade! Kissimmee Go-Karts features over 70 arcade games, with classics like Pac Man as well as Skee Ball and Air Hockey!
Want to get a full Florida experience? Visit the pool of real Florida alligators! You will even have the opportunity to feed these live gators! Spend the day playing away at Kissimmee Go-Karts and keep the fun of racing going all vacation long by staying at the
Oasis Estate
. This amazing 8 bedroom rental vacation home in Championsgate provides fun for everyone! Keep playing your favorite games and reminisce on racing around the longest go-kart track in Central Florida — just like Lightning McQueen!
If you're planning a Central Florida vacation and need some help planning where to stay,
contact us today
to get started planning the magical vacation of your dreams! Until the next blog post, we hope you have a magical day!According to AAA Travel, Orlando is the #1 destination for travel this 4th of July! It's easy to see why, especially when we have theme parks known for their awe-inspiring fireworks spectaculars happening nightly! If you're planning a
4th of July in Orlando
at the theme parks or visiting the Orlando area for Independence Day celebrations, we've put together a guide for you!
Our first Magical tip
: the theme parks fill up very fast on the 4th of July, so be sure to keep that in mind when you are planning your day! There will be heavy crowds, so plan for long wait times for rides and characters and make sure to scope out your fireworks spot early!
EPCOT
Epcot is the #1 spot for Independence Day celebrations! Here's an inside look at the special offerings:
Special Fireworks: "The Heartbeat of Freedom" What would a 4th of July celebration be without fireworks? And Epcot has the best show around! It starts at 9 p.m. with a performance of "IllumiNations: Reflections of Earth," which concludes with the addition of a heart-pounding, all-American grand finale. This one-night-only fireworks extravaganza unites music from great American composers with more pyrotechnics than Guests can imagine!
Voices of Liberty – An Epcot tradition for more than 35 years, this legendary a cappella group will perform a series of special evening concerts of great American songs in the America Gardens Theatre at 5:30 p.m., 6:45 p.m. and 8 p.m. Joining the Voices of Liberty on stage will be Mickey Mouse, Donald Duck and Goofy, dressed for the occasion in their special "Spirit of '76" attire. Guests can also catch Voices of Liberty performing special patriotic songs in the rotunda of The American Adventure at 2 p.m. and 3 p.m.
Disney Characters – During the day, Guests will have the opportunity to get a special photo with Mickey, Goofy, Pluto and Chip 'n' Dale, all wearing their patriotic best, right outside The American Adventure pavilion.
Specialty Foods – Guests can add some flavor to their celebration with all-American foods throughout the park. There will be decadent red, white and blue cupcakes available at Fountain View and Sunshine Seasons, where they can also nosh on their yummy BBQ pork sandwich. Refreshment Port will have specially decorated croissant doughnuts (Who can resist those?!) and Liberty Inn has got Guests covered with the all-American burger, southern fried chicken sandwich, apple pie cheesecake and –just for the 4th – a slice of watermelon!
The American Adventure – This epic attraction, another Epcot original, has recently been updated with an all-digital projection system, a new screen, new speakers and an all-new recording of the iconic "Golden Dream" anthem. And look for new faces added to the show's finale including composer John Williams, astrophysicist Neil deGrasse Tyson and noted ballerina Misty Copeland.
Magic Kingdom
Enjoy Disney's Celebrate America – A Fourth of July Concert in the Sky on July 3rd and 4th at 9:15 pm! See beautiful fireworks in the sky and special effects on Cinderella's Castle. Also around the Magic Kingdom will be DJ Hosted dance parties from 7 pm to midnight on both the 3rd and the 4th in Frontierland and Tomorrowland. Dance the night away with both contemporary songs as well as tunes themed to the lands.
Universal Studios Orlando
Starting at 5 pm on July 4th, Universal Studios Orlando will host special entertainment to celebrate, including a live performance from the band Raydio, award-winning DJ M-Squared spinning hits and a special dance party with Universal's beloved characters. Fireworks begin at 9 pm, and the park will stay open until 10 pm to keep the Independence Day fun going until late!
4th of July in Orlando Outside of the Theme Parks
Trying to avoid the busy theme park crowds?
This website
has compiled all of the events happening in the Central Florida area for the 4th! Thinking about planning your Orlando vacation and need some assistance with where to stay?
Contact us today
, our dedicated reservations team is here 7 days a week to help you plan the vacation of your dreams today! Until the next blog post, have a magical day!The Orlando area offers so many exciting attractions! While we're best known for our major theme parks, there are many additional attractions around the area that provide just as much excitement, thrills and fun for the family. In this new series on the blog, we're going to highlight local area attractions we think you should definitely check out to make your vacation even more magical!
Have you ever dreamed of soaring through the trees on giant zip lines? This is the place for you! Orlando Tree Trek features different high ropes courses suited for all members of the family ages 7 and up, with:
Four (4) Adult Courses (12+) which includes a giant (425ft) zip line
Three (3) Junior Courses (9-11) which includes a giant (425ft) zip line
Two (2) Kids Courses (7-8)
Not the biggest fan of heights? The park has plenty of walking trails near the courses to view your climbers as they work their way through challenging obstacle courses 10 to 50 feet in the air.
Safety
Safety is the number one most important factor at Orlando Tree Trek. Your experience begins with an immersive training session, with guides demonstrating the two step safety measures and making sure everyone feels confident before climbing up to adventure through the trees. There are some important requirements before climbing, including a signed waiver form, height requirements for adventurers and waist size requirements (not weight).
The Story
Both Magical Vacation Homes and Orlando Tree Trek Adventure Park are family owned and operated businesses! Here's the backstory behind this exciting adventure park: "The Lemieux and Barbusci families set out to build the most fun and challenging Park possible while ensuring that guests' safety and satisfaction would always be top priority. So they chose two of the most renowned names in the business, TreeGo and Outplay Adventures LLC, to design and build Tree Trek Adventure Park. The two companies have gained an excellent international reputation as builders of multiple parks throughout both North America and Europe. From the materials and designs used to build the Park to the actual equipment used by climbers, only the best have been chosen to ensure everyone will have a safe, carefree and exciting experience. It's important to the Lemieux and Barbusci families as well as to our guests that everything used in the Park's construction meet or exceed all established industry standards and that all our outdoor operating procedures, including game and equipment inspections, have been established based on a "best industry practice only" basis." Truly enjoy every minute at the Orlando Tree Trek without worry! After a long day of zipping through the trees, retreat back to a vacation home that still feels like you're in nature! The following rental homes border private nature conservations so you still feel the privacy of being in the woods.
Relax in one of these comfortable sun loungers and dream of flying through the treetops again at the Magic Mansion. This beautiful infinity pool is bordering a nature conservation area so it is as private as it can get. See more information about this beautiful home
HERE
.
Dine al fresco in your own private tropical tree paradise in this beautiful Reunion Resort home. Surround yourself with nature at this property, see more
HERE
! Located close to all of our vacation properties, as well as the Disney parks, the Orlando Tree Trek is a great attraction to enjoy then retreat to your vacation home to relax. Advance reservations are highly recommended, as they limit the number of people on the courses for maximum enjoyment. Get a 15% Off coupon by signing up on their website! Until the next blog post, we hope you have a Magical day!