While a visit to Disney World is on the list for many vacationers who hit the road to Orlando, there are many other activities, attractions, and experiences to fill your time outside of the Happiest Place on Earth. Orlando is one of the largest cities in the Sunshine State by population, combined with loads of tourists heading there for a respite and some fun means there are many and varied activities and Orlando tours to keep you busy and experiencing all the city has to offer throughout your stay.
VIP Insider Disney Tours
There are four Disney parks to choose from in Orlando, and you can spend an entire trip soaking up all the Disney fun and excitement you can dream of and still need to come back for more. Disney fans can turn up the Disney fun and head behind the scenes with a VIP insider tour of a favorite park. The private tour takes you and your group to places behind-the-scenes, to places and activities unseen or off-limits to park-goers during a traditional visit to the park. Park admission is not included in the price of the tour.
Private Helicopter Tour
Go up, up, and away, as you tour the area from a bird's eye view. Board a helicopter for a unique way to tour the area and see some of the most iconic Orlando landmarks. Soar high above the Orlando area and witness a different view of your favorite attractions. Flights can last from just ten minutes all the way up to an hour. Your pilot will show you around, point out major points of interest, as well as narrate, offering bits of history, information about the development of the area from vacant land to bustling theme parks and tourist destinations. Don't forget your camera as you're sure to capture beautiful photos while you soak up the sights, including Disney Springs, Epcot, Old Town Orlando, Sea World, and others. This tour is provided by MaxFlight Helicopters.
Central Florida Everglades Airboat Tour
Choose your starting point and head out on a wild Central Florida Everglades adventure. The airboat tour and alligator encounter is a four-hour journey starting from your choice of 12 points around Orlando. The airboat ride is 30-60 minutes depending on the package you choose and takes you through protected swamps, marshes, and rivers to the headwaters of the Florida Everglades. You'll get a glimpse of alligators, birds, and lush vegetation as you skim across grassy water, followed by an alligator handling demonstration. The trip also includes a visit to Wild Florida Wildlife Park, where you'll see alligators, crocodiles, deer, tropical birds, turkeys, zebras, and much more.
Chocolate Kingdom Factory Tour
Chocolate lovers will want to add this sweet stop to the top of their must-see list. Chocolate Kingdom, the Factory Adventure Tour, is an interactive tour that takes you from the cocoa bean to the creamy, delicious chocolate treats you love to indulge in. Your Personal Chocolate Tour Guide teams up with a "handsome prince" and the prince's dragon sidekick to take you through a Cacao Tree Greenhouse, a one-of-a-kind Chocolate Museum, the Mystical River of Chocolate, and the Micro Batch Bean-to-the-Bar Factory that utilizes old-world machinery in the creation of delicious desserts. The 45-minute tour includes samples along the way, and for an additional fee you can customize your own chocolate bar!
Manatee and Airboat Adventure
Get ready for a day full of outdoor adventure. The package from Real Florida Adventures is three experiences in one trip! The trip lasts a full 12 hours and departs from your choice of three different departure points around Orlando. Breakfast is provided while you are given an overview of the day's activities. At your first stop, you'll board a boat on the Crystal River and set out for a swim and snorkel experience with manatees, so you'll want to make sure you have an underwater camera. Dry off and head to the next stop: Homosassa Springs State Park for lunch and a tour around the park. From there you'll be whisked away on an airboat ride on the Withlacoochee River before heading back to Orlando.
Orlando Tours
Enjoy a stress-free, worry-free stay when you book a vacation rental provided by Magical Vacation Homes. Your small group or family will enjoy a two-bedroom unit or plan a reunion and book a unit as large as 15 bedrooms for everyone to tour and experience the town together. Watch the kids play outside on outdoor play equipment, relax on a private balcony or patio, or splash around in a private pool or hot tub at your rental. You'll love the whimsy of bedrooms decorated in various Disney themes as well as the quiet dignity of professionally designed indoor and outdoor spaces. Many units include flat-screen TVs, stainless steel appliances, and spa-like master suites. Make a meal in the fully equipped kitchen, then spread out in an open living area for some relaxation. For a luxury stay like no other, choose a premium unit to include perks like a game room, theater room, and even your own private luxury spa to relax and rejuvenate.
Call us today to start planning Orlando tours full of experiences to remember for a lifetime!
We have to admit (and not because we're biased), Orlando is no stranger to putting on some of the best Halloween celebrations in Florida. And despite some of the setbacks we've all faced due to COVID-19, that hasn't stopped Orlando from coming up with frightening fun ways to celebrate the spooky season. From drive-ins to trick-or-treating and some of the best haunted houses around, here's your ultimate spooky guide to Halloween in Orlando for 2020.
If you're having the fall blues over the cancellation of Mickey's Not-So-Scary Halloween Party, turn that frown upside down for some daytime fall fun at the theme park. Feast on frightfully delicious treats and get into your favorite costume as the park welcomes daytime guests to dress up and enjoy the Halloween festivities. 
Expect to see surprise Halloween floats heading down Main Street U.S.A. chauffeuring some of the most iconic characters from Jafar to Maleficent (and of course, we can't forget Mickey Mouse and all of his pals)! And don't forget to grab some of the exclusive Walt Disney World merchandise before you head out. With new items like the Madame Leota sipper and the Walt Disney World Halloween 2020 pins, you'll go home with more goodies than you expected.
The Magic Kingdom® Park's daytime festivities are in full swing and will go on through October 31st, 2020. Make sure to check out the full details here!
Get ready for a blast from the past and revel in the nostalgia of drive-in movies at SeaWorld Orlando! Flicks & Frights is SeaWorld's first-ever Halloween drive-in experience and it's sure to deliver both friendly spooks and horror without ever having to leave your car. This activity is great for physical distancing and caters to guests of all ages.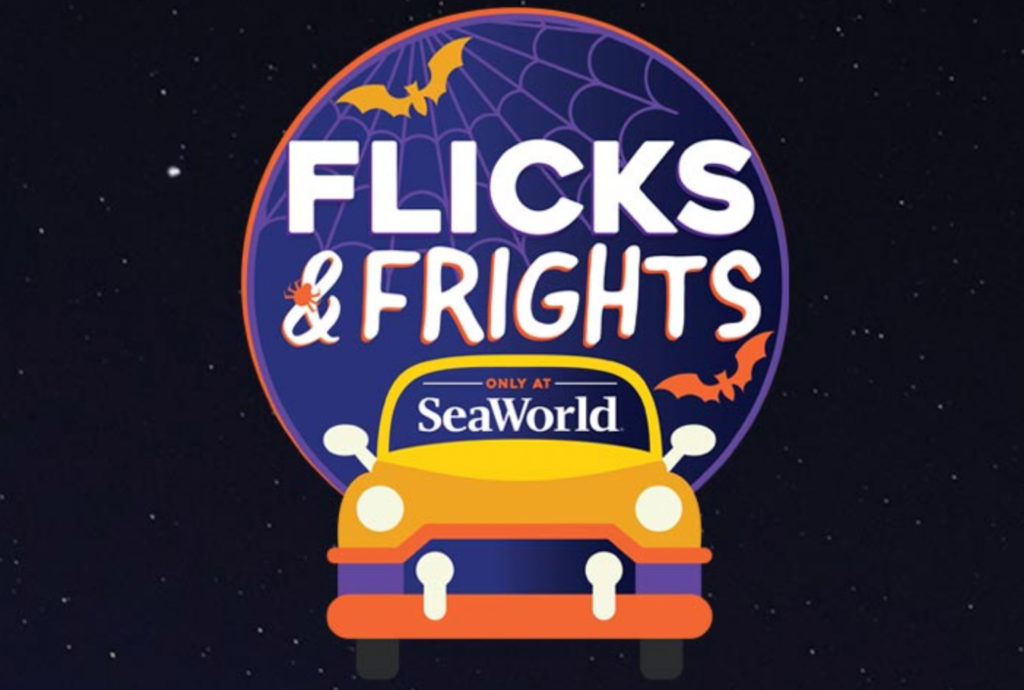 Choose from a family-friendly Halloween flick as the first showing, or come to the late-night showing for some of the most iconic horror movies of all time. Choose from popular films like Disney's Frankenweenie, Beetlejuice, and The Purge. And what's a good movie without a meal to munch on? Choose from the variety of food trucks on-site or stick with two soft drinks and two bags of good ol' popcorn for $12.
Flicks & Frights can be reserved online at just $40 per vehicle (20% off for annual pass holders). Check out SeaWorld Orlando's website for the movie lineup, dates, and to reserve your vehicle spot.
The little ones will absolutely love this event! Head over to SeaWorld Orlando for its annual SeaWorld Spooktacular, an all-day trick-or-treating event at the theme park. Let the kids pick out their best Halloween costume and venture down the walkways of the Trick-Or-Treat Trail to collect the yummiest candy around.

Add onto your experience with Count Von Count's Spooktacular Breakfast or visit the Cookie Monster and decorate your own festive cookie at the Cookie Decorating station. There's also plenty of games, a live DJ, and face painting to add some extra excitement to your child's already awesome costume! Spooktacular is a great way to experience all of the Halloween fun while still being immersed in the fun attractions SeaWorld Orlando has to offer.
To learn about the weekend event, including dates and hours, please visit SeaWorld Orlando online for more information.
(Writers note: Events were added to the blog after the announcement from Universal Orlando Resort, 2:15 p.m., Sept. 22).
Halloween season at Universal Orlando Resort is going to be SCARY good this year. Though we won't get the chance to experience the 30th year of Halloween Horror Nights, Universal Studios will be hosting two haunted houses on Sept. 26-27 and Oct. 3-Nov. 1. Included with your day admission ticket, guests can brave Universal Monsters: The Bride of Frankenstein Lives and Revenge of the Tooth Fairy all day long.
These two heart-pounding houses also have the option for Virtual Line™ through the Universal Orlando Resort app, giving you the chance to reserve your spot and enjoy the rest of the park.
For the shoppers, explore four terrifyingly immersive rooms inside of the Halloween Horror Nights Tribute Store. Here, you'll discover the best merchandise and specialty food items themed around houses of Horror Nights past, present, and possibly future. It's a great spot to visit for your ultimate Halloween fix.
For the little ones (12 years of age and younger), head over to Universal's Islands of Adventure for trick-or-treating at participating retail locations! Keep an eye out for the pumpkin-marked locations to ensure every spot is visited! It's time to fill their free trick-or-treat bag with the tastiest Halloween goodies.
And whether you're visiting one park or both, guests can now come in costume throughout the day! Dress up in your favorite classics or match with your children's Halloween attire.
With all of this and more, it looks like we're going to be pretty spoiled for choice at Universal Orlando Resort. Check out Universal Orlando's website for all of the details, terms, and conditions.
You don't have to leave your vehicle for a good scare. Experience Central Florida's first contactless drive-thru theatrical event at The Haunted Road. This immersive experience takes you through a "world of disarray" with terrifying encounters as you drive between scenes. Similar to a drive-in theater concept, you'll turn on your radio to the corresponding station as scary tales tell the story of The Haunted Road. It's a haunting drive unlike any other that has been one of the most anticipated Halloween 2020 events in Orlando. 
For those of you who are interested in a family-friendly version, check out The Haunted Road's daytime experience. This adventure takes you and your family through an enchanted forest where you'll encounter some friendly fairytale creatures. This experience promises to provide music, storytelling, and plenty of fun (along with a contactless sweet treat) for the whole family!
Think you have what it takes to brave The Haunted Road? Visit The Haunted Road on select dates from September 25 through November 7, 2020 for the most unique Halloween experience around! Tickets must be purchased in advance, so please head to The Haunted Road's website for more information on how to reserve your vehicle. (Photo Credit: The Haunted Road)
There's something special about being on a farm during the fall season. Before you even ask the question, yes, even Central Florida has its own gorgeous farm for everyone to visit. Southern Hill Farms Fall Festival is a yearly event occurring between September 26 and November 8, 2020, just outside of Kissimmee in Clermont, Florida. 
Take the kiddos down the dirt roads to discover a pumpkin patch offering some of the best variety of pumpkins grown in the U.S. If you're dreaming of sunflowers and zinnias, Southern Hill is well known for its stunning sunflower and zinnia fields. Choose your favorite blooms and take them with you as a souvenir, or capture breathtaking photos to share with family and friends!
And what's a day to the farm without treats? Munch on Southern Hill's popular blueberry doughnuts and sip some of the best blueberry lemonade you've ever tasted. Guests may also visit 8 food trucks during the weekends and the gift shop offering homemade jams, candles, and more.
Enjoy a relaxing afternoon at the Southern Hill Farms Fall Festival and learn more by checking out their website and reserving your day! It'll be one of the best fall days you'll have all season.
Halloween Drive-In Movie at Old Town
For those of you exploring the Kissimmee area, Old Town now offers Halloween Drive-In Movie nights! Pull up in your car with your best snacks and food for an evening of jump scares and Halloween classics.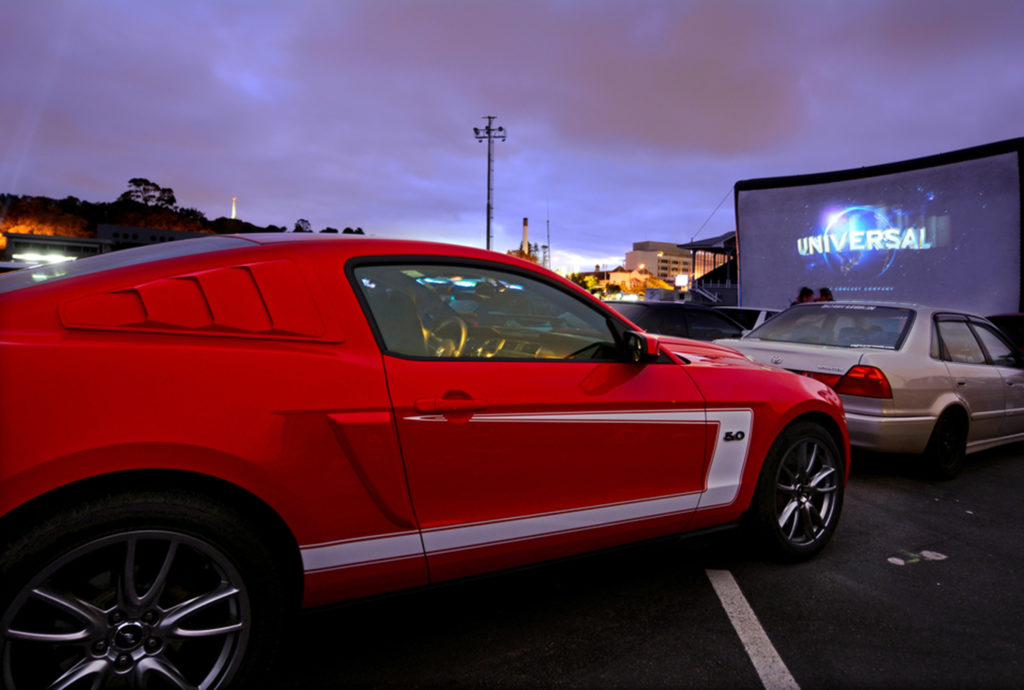 Choose from one of the four Sunday's in October to face your fears with flicks like Scream and Hocus Pocus! Tickets are $10 per vehicle and must be purchased in advance to reserve your spot. Check out Old Town's Halloween Drive-In event on their website to learn more.
You may have heard of Boggy Creek River Adventures, but you've never heard of it like this! Come for the candy or prepare for the scares at Scream N' Stream, Kissimmee's ultimate driving experience. Choose between the family-friendly trick-or-treating drive or the haunted drive-thru house. No matter which one better fits your group, you're bound to have a ghoulish time.
View this post on Instagram

The events run every Friday and Saturday through the end of October and start at $56 per vehicle when booked in advance. Learn more about each frightful experience online and reserve your spooky (or candy-filled) evening today!
With all of the ghoulish things to do during Halloween in Orlando, your visit will be nothing short of eventful. Let us know in the comments which event you're looking forward to the most and be sure to check out our available magical vacation homes on special for the fall season!
As always, we'll see you in the next blog post! Have a magically frightful day.
*As to Disney artwork, logos, and properties: ©Disney*