"Florida" and "snow" are rarely if ever, found in the same sentence. But that didn't stop one business from bringing a much-needed winter wonderland to our sunshine state. Locals and tourists alike can now experience snow in Florida at Snowcat Ridge Alpine Snow Park, the first of its kind in the state! This "Real Snow, Real Fun!" snow park packs snowy slopes, arctic igloo's, and an alpine village all less than 1.5 hours west of Walt Disney World®.
Snowy Slopes
Zoom at high speeds down a 60-foot tall, 400-foot long snow tubing hill at the Snowy Slopes, the main attraction at Snowcat Ridge. Riders can enjoy the attraction day or night in single, tandem, or family-style snow tubing during a 2-hour snow tubing session. Guests may also upgrade to the Unlimited Snow Tubing pass, great for all-day fun down the hill.
Alpine Village
Take a stroll through the Alpine Village offering a variety of food, drinks, wine, beer, and shopping. The Alpine Village offers comfortable picnic seating with views of the Snowy Slopes, great for enjoying a cup of cocoa while admiring the Snowy Slopes music & light show.
Arctic Igloo
Are you ready to play in REAL snow? Snowcat Ridge's Arctic Igloo is the place to be for children and adults alike. Walk the little ones to their soon-to-be favorite spot at the bunny slopes. Or put on some gloves, pack together some snow, and create your own magical snowman. Guests have all-day access to Arctic Igloo and are recommended to dress warmly (preferably water-resistant materials) as temperatures hover around 30 degrees Fahrenheit.
–
A magical day or evening in the snow is closer than you think! Purchase your tickets in advance online starting at $24.95 per person and learn more about the Snowcat Ridge experience by visiting its website.
Need a place to stay between all of the fun? Check out our available magical vacation homes for your Central Florida vacation.
Until the next blog post, have a magical winter wonderland day!
We have to admit (and not because we're biased), Orlando is no stranger to putting on some of the best Halloween celebrations in Florida. And despite some of the setbacks we've all faced due to COVID-19, that hasn't stopped Orlando from coming up with frightening fun ways to celebrate the spooky season. From drive-ins to trick-or-treating and some of the best haunted houses around, here's your ultimate spooky guide to Halloween in Orlando for 2020.
If you're having the fall blues over the cancellation of Mickey's Not-So-Scary Halloween Party, turn that frown upside down for some daytime fall fun at the theme park. Feast on frightfully delicious treats and get into your favorite costume as the park welcomes daytime guests to dress up and enjoy the Halloween festivities. 
Expect to see surprise Halloween floats heading down Main Street U.S.A. chauffeuring some of the most iconic characters from Jafar to Maleficent (and of course, we can't forget Mickey Mouse and all of his pals)! And don't forget to grab some of the exclusive Walt Disney World merchandise before you head out. With new items like the Madame Leota sipper and the Walt Disney World Halloween 2020 pins, you'll go home with more goodies than you expected.
The Magic Kingdom® Park's daytime festivities are in full swing and will go on through October 31st, 2020. Make sure to check out the full details here!
Get ready for a blast from the past and revel in the nostalgia of drive-in movies at SeaWorld Orlando! Flicks & Frights is SeaWorld's first-ever Halloween drive-in experience and it's sure to deliver both friendly spooks and horror without ever having to leave your car. This activity is great for physical distancing and caters to guests of all ages.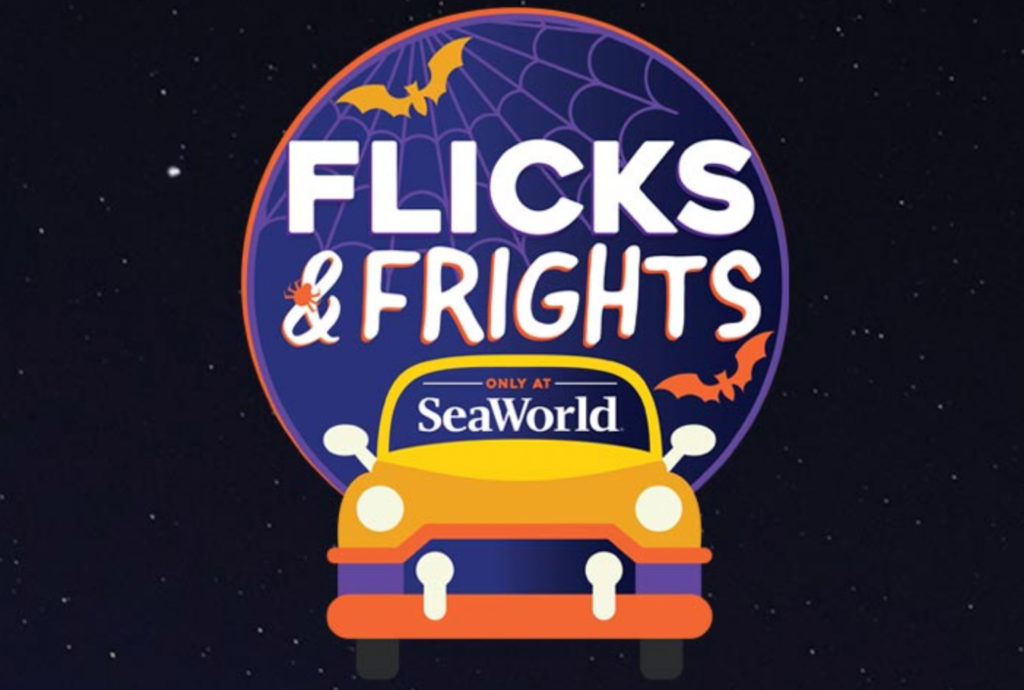 Choose from a family-friendly Halloween flick as the first showing, or come to the late-night showing for some of the most iconic horror movies of all time. Choose from popular films like Disney's Frankenweenie, Beetlejuice, and The Purge. And what's a good movie without a meal to munch on? Choose from the variety of food trucks on-site or stick with two soft drinks and two bags of good ol' popcorn for $12.
Flicks & Frights can be reserved online at just $40 per vehicle (20% off for annual pass holders). Check out SeaWorld Orlando's website for the movie lineup, dates, and to reserve your vehicle spot.
The little ones will absolutely love this event! Head over to SeaWorld Orlando for its annual SeaWorld Spooktacular, an all-day trick-or-treating event at the theme park. Let the kids pick out their best Halloween costume and venture down the walkways of the Trick-Or-Treat Trail to collect the yummiest candy around.

Add onto your experience with Count Von Count's Spooktacular Breakfast or visit the Cookie Monster and decorate your own festive cookie at the Cookie Decorating station. There's also plenty of games, a live DJ, and face painting to add some extra excitement to your child's already awesome costume! Spooktacular is a great way to experience all of the Halloween fun while still being immersed in the fun attractions SeaWorld Orlando has to offer.
To learn about the weekend event, including dates and hours, please visit SeaWorld Orlando online for more information.
(Writers note: Events were added to the blog after the announcement from Universal Orlando Resort, 2:15 p.m., Sept. 22).
Halloween season at Universal Orlando Resort is going to be SCARY good this year. Though we won't get the chance to experience the 30th year of Halloween Horror Nights, Universal Studios will be hosting two haunted houses on Sept. 26-27 and Oct. 3-Nov. 1. Included with your day admission ticket, guests can brave Universal Monsters: The Bride of Frankenstein Lives and Revenge of the Tooth Fairy all day long.
These two heart-pounding houses also have the option for Virtual Line™ through the Universal Orlando Resort app, giving you the chance to reserve your spot and enjoy the rest of the park.
For the shoppers, explore four terrifyingly immersive rooms inside of the Halloween Horror Nights Tribute Store. Here, you'll discover the best merchandise and specialty food items themed around houses of Horror Nights past, present, and possibly future. It's a great spot to visit for your ultimate Halloween fix.
For the little ones (12 years of age and younger), head over to Universal's Islands of Adventure for trick-or-treating at participating retail locations! Keep an eye out for the pumpkin-marked locations to ensure every spot is visited! It's time to fill their free trick-or-treat bag with the tastiest Halloween goodies.
And whether you're visiting one park or both, guests can now come in costume throughout the day! Dress up in your favorite classics or match with your children's Halloween attire.
With all of this and more, it looks like we're going to be pretty spoiled for choice at Universal Orlando Resort. Check out Universal Orlando's website for all of the details, terms, and conditions.
You don't have to leave your vehicle for a good scare. Experience Central Florida's first contactless drive-thru theatrical event at The Haunted Road. This immersive experience takes you through a "world of disarray" with terrifying encounters as you drive between scenes. Similar to a drive-in theater concept, you'll turn on your radio to the corresponding station as scary tales tell the story of The Haunted Road. It's a haunting drive unlike any other that has been one of the most anticipated Halloween 2020 events in Orlando. 
For those of you who are interested in a family-friendly version, check out The Haunted Road's daytime experience. This adventure takes you and your family through an enchanted forest where you'll encounter some friendly fairytale creatures. This experience promises to provide music, storytelling, and plenty of fun (along with a contactless sweet treat) for the whole family!
Think you have what it takes to brave The Haunted Road? Visit The Haunted Road on select dates from September 25 through November 7, 2020 for the most unique Halloween experience around! Tickets must be purchased in advance, so please head to The Haunted Road's website for more information on how to reserve your vehicle. (Photo Credit: The Haunted Road)
There's something special about being on a farm during the fall season. Before you even ask the question, yes, even Central Florida has its own gorgeous farm for everyone to visit. Southern Hill Farms Fall Festival is a yearly event occurring between September 26 and November 8, 2020, just outside of Kissimmee in Clermont, Florida. 
Take the kiddos down the dirt roads to discover a pumpkin patch offering some of the best variety of pumpkins grown in the U.S. If you're dreaming of sunflowers and zinnias, Southern Hill is well known for its stunning sunflower and zinnia fields. Choose your favorite blooms and take them with you as a souvenir, or capture breathtaking photos to share with family and friends!
And what's a day to the farm without treats? Munch on Southern Hill's popular blueberry doughnuts and sip some of the best blueberry lemonade you've ever tasted. Guests may also visit 8 food trucks during the weekends and the gift shop offering homemade jams, candles, and more.
Enjoy a relaxing afternoon at the Southern Hill Farms Fall Festival and learn more by checking out their website and reserving your day! It'll be one of the best fall days you'll have all season.
For those of you exploring the Kissimmee area, Old Town now offers Halloween Drive-In Movie nights! Pull up in your car with your best snacks and food for an evening of jump scares and Halloween classics.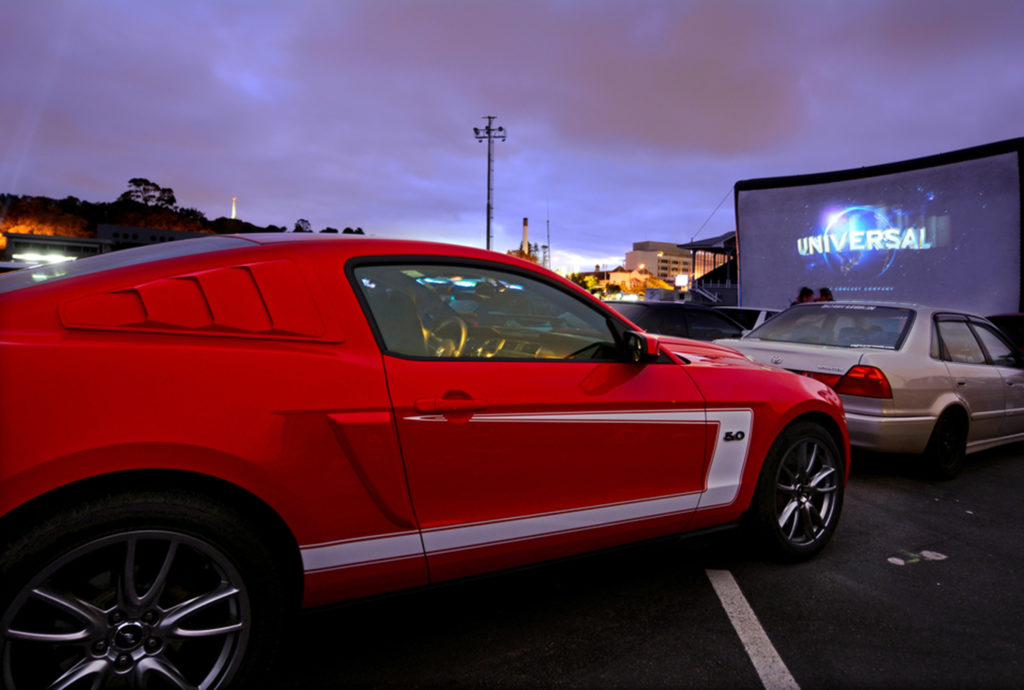 Choose from one of the four Sunday's in October to face your fears with flicks like Scream and Hocus Pocus! Tickets are $10 per vehicle and must be purchased in advance to reserve your spot. Check out Old Town's Halloween Drive-In event on their website to learn more.
You may have heard of Boggy Creek River Adventures, but you've never heard of it like this! Come for the candy or prepare for the scares at Scream N' Stream, Kissimmee's ultimate driving experience. Choose between the family-friendly trick-or-treating drive or the haunted drive-thru house. No matter which one better fits your group, you're bound to have a ghoulish time.
View this post on Instagram

The events run every Friday and Saturday through the end of October and start at $56 per vehicle when booked in advance. Learn more about each frightful experience online and reserve your spooky (or candy-filled) evening today!
With all of the ghoulish things to do during Halloween in Orlando, your visit will be nothing short of eventful. Let us know in the comments which event you're looking forward to the most and be sure to check out our available magical vacation homes on special for the fall season!
As always, we'll see you in the next blog post! Have a magically frightful day.
*As to Disney artwork, logos, and properties: ©Disney*