The most magical time of the year has finally arrived. And though this year has been one of uncertainty, one thing you can always count on is our special holiday giveaways. We've partnered with our good friends at
Inside the Magic
to give you the opportunity to win a
7-night stay at Orlando's Designed For Vacation | RVH_320M
as part of Inside the Magic's
25 Days of Magic
. Those interested may enter from now until December 24th at 8 p.m. EST for a 2021 vacation from the available dates: 1/06/21 – 02/28/21 04/12/21 – 05/27/21 08/20/21 – 11/21/21 06/1/21 – 06/9/21 08/20/21 – 09/02/21 09/07/21 – 11/19/21 11/29/21 – 12/18/21
Browse our Condo Rentals Here!
Staying at Designed for Vacation | RVH_320M
Designed for Vacation is our 5-bedroom, 5.5-bathroom villa boasting 3,300 sq. ft. of excitement. From a galaxy-inspired theater and superhero bedroom to a private pool and classic game room, this vacation rental never fails to entertain. This home also features additional kids' rooms like the Ice Princess-inspired bedroom, plenty of bedroom suites for the adults, a spacious living, kitchen, and dining area, as well as an outdoor summer kitchen for backyard grilling. Stay with up to 14 guests in the heart of Reunion Resort and enjoy the plethora of amenities including access to three championship golf courses, Reunion Resort Water Park, multiple tennis courts, and more. This home has truly been designed for the ultimate vacation experience, all while maintaining the ultimate privacy for your family.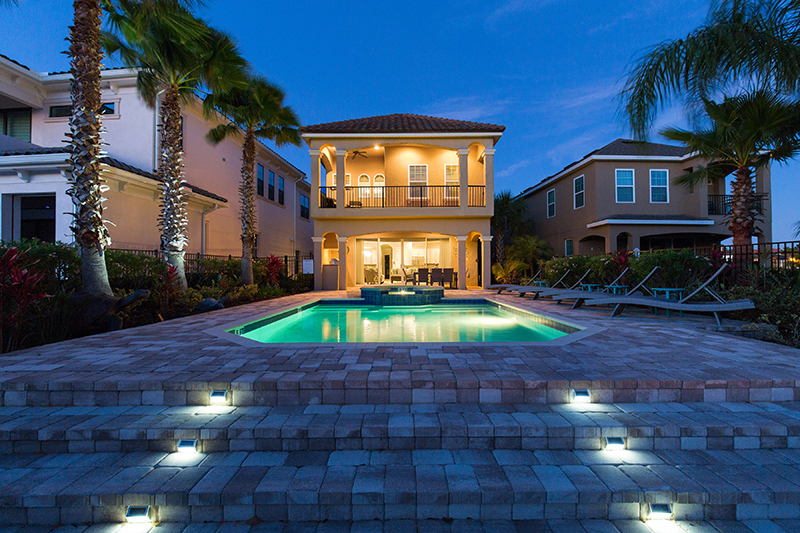 While you're waiting for the giveaway to be drawn, make sure to check out our additional photos and a full description of
Designed for Vacation | RVH_320M
.
Check out our Homes with a Pool Here!
Giving Back to Our Community
As mentioned by Inside the Magic,
A driving force behind our 25 Days of Magic promotion is to bring awareness to the various Children's Hospitals that make up Children's Miracle Network.
Today, December 1st marks the annual,
Giving Tuesday
. Every 1st Tuesday after Thanksgiving, individuals across the United States share their kindness and generosity by giving back to others, including many national charities. By entering this giveaway, not only are you potentially winning a 2021 Orlando vacation, but you're also giving back to your community. For every
25 Days of Magic
entry, $1 is donated to the
Children's Miracle Network
(up to $30,000) with the goal of providing kids a fighting chance at a healthy life. – To learn more about the giveaway and to enter, please visit Inside the Magic's
Day 24 giveaway article
and check out the rest of the giveaways
here
. Until the next blog post, have a magical merry day!
Book one of our Vacation Rentals Here!
Reunion Resort has hit yet another milestone. Condé Nast Traveler has recognized Kissimmee, Florida's largest resort community as one of the "
Top 30 Resorts in Florida
". Part of its
Readers' Choice Awards 2020
, Condé Nast is known for highlighting top global vacation destinations, making this accomplishment paramount for Reunion.
On the list of 30 spectacular resorts, Reunion Resort snagged the 18th spot with a score of 96.21/100.
"Groups of all sizes will feel at home in a condominium, private villa, or vacation home at the Reunion Resort with onsite facilities to accommodate family gatherings and business meetings. With an "amazing water park," three signature golf courses, "excellent, 5-star restaurants," and an "all-around beautiful development," there's plenty for guests of all ages to enjoy." – Condé Nast Traveler
Browse our Reunion Resort Rentals Here!
Reunion Resort Has it All…
As a property management company with over 200 villas at Reunion, we are thrilled over the resort's latest achievement. Reunion's vast variety of villas offer unique rooms ranging from in-home theaters to riveting arcades. And with custom-built bedrooms inspired by everyone's favorite characters, you'll feel immersed in the entire Orlando-area experience. With most properties featuring their own private pool and spacious layouts, Reunion has become overwhelmingly attractive amid COVID-19. This world-class location gives guests the opportunity to vacation, physical distancing style, adding to the comfort of this premier resort.
Beyond its custom-built estates and luxury condos, this magnificent community continues to one-up itself with seemingly endless new amenities. The AAA Four-Diamond rated destination is home to three award-winning golf courses, a water park, 10 resort-style pools, and more. With new additions like the
Reunion Resort Miniature Golf course
and a
water park expansion in the works
, it's no wonder this destination continues to drive in guests to our sunny city of Kissimmee.
Book our Vacation Homes with Pools Here!
Whether you're a Florida local or traveling to the state, Reunion Resort is a must-add to your destination bucket list. For golfers, families, retreats, and everything in between, take a moment to browse
Reunion's leading properties
for your dream vacation. And as always, until the next blog post, have a magical (vacation planning) day.When planning your Orlando family vacation, one of the main factors is location, location, location! We can all agree that choosing a place that's both private (especially in 2020) and fun for the little ones is THE key to an amazing trip. For many years, Reunion Resort has been a prime destination for families looking to be in the center of it all while in their own luxury home. But while the home has plenty to offer, Reunion Resort itself has even more than you'd expect! As veterans to Reunion, we know firsthand that there's something special about this city-sized resort. With the plethora of activities on-site, it takes Orlando vacationing to the next level of convenience, keeping the kiddos entertained for days. So if you're deciding between places to stay around Orlando, check out our 5 favorite kid-friendly Reunion Resort activities to see if this resort is destined to be in your future travel plans.
Check out our Vacation Rentals with Themed Rooms Here!
1- Reunion Resort Water Park
It's no secret that most of Orlando's most popular attractions are up and running again. However, water park options have become unfortunately limited. Disney's Typhoon Lagoon and Disney's Blizzard Beach have both remained closed for the summer season. And non-Disney water parks like Universal's Volcano Bay, Island H2O Live, and SeaWorld's Aquatica continue to run on limited capacity and hours. This adds to the challenge of enjoying a day in the sun, which is why
Reunion Resort Water Park
is a fan-favorite amongst Reunion Resort families. Tackle the twisty water slides and relax as you float along the lazy river. Or even chill at your own private cabana! The best part about this location is that it offers plenty of room to physical distance and doesn't require you to leave Reunion. It's the tranquil vacation paradise you've needed all summer, and your kids are sure to have a blast.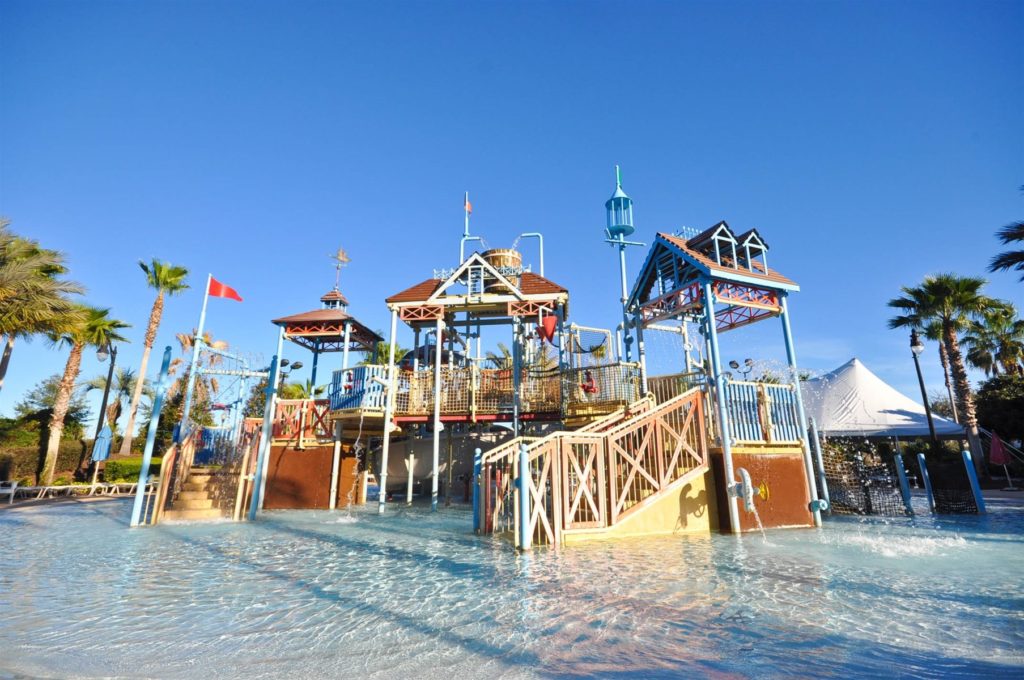 2 – Reunion Resort Miniature Golf
Honestly, no Orlando vacation is complete without a miniature golfing day with the family. Recently, Reunion Resort opened its very own
Reunion Resort Miniature Golf
for the entire fam bam to enjoy. The mini-course challenges family members to test their golfing skills with its provided golfing equipment available at the Tennis Shop. And as mentioned before, you don't have to venture out to enjoy the fun! The location is open Wednesday-Sunday and welcomes guests of all ages to play.
3- The Sandy Ridge Splash Pad
No matter what your vacation plans are, there's no way you can visit Orlando without a day at the pool. Reunion Resort offers many community pool areas throughout, but Sandy Ridge Splash Pad is definitely a family favorite. Just by the Reunion Resort Water Park, Sandy Ridge Splash Pad features built-in fountains, slides, and massive water buckets! Its beach-style entry also makes it great for families needing shallow waters for their tiny tots.
Browse our Signature Series Vacation Rental Homes Here!
4 – Reunion Resort Bike Rentals
Reunion Resort's acres and acres of neighborhoods and biking trails are great for the outdoorsy family. Guests can embrace the surrounding scenery while bonding with their loved ones with Reunion Resort's Bike Rentals. Choose from single-rider bicycles or ride together on one of the Surrey bike options. Whether it's a bright morning or a sunny afternoon, your family will enjoy every moment biking around Reunion.
5- Reunion Resort Playgrounds
A playground is such a simple activity but in kids' eyes its hours worth of fun. Swing by Centre Court Ridge or Villas South to visit one of the two on-site playgrounds designed to help your little ones use up their energy with slides and monkey bars. They're also conveniently near a few of resort pools, perfect for a day on-site. — Planning a trip is never an easy task, but we hope that we've narrowed your mind down a bit with these awesome on-site amenities. Make sure to check out the best of
Reunion Resort's homes and condos
and see which one best suits your family's needs. Until the next blog post, have a magical day!
Looking for a 3 Bedroom Townhome? Find One Here!
As the sun rises on the Cinderella Castle and the Tree of Life,
Walt Disney World
® Resort welcomes guests to its theme parks once again. With two Disney theme parks now open and two more on the way on July 15, 2020, there have been many changes to ensure the safety of cast members and guests. We knew that the
Magic Kingdom
® Park was going to be a must-visit during the opening weekend, so we wanted to give you guys a glimpse at its nearby neighbor,
Disney's Animal Kingdom
® Theme Park. We had the opportunity to visit and gather some insight on what to expect, and while we were there to bring you the scoop, we realized how much fun the theme parks still are! So what can you expect in your future visit? We broke down some of the key changes you'll notice on your trip to the theme parks.
Book a Luxury Rental Home near Disney Here!
Quick Notes Before Beginning…
Before guests may visit any of the four Disney theme parks, you must reserve your day online.
At this time, guests are only allowed to visit one park per day. The Park Hopper® and Park Hopper Plus® options are on hold until further notice.
The Disney FastPass+ service is on hold until further notice.
For more information on updated policies and procedures, please visit Disney Parks 
Returning to the World of Magic
.
Park Entry and "Health and Safety" Notices
When you reach the park entrance, you'll already begin to notice the stark difference in crowds just by the number of cars that enter. Upon our arrival, we didn't even have to wait to pay for parking. It's a nice change from the usual congestion we see and really does provide that peace-of-mind on arrival.
Once you hop out of your vehicle and make your way to the gates, you'll be greeted with the new Health and Safety Notice sign that helps you determine if you're able to enter the park.
As seen above, the notice notifies that they will be required to wear face coverings, undergo temperature screening, and practice physical distancing of 6 feet (2m) during their visit. The notice also states that "By entering
Walt Disney World
® Resort, you are confirming that you are not experiencing any of the following symptoms:
Cough
Shortness of breath or difficulty breathing
Fever
Chills
Muscle pain
Sore throat
New loss of taste or smell
Nausea, vomiting, or diarrhea
You have not been in contact with someone with confirmed or suspected COVID-19 symptoms without completing a 14-day quarantine
You are not under any self-quarantine orders
If you are unable to confirm all of the above listed, you must not enter
Walt Disney World
® Resort. And while these newly enforced policies do seem a bit strict, they definitely aid in preventing the spread of sickness and we truly appreciate the effort that has been implemented! Once you pass this notice, you will undergo a temperature screening prior to officially entering the park.
As long as your temperature falls below 100.4 after screening with a no-touch thermometer and you are wearing an approved face covering, you are granted entry (with your reserved admission, of course) into the parks! Guests will notice upon entry that all Cast Members will be equipped with two types of face coverings, including protective masks and shields. Guests will also only be asked to scan their admission cards or
MagicBand
rather than scanning your thumbprint for sanitary reasons.
Book an Orlando Resort Rental Here!
Physical Distancing and Inside the Theme Parks
The first thing you'll come to notice when entering the theme parks is the stark difference in crowd size (for the better). Because of capacity limits in all four Disney theme parks, you'll notice that entering the park and maintaining a distance between you and other guests will be a breeze.
This also makes for a fantastic opportunity to take amazing photos inside the theme park! Pose nearly wherever you'd like without interruption or heavy crowds walking by, just like below at
Pandora: World of Avatar
.
Attraction Wait Queues
It would only make sense that if the parks are less crowded, so are the queues, right? Well, that's entirely correct. Over the weekend,
Disney's Animal Kingdom
® Theme Park rarely saw a wait time that jumped over 5 MINUTES.
Yes, we're serious about this one. Most, if not all attractions at the theme park were practically walk-on's, giving guests the chance to complete everything and still have plenty of time to re-ride their favorites. And before you even ask the question, yes, this includes
Avatar Flight of Passage
, which is well-known for being one of the consistently busiest attractions on
Walt Disney World
® Resort property. Have you ever been able to walk onto this ride without a wait? It seemed near impossible in the past, but now it is a completely common occurrence. Time for those back-to-back attraction visits!
We'd also like to note that while fewer guests are riding the attractions, that doesn't stop the Cast Members from ensuring that all rides are properly sanitized throughout the day as a way to minimize bacteria transfer on high-contact surfaces!
Quick Service Dining
Just like the rest of the theme park, the on-site quick service dining options were also extremely low capacity. This made it extremely easy to grab food and a physically distanced table without worry.
Walt Disney World
® Resort is also recommending contactless payment by either paying with a tap debit or credit card, through a smartphone wallet or by completing a mobile order through the
My Disney Experience
app. All of these are additional ways to minimize the handling of high-touch surfaces for both cast members and guests.
Parade Viewings
Unfortunately (for now) parades and character meet & greet sessions have been put on hold in order to ensure guests have the chance to physical distance. BUT, you will have the chance to spot some of your favorite character friends and floats throughout the day! At Disney's Animal Kingdom® Theme Park, guests may see water floats pass by during their visit, just like this one here!
Check out our Vacation Rentals Luxury Collection Here!
And May the Magic Continue…
While things may be a bit different on your future visit to the theme parks, we guarantee that the magic still remains. We hope this overview gave you the insight you need for when you decide to plan your next vacation. And when you do, make sure to
check out some of our extraordinary vacation rentals
that may be ideal for your Orlando family vacation! Thank you for coming along the
Walt Disney World
® journey with us! Until the next blog post, have a magical (and safe) day.
*As to Disney artwork, logos, and properties: ©Disney*
What's not to love about renovations?  We, the Magical Team, asked ourselves this just over a year ago and we immediately got to work. Over the past 12+ months, our staff has slowly begun introducing little changes, from a shiny new logo to exciting new email layouts. And now the day has arrived where we can introduce our greatest reno of all. We are thrilled to finally introduce to all of our guests the stunning new magical website revamp of
MagicalVacationHomes.com
. We've taken your comments and suggestions and used these to bring you the best site yet. Rebuilt from top to bottom, our new magical website has been enhanced with a gorgeous modern layout, user-friendly features throughout, and added convenience to the guest booking process. Whether you're browsing our villas on desktop or checking out property availability via mobile, we've worked to make sure that each visit experience is equally fast, convenient, and easy to understand.
Book our Vacation Rentals Luxury Collection Here!
Our Newest Features
Flexible Dates
We understand that there are times when you have a general idea of when you're traveling, but you're flexible on the set dates! This is why we've added the "Dates Flexible" tool, giving you the option to, well, weigh out your options! This tool not only allows you to view different check-in/check-out pricing, but it also may provide additional rentals to choose from. Select from one to three days in flexibility and the timeframe you're looking to travel around, and let our advanced property software do the rest. It's that simple.
The Magical Blog
Read all about it (like you're doing right now)! With so much going on in Central Florida every day, we know it may be challenging to keep up. Add ease to planning your getaway adventures with
The Magical Blog
, your guide to all things theme park, entertainment, holiday events, and more. View our most recent posts on the main page for the most up-to-date news in the area and even within our company! Guests can also browse our organized categories to read about particular topics, like Walt Disney World® Resort or Universal Orlando™. We've also implemented a search box for those looking to go back to a blog they've already read. Ready to read about the magic happening in Orlando? Head to our
Magical Blog main page
to view our other great posts.
The My Stay Guest Portal, Powered by Happy Stays
For the first time ever, your confirmed reservation will now be accessible through our new online guest portal,
My Stay
, powered by
Happy Stays
. Here, guests can view their property documents, booking information, add-on vacation services, and more. To review an existing reservation on desktop, guests can locate the My Stay portal at the footer of our website. You may also head over directly to
https://magicalvacationhomes.happystays.com/visitor-guide/#/login
at any time. All you need to log on via desktop is your registered email address and check-in date.
Book our Rentals at Orlando Resort Communities Here!
For those using their mobile device, you can download the free Happy Stays app from the
App Store
and
Google Play
. Once you've downloaded the app, sign in with the access code provided in your
Happy Stays
email. You are now on your way to having all the information needed right at your fingertips. It's that simple!
Once you're in, you can click on any existing reservations you have on file and access everything you need to know for your upcoming getaway. From check-in and check-out times to the address and wifi password, you'll be instantly prepared for your journey to Orlando. Guests may also utilize our remote check-out option. Just let us know through the portal that you are on your way out and our teams will take care of the rest! Have multiple guests in your party? Not a problem. Invite your family and friends through the "Invite Friends"  tab so everyone can view the reservation whenever they please, keeping all guests in the loop 24/7. For those deciding that they may want to add special services, such as pool heat, for example, may do so on the portal without having to call or email.
Browse our Rentals with Pools Here!
Our Magical Guest Moments
Each year we welcome guests from all over the world, and we are always thrilled when guests share their magical experience with us. With Our Magical Guest Moments, we are able to share with YOU the magical memories these families made.
We are always welcoming more guest experiences and would love to hear and see your vacation experience! If you would like the chance to be featured on our site or social media, just submit your favorite vacation photos and a small story about your getaway at the bottom of the page. We can't wait to hear about your trip! – These are only some of the amazing features you'll encounter while visiting our new and improved website, and we cannot wait for you to witness it for yourself! See the best of it all at MagicalVacationHomes.com and while you're here, feel free to book a vacation (or two) with one of our many Book Direct deals and specials. Until the next blog post, have a Magical rest of your day! BRIGHT SUNS! Welcome to blog three of our countdown to 
Star Wars: Galaxy's Edge
, opening August 29th at
Disney's Hollywood Studios®
! During our visit to the preview event on August 17th, we were lucky enough to find characters throughout our journey through 
Batuu
. Today, we're going to show you WHO we saw and WHERE you may spot some of your favorite's from the movies, here in real life! (Haven't read our last blog yet? Make sure you check that out 
here
! Hint: Blue and Green Milk and a galactic bar, anyone?)
The Stormtroopers
Credit: Nicolette / Magical Vacation Homes Roaming around 
Batuu
, you may bump into a
Stormtrooper
, or two, or five. During our visit, we noticed them throughout the land both walking and on rooftops. You have to make sure to look everywhere because they pop up from every nook and cranny. And don't be alarmed if they question you about your allegiance, just, make sure you have an answer for them.
Chewbacca
Credit: Nicolette / Magical Vacation Homes Well, it DEFINITELY wouldn't be 
Batuu
if you didn't see
Chewbacca
around, and we saw a lot of him. Keep an eye out when you enter
Batuu
because you may find him most often at the entrance area. We noticed him around the
Rebel Outpost
interacting with travelers while checking on his landed ship.
Kylo Ren
Credit: Nicolette / Magical Vacation Homes
Kylo Ren
has arrived in 
Batuu 
in search of the Resistance. He's entirely intimidating but we were in awe watching him walk with the
Stormtroopers
. When we spotted him, he was walking through the
Black Spire Outpost
just past
Savi's Workshop
.
Rey
Famous for being in Episodes VII through IX, Rey makes many appearances throughout 
Star Wars: Galaxy's Edge
. One of our Magical members noticed her roaming around just as you enter 
Batuu
, probably planning her recruitment efforts for the Resistance.
Vi Moradi
Now we didn't spot this character until the sun was set, but 
Vi Moradi
 is one you'll want to keep an eye out for. A newer character to most, 
Vi Moradi
 was introduced to us in 2017 in the novel, 
Star Wars:
 Phasma, and can now be found in 
Star Wars: Galaxy's Edge
. We were caught by surprise as she found 
us
 instead of the other way around. Usually, when wanting to meet characters you will go 
to
 them. This time around, we were unexpectedly approached, which was a one-of-a-kind experience. When 
Vi Moradi
 found us, she was debating if we were those she could trust as she hid from the 
Stormtroopers
, just before darting off. By the looks of it, you may bump into her just about anywhere as she keeps her guard up and presence hidden (or if you have our experience, she may just bump into you).
Til The Spire!
Ready to spot these characters? 
Get your Disney Theme Park tickets
 and get ready for 
Star Wars: Galaxy's Edge
! With exactly one week away until the grand opening, we're thrilled for you all to experience what we witnessed in 
Batuu
. There's still time to 
book your stay with Magical Vacation Homes
. We have plenty of villas that are perfect for any party on your future galactic getaway. We'll be back tomorrow with our exciting experience on 
Millennium Falcon: Smugglers Run
. Until next time, Til the Spire, and have a Magical day!
*As to Disney artwork, logos, and properties: ©Disney*
#MagicalStays Contest (CONTEST CLOSED)
Have you always dreamed of staying in a magical home, where you can choose from sleeping in a castle to watching your favorite superhero movie while surrounded by your favorite characters? All of your vacation dreams can come true with a stay at The Fun House at Reunion! This luxury 5 bedroom villa located in Reunion Resort has everything you need for a magical vacation — and you now have the chance to win a free week!
That's right — enter to win a free week at The Fun House at Reunion (RVH_520) by submitting your favorite Orlando vacation memory photo HERE. 
The Fun House at Reunion
By entering our #MagicalStays contest, you're entering for a chance to win a free 7-night stay in this incredible new vacation home rental. Every inch of the 3,374 square foot house features luxurious furnishings, the latest technology, and magical details to truly make it a home away from home.
Each bedroom is customized for both the kids and the adults. Little princesses will love the opportunity to sleep in their own castle, and Jedi knights will love to sleep in their own galactic getaway complete with a fun slide! Adults enjoy King sized beds, and beautiful decor. One room even features a life-size astronaut and fiber optic star ceiling! All bedrooms have their own SMART TV and ensuite bathroom.
A great feature is the west-facing private pool and spillover spa. Soak up the famous Florida sunshine while lounging on the patio furniture, or cook a meal outdoors in the summer kitchen and dine outdoors!
Play all day in the lounge games room with fun arcade games and a Star Wars Battle Pod Arcade. Get your game on playing foosball or going head to head on the video game systems.
At the end of the day, curl up and watch your favorite superhero movie on this 120-inch movie screen in the private home theater. This amazing property is only minutes away from Walt Disney World Resort, and close to other amazing Orlando Area attractions including Universal Studios and SeaWorld.
Enter the Contest
What are you waiting for? Enter the contest now! Find it on our website HERE or on our Facebook page HERE
Share a photo of your favorite Orlando vacation memory with us. Be sure to keep sharing with your friends and family to get the most votes and win a free stay at The Fun House at Reunion!
Until the next blog post, we hope you have a Magical Day!
Orlando is a dream vacation destination for princesses of all ages. Here's our guide to help you plan a dream
vacation in Orlando
with all of the royal essentials, including a stay in your very own castle!
1. A Princess Carriage Stroller Rental
A princess deserves a royal ride! Get the VIP (Very Important Princess) treatment with a Princess Carriage stroller. The theme parks can involve a lot of walking around, and a carriage stroller can be a lifesaver for families not wanting to carry everything around (It's also perfect for holding all the royal purchases!) Does your little one need a midday nap? The stroller allows for a restful royal sleep by converting into a bed. The Princess Carriage Stroller will soon be available as a checkout option when you book a stay with us, or on their official website found
here
.
2. A Trip to the Bibbidi Bobbidi Boutique

Plan a visit to the Fairy Godmothers in Training for a magical makeover! This experience at Walt Disney World requires advanced reservations, available at two locations: Cinderella Castle in Magic Kingdom or the Boutique in Disney Springs. There are different levels of this royal makeover available for princesses (and handsome young knights!) ages 3 -12. Get the details
here
and plan for an extra enchanted experience.
3. Dining with the Princesses
Enjoy a royal meal with some Princess friends! On a trip around the World Showcase in Epcot, a stop at
Akershus Royal Banquet Hall
is a great way to have food for everyone with a buffet, and a visit directly to your table from Princesses! Character Dining is a great way to meet characters, get autographs and photos without having to wait in long lines. Magic Kingdom has some great Royal dining options including Cinderella's Royal Table and Be Our Guest — dine in Castles with a prix fixe menu!
4. A Ride on the Royal Carrousel
At the heart of Fantasyland is Prince Charming Regal Carrousel, a must-ride for every princess! Get to choose your own royal horse, and it's a perfect opportunity to get photos from the designated royal photographers (AKA Mom and Dad). The carrousel usually doesn't have too long of wait to ride, and does not have any height restrictions so guests of all ages are welcome to ride!
5. A Stay in your very own Castle
After a long day exploring the Theme Parks, every Princess needs to retreat to her own royal castle! With a stay at The Fun House at Reunion, little princesses are given the full royal treatment with a custom-built bedroom just for them! Wake up in a bed fit for a princess and play all day in a custom-built castle! See rates and availability for this amazing home
HERE!
Here at Magical Vacation Homes, we know what it takes to make your vacation extra magical. Every family deserves the royal treatment! If you're looking at planning your Orlando vacation and are looking for advice on where to stay, contact our Reservations Team either by phone at 1-866-991-3158 or email
[email protected]
. Until the next blog post, we hope you have a magical day!I hope everyone is having a magical week! It's time for our next installment of area attractions in the Central Florida Area, featuring
Kissimmee Go-Karts
. Here at Magical Vacation Homes, we're proud to be a local company and support other local area businesses. We also like to use our local advantage to help you create the most magical vacation possible! Keep reading for more information about
Kissimmee Go-Karts
!
Kissimmee Go-Karts
For over 20 years, Kissimmee Go-Karts has been providing affordable family fun to the Central Florida Area. At the center of everything is the Go Kart track. This is the largest track in Central Florida at around 1 mile long! Race on some of the fastest karts around, designed for drivers of all ages and experience levels. Need a break from racing? Check out the amazing arcade! Kissimmee Go-Karts features over 70 arcade games, with classics like Pac Man as well as Skee Ball and Air Hockey!
Want to get a full Florida experience? Visit the pool of real Florida alligators! You will even have the opportunity to feed these live gators! Spend the day playing away at Kissimmee Go-Karts and keep the fun of racing going all vacation long by staying at the
Oasis Estate
. This amazing 8 bedroom rental vacation home in Championsgate provides fun for everyone! Keep playing your favorite games and reminisce on racing around the longest go-kart track in Central Florida — just like Lightning McQueen!
If you're planning a Central Florida vacation and need some help planning where to stay,
contact us today
to get started planning the magical vacation of your dreams! Until the next blog post, we hope you have a magical day!According to AAA Travel, Orlando is the #1 destination for travel this 4th of July! It's easy to see why, especially when we have theme parks known for their awe-inspiring fireworks spectaculars happening nightly! If you're planning a
4th of July in Orlando
at the theme parks or visiting the Orlando area for Independence Day celebrations, we've put together a guide for you!
Our first Magical tip
: the theme parks fill up very fast on the 4th of July, so be sure to keep that in mind when you are planning your day! There will be heavy crowds, so plan for long wait times for rides and characters and make sure to scope out your fireworks spot early!
EPCOT
Epcot is the #1 spot for Independence Day celebrations! Here's an inside look at the special offerings:
Special Fireworks: "The Heartbeat of Freedom" What would a 4th of July celebration be without fireworks? And Epcot has the best show around! It starts at 9 p.m. with a performance of "IllumiNations: Reflections of Earth," which concludes with the addition of a heart-pounding, all-American grand finale. This one-night-only fireworks extravaganza unites music from great American composers with more pyrotechnics than Guests can imagine!
Voices of Liberty – An Epcot tradition for more than 35 years, this legendary a cappella group will perform a series of special evening concerts of great American songs in the America Gardens Theatre at 5:30 p.m., 6:45 p.m. and 8 p.m. Joining the Voices of Liberty on stage will be Mickey Mouse, Donald Duck and Goofy, dressed for the occasion in their special "Spirit of '76" attire. Guests can also catch Voices of Liberty performing special patriotic songs in the rotunda of The American Adventure at 2 p.m. and 3 p.m.
Disney Characters – During the day, Guests will have the opportunity to get a special photo with Mickey, Goofy, Pluto and Chip 'n' Dale, all wearing their patriotic best, right outside The American Adventure pavilion.
Specialty Foods – Guests can add some flavor to their celebration with all-American foods throughout the park. There will be decadent red, white and blue cupcakes available at Fountain View and Sunshine Seasons, where they can also nosh on their yummy BBQ pork sandwich. Refreshment Port will have specially decorated croissant doughnuts (Who can resist those?!) and Liberty Inn has got Guests covered with the all-American burger, southern fried chicken sandwich, apple pie cheesecake and –just for the 4th – a slice of watermelon!
The American Adventure – This epic attraction, another Epcot original, has recently been updated with an all-digital projection system, a new screen, new speakers and an all-new recording of the iconic "Golden Dream" anthem. And look for new faces added to the show's finale including composer John Williams, astrophysicist Neil deGrasse Tyson and noted ballerina Misty Copeland.
Magic Kingdom
Enjoy Disney's Celebrate America – A Fourth of July Concert in the Sky on July 3rd and 4th at 9:15 pm! See beautiful fireworks in the sky and special effects on Cinderella's Castle. Also around the Magic Kingdom will be DJ Hosted dance parties from 7 pm to midnight on both the 3rd and the 4th in Frontierland and Tomorrowland. Dance the night away with both contemporary songs as well as tunes themed to the lands.
Universal Studios Orlando
Starting at 5 pm on July 4th, Universal Studios Orlando will host special entertainment to celebrate, including a live performance from the band Raydio, award-winning DJ M-Squared spinning hits and a special dance party with Universal's beloved characters. Fireworks begin at 9 pm, and the park will stay open until 10 pm to keep the Independence Day fun going until late!
4th of July in Orlando Outside of the Theme Parks
Trying to avoid the busy theme park crowds?
This website
has compiled all of the events happening in the Central Florida area for the 4th! Thinking about planning your Orlando vacation and need some assistance with where to stay?
Contact us today
, our dedicated reservations team is here 7 days a week to help you plan the vacation of your dreams today! Until the next blog post, have a magical day!