When planning your Orlando family vacation, one of the main factors is location, location, location! We can all agree that choosing a place that's both private (especially in 2020) and fun for the little ones is THE key to an amazing trip. For many years, Reunion Resort has been a prime destination for families looking to be in the center of it all while in their own luxury home. But while the home has plenty to offer, Reunion Resort itself has even more than you'd expect! As veterans to Reunion, we know firsthand that there's something special about this city-sized resort. With the plethora of activities on-site, it takes Orlando vacationing to the next level of convenience, keeping the kiddos entertained for days. So if you're deciding between places to stay around Orlando, check out our 5 favorite kid-friendly Reunion Resort activities to see if this resort is destined to be in your future travel plans.
Check out our Vacation Rentals with Themed Rooms Here!
1- Reunion Resort Water Park
It's no secret that most of Orlando's most popular attractions are up and running again. However, water park options have become unfortunately limited. Disney's Typhoon Lagoon and Disney's Blizzard Beach have both remained closed for the summer season. And non-Disney water parks like Universal's Volcano Bay, Island H2O Live, and SeaWorld's Aquatica continue to run on limited capacity and hours. This adds to the challenge of enjoying a day in the sun, which is why
Reunion Resort Water Park
is a fan-favorite amongst Reunion Resort families. Tackle the twisty water slides and relax as you float along the lazy river. Or even chill at your own private cabana! The best part about this location is that it offers plenty of room to physical distance and doesn't require you to leave Reunion. It's the tranquil vacation paradise you've needed all summer, and your kids are sure to have a blast.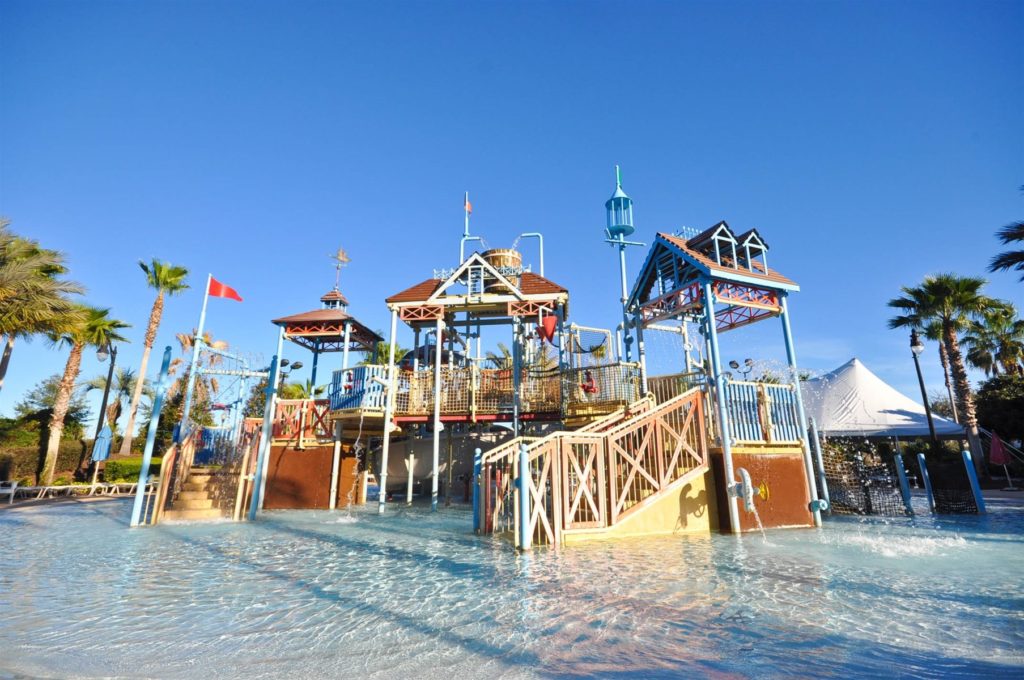 2 – Reunion Resort Miniature Golf
Honestly, no Orlando vacation is complete without a miniature golfing day with the family. Recently, Reunion Resort opened its very own
Reunion Resort Miniature Golf
for the entire fam bam to enjoy. The mini-course challenges family members to test their golfing skills with its provided golfing equipment available at the Tennis Shop. And as mentioned before, you don't have to venture out to enjoy the fun! The location is open Wednesday-Sunday and welcomes guests of all ages to play.
3- The Sandy Ridge Splash Pad
No matter what your vacation plans are, there's no way you can visit Orlando without a day at the pool. Reunion Resort offers many community pool areas throughout, but Sandy Ridge Splash Pad is definitely a family favorite. Just by the Reunion Resort Water Park, Sandy Ridge Splash Pad features built-in fountains, slides, and massive water buckets! Its beach-style entry also makes it great for families needing shallow waters for their tiny tots.
Browse our Signature Series Vacation Rental Homes Here!
4 – Reunion Resort Bike Rentals
Reunion Resort's acres and acres of neighborhoods and biking trails are great for the outdoorsy family. Guests can embrace the surrounding scenery while bonding with their loved ones with Reunion Resort's Bike Rentals. Choose from single-rider bicycles or ride together on one of the Surrey bike options. Whether it's a bright morning or a sunny afternoon, your family will enjoy every moment biking around Reunion.
5- Reunion Resort Playgrounds
A playground is such a simple activity but in kids' eyes its hours worth of fun. Swing by Centre Court Ridge or Villas South to visit one of the two on-site playgrounds designed to help your little ones use up their energy with slides and monkey bars. They're also conveniently near a few of resort pools, perfect for a day on-site. — Planning a trip is never an easy task, but we hope that we've narrowed your mind down a bit with these awesome on-site amenities. Make sure to check out the best of
Reunion Resort's homes and condos
and see which one best suits your family's needs. Until the next blog post, have a magical day!
Looking for a 3 Bedroom Townhome? Find One Here!
Before you say anything, we already know what you're probably thinking. A 2020 WDW vacation? That doesn't even seem possible! Well, my fellow magical readers, the wonderful magic of Disney is a lot closer than you think. With
all 4 Orlando theme parks re-opening their doors this past J
uly operating on enhanced procedures and experiences, the Disney theme parks have made it possible for guests to re-discover the magic in newer and safer ways.
What we also know is that you do have to dive deeper into planning out your days. Park tickets are now requiring reservations and the Disney FastPass+ service is on hiatus until further notice. But don't let this deter you from strolling down Main Street U.S.A, and don't think you're in this completely alone, either! We recently discovered a truly magical way to plan your visit to Walt Disney World® with the awesome
WDW Park Planners
and we wanted to give you the inside scoop as to why this MAY be the best way to say hello to the mouse!
Book a Galaxy Themed Home Here!
What is WDW Park Planners?
So what exactly is WDW Park Planners? Well, we're glad you asked! WDW Park Planners is the stress-free way to plan your entire WDW vacation, minus the hassle of planning. You'll connect with your own full-service concierge and receive super exciting perks like customized itineraries that feature day by day,  line by line, the BEST order to follow throughout your park visit, tailored to your family's requests.  
Your Custom Itinerary (Parks, Food, Stroller Rentals, and More!)
These customized itineraries also help optimize your time in the parks so you can get the most out of your vacation experience (with corresponding parks maps for added convenience). Your personal concierge will even put together the tiniest of details, like your daily stroller rentals for the little ones. At the moment, Disney FastPass+ service is unavailable, but once these are back in action you can trust WDW Park Planners to get these together for you as well!
And what's a visit to Walt Disney World® without chowing down on their infamous meals and desserts? WDW Park Planners generates a reservation schedule for your favorite food stops to tie into your daily park visits, giving you peace of mind all the way down to the scrumptious meals you'll feast on. Whether you're ready to enjoy endless options at one of the many on-site character buffets, or you're leaning toward a romantic dinner for two, your personal concierge will have it completely covered. 
And with plenty of adjustments we've seen at the parks, there's always a possibility that new policies or rules may arise. WDW Park Planners promises to constantly update you and your family with any changes the parks may have, keeping you in the loop at all times.
Book a Rental with Themed Rooms Here!
Meet the Owner and Founder
We were delighted to have an opportunity to chat with Colleen, the owner and founder of WDW Park Planners! An Annual Passholder and DVC Member herself, Colleen always finds time to venture from her Chicago home to our sunny Orlando. Colleen, who has recently visited the parks after their reopening, takes her personal theme park experience to create the most beneficial plans for your family.
Book a Luxury Rental Home near Disney Here!
In her words to us, she stated that "this is a once in a lifetime trip, so we want you to get the most out of it…" and we couldn't agree more! As a vacation home business ourselves, we understand the importance of making the most out of your vacation experience. With all of the stressors of 2020, adding that touch of magic from a personal concierge can truly make a difference in your much needed Orlando vacation. 
If you're ready to make your magical Disney dreams a reality, book your
Magical Vacation Home
and head over to
WDW Park Planners
website to begin your Disney planning journey! You can also find WDW Park Planners on their
Instagram
and Facebook for the best theme park content. 
And as always, see you in the next blog post and have a magical vacation planning day!
*All photos courtesy of WDW Park Planners*
As the sun rises on the Cinderella Castle and the Tree of Life,
Walt Disney World
® Resort welcomes guests to its theme parks once again. With two Disney theme parks now open and two more on the way on July 15, 2020, there have been many changes to ensure the safety of cast members and guests. We knew that the
Magic Kingdom
® Park was going to be a must-visit during the opening weekend, so we wanted to give you guys a glimpse at its nearby neighbor,
Disney's Animal Kingdom
® Theme Park. We had the opportunity to visit and gather some insight on what to expect, and while we were there to bring you the scoop, we realized how much fun the theme parks still are! So what can you expect in your future visit? We broke down some of the key changes you'll notice on your trip to the theme parks.
Book a Luxury Rental Home near Disney Here!
Quick Notes Before Beginning…
Before guests may visit any of the four Disney theme parks, you must reserve your day online.
At this time, guests are only allowed to visit one park per day. The Park Hopper® and Park Hopper Plus® options are on hold until further notice.
The Disney FastPass+ service is on hold until further notice.
For more information on updated policies and procedures, please visit Disney Parks 
Returning to the World of Magic
.
Park Entry and "Health and Safety" Notices
When you reach the park entrance, you'll already begin to notice the stark difference in crowds just by the number of cars that enter. Upon our arrival, we didn't even have to wait to pay for parking. It's a nice change from the usual congestion we see and really does provide that peace-of-mind on arrival.
Once you hop out of your vehicle and make your way to the gates, you'll be greeted with the new Health and Safety Notice sign that helps you determine if you're able to enter the park.
As seen above, the notice notifies that they will be required to wear face coverings, undergo temperature screening, and practice physical distancing of 6 feet (2m) during their visit. The notice also states that "By entering
Walt Disney World
® Resort, you are confirming that you are not experiencing any of the following symptoms:
Cough
Shortness of breath or difficulty breathing
Fever
Chills
Muscle pain
Sore throat
New loss of taste or smell
Nausea, vomiting, or diarrhea
You have not been in contact with someone with confirmed or suspected COVID-19 symptoms without completing a 14-day quarantine
You are not under any self-quarantine orders
If you are unable to confirm all of the above listed, you must not enter
Walt Disney World
® Resort. And while these newly enforced policies do seem a bit strict, they definitely aid in preventing the spread of sickness and we truly appreciate the effort that has been implemented! Once you pass this notice, you will undergo a temperature screening prior to officially entering the park.
As long as your temperature falls below 100.4 after screening with a no-touch thermometer and you are wearing an approved face covering, you are granted entry (with your reserved admission, of course) into the parks! Guests will notice upon entry that all Cast Members will be equipped with two types of face coverings, including protective masks and shields. Guests will also only be asked to scan their admission cards or
MagicBand
rather than scanning your thumbprint for sanitary reasons.
Book an Orlando Resort Rental Here!
Physical Distancing and Inside the Theme Parks
The first thing you'll come to notice when entering the theme parks is the stark difference in crowd size (for the better). Because of capacity limits in all four Disney theme parks, you'll notice that entering the park and maintaining a distance between you and other guests will be a breeze.
This also makes for a fantastic opportunity to take amazing photos inside the theme park! Pose nearly wherever you'd like without interruption or heavy crowds walking by, just like below at
Pandora: World of Avatar
.
Attraction Wait Queues
It would only make sense that if the parks are less crowded, so are the queues, right? Well, that's entirely correct. Over the weekend,
Disney's Animal Kingdom
® Theme Park rarely saw a wait time that jumped over 5 MINUTES.
Yes, we're serious about this one. Most, if not all attractions at the theme park were practically walk-on's, giving guests the chance to complete everything and still have plenty of time to re-ride their favorites. And before you even ask the question, yes, this includes
Avatar Flight of Passage
, which is well-known for being one of the consistently busiest attractions on
Walt Disney World
® Resort property. Have you ever been able to walk onto this ride without a wait? It seemed near impossible in the past, but now it is a completely common occurrence. Time for those back-to-back attraction visits!
We'd also like to note that while fewer guests are riding the attractions, that doesn't stop the Cast Members from ensuring that all rides are properly sanitized throughout the day as a way to minimize bacteria transfer on high-contact surfaces!
Quick Service Dining
Just like the rest of the theme park, the on-site quick service dining options were also extremely low capacity. This made it extremely easy to grab food and a physically distanced table without worry.
Walt Disney World
® Resort is also recommending contactless payment by either paying with a tap debit or credit card, through a smartphone wallet or by completing a mobile order through the
My Disney Experience
app. All of these are additional ways to minimize the handling of high-touch surfaces for both cast members and guests.
Parade Viewings
Unfortunately (for now) parades and character meet & greet sessions have been put on hold in order to ensure guests have the chance to physical distance. BUT, you will have the chance to spot some of your favorite character friends and floats throughout the day! At Disney's Animal Kingdom® Theme Park, guests may see water floats pass by during their visit, just like this one here!
Check out our Vacation Rentals Luxury Collection Here!
And May the Magic Continue…
While things may be a bit different on your future visit to the theme parks, we guarantee that the magic still remains. We hope this overview gave you the insight you need for when you decide to plan your next vacation. And when you do, make sure to
check out some of our extraordinary vacation rentals
that may be ideal for your Orlando family vacation! Thank you for coming along the
Walt Disney World
® journey with us! Until the next blog post, have a magical (and safe) day.
*As to Disney artwork, logos, and properties: ©Disney*