The most magical time of the year has finally arrived. And though this year has been one of uncertainty, one thing you can always count on is our special holiday giveaways. We've partnered with our good friends at
Inside the Magic
to give you the opportunity to win a
7-night stay at Orlando's Designed For Vacation | RVH_320M
as part of Inside the Magic's
25 Days of Magic
. Those interested may enter from now until December 24th at 8 p.m. EST for a 2021 vacation from the available dates: 1/06/21 – 02/28/21 04/12/21 – 05/27/21 08/20/21 – 11/21/21 06/1/21 – 06/9/21 08/20/21 – 09/02/21 09/07/21 – 11/19/21 11/29/21 – 12/18/21
Browse our Condo Rentals Here!
Staying at Designed for Vacation | RVH_320M
Designed for Vacation is our 5-bedroom, 5.5-bathroom villa boasting 3,300 sq. ft. of excitement. From a galaxy-inspired theater and superhero bedroom to a private pool and classic game room, this vacation rental never fails to entertain. This home also features additional kids' rooms like the Ice Princess-inspired bedroom, plenty of bedroom suites for the adults, a spacious living, kitchen, and dining area, as well as an outdoor summer kitchen for backyard grilling. Stay with up to 14 guests in the heart of Reunion Resort and enjoy the plethora of amenities including access to three championship golf courses, Reunion Resort Water Park, multiple tennis courts, and more. This home has truly been designed for the ultimate vacation experience, all while maintaining the ultimate privacy for your family.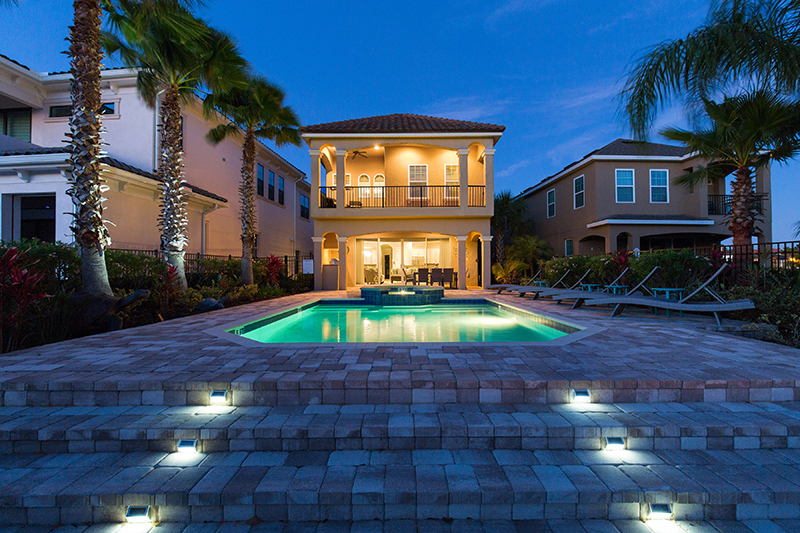 While you're waiting for the giveaway to be drawn, make sure to check out our additional photos and a full description of
Designed for Vacation | RVH_320M
.
Check out our Homes with a Pool Here!
Giving Back to Our Community
As mentioned by Inside the Magic,
A driving force behind our 25 Days of Magic promotion is to bring awareness to the various Children's Hospitals that make up Children's Miracle Network.
Today, December 1st marks the annual,
Giving Tuesday
. Every 1st Tuesday after Thanksgiving, individuals across the United States share their kindness and generosity by giving back to others, including many national charities. By entering this giveaway, not only are you potentially winning a 2021 Orlando vacation, but you're also giving back to your community. For every
25 Days of Magic
entry, $1 is donated to the
Children's Miracle Network
(up to $30,000) with the goal of providing kids a fighting chance at a healthy life. – To learn more about the giveaway and to enter, please visit Inside the Magic's
Day 24 giveaway article
and check out the rest of the giveaways
here
. Until the next blog post, have a magical merry day!
Book one of our Vacation Rentals Here!
Orlando is the #1 destination to visit in the USA, welcoming a record-breaking 72 million visitors in 2017. The
Orlando holiday
season is a truly magical time in the area, with fabulous events all around. When you're staying at a vacation home, it opens up even more amazing ways to spend the holiday season. Keep reading to discover fun ways to spend the holidays at Reunion Resort.
1) Dining at Eleven
One of the featured luxury dining experiences at Reunion Resort is Eleven. Situated at the top of the 11th floor of the towering Reunion Grande building, Eleven provides a luxurious dining experience for the whole family. Enjoy a Christmas dinner at Eleven with a menu featuring seasonal specials including Winter Fig Salad, Prime Rib, Pan Seared Sea Bass and more! You can even watch the magical Walt Disney World fireworks with a stellar view from the restaurant. Spend the holidays dining here, reservations are highly recommended. View more
Reunion Dining Experiences
!
2) Pampering at the Reunion Resort Spa
The Reunion Resort spa is a great way to treat yourself and your loved ones this Holiday season! You have the option to visit the boutique spa in the resort, or even have the masseuse come to you! Enjoy a poolside massage and be able to truly relax without stress this holiday season. Be sure to call 407.662.4772 to book your holiday spa trip!
3) Enjoying Your Magical Vacation Home
Make your holidays Magical by staying at an amazing Magical Vacation Home rental. Make a meal with the whole family at your own kitchen and sit down to dine all together. Escape the crowds of the theme parks by relaxing in your own private villa. Even get to decorate your home for the holidays with Christmas tree rentals! Holidays are truly magical with a stay at Magical Vacation Homes! You can even stay in your very own Castle at
The Reunion Castle
, a brand new home designed for your vacation with 10 bedrooms, a custom infinity pool, secret playrooms and the same high-tech golf simulator that the pros use!
4) Golfing at Legendary Courses
Reunion Resort features 3 award-winning golf courses designed by some of the biggest names in golf. Featuring the Arnold Palmer Legacy Course, the Tom Watson Independence Course, and the Jack Nicklaus Tradition Course, Reunion Resort is truly a golfer's paradise. Spend the holiday season enjoying the beautiful Florida weather and golfing on some of the best courses in Florida.
5) Relaxing by the Reunion Resort Pools and Water Park
On your vacation to the Sunshine State, maximize your time soaking up the sun at the beautiful Reunion Resort pools! Even during the colder months of the Holidays, Florida weather is perfect for relaxing poolside! Reunion Resort features 8 different community pools in addition to a Water Park and Pool exclusive for registered house guests — ask our reservations team for more info about house guest registration! Of course, a majority of our rentals include your own private pool, but if you're looking to socialize poolside this holiday season, Reunion Resort pools are the place to be! Maximize your time during the Holidays at Reunion Resort with all of these incredible amenities! Holidays in Orlando are unlike anywhere else, and are sure to be a magical time!I hope everyone is having a magical week! It's time for our next installment of area attractions in the Central Florida Area, featuring
Kissimmee Go-Karts
. Here at Magical Vacation Homes, we're proud to be a local company and support other local area businesses. We also like to use our local advantage to help you create the most magical vacation possible! Keep reading for more information about
Kissimmee Go-Karts
!
Kissimmee Go-Karts
For over 20 years, Kissimmee Go-Karts has been providing affordable family fun to the Central Florida Area. At the center of everything is the Go Kart track. This is the largest track in Central Florida at around 1 mile long! Race on some of the fastest karts around, designed for drivers of all ages and experience levels. Need a break from racing? Check out the amazing arcade! Kissimmee Go-Karts features over 70 arcade games, with classics like Pac Man as well as Skee Ball and Air Hockey!
Want to get a full Florida experience? Visit the pool of real Florida alligators! You will even have the opportunity to feed these live gators! Spend the day playing away at Kissimmee Go-Karts and keep the fun of racing going all vacation long by staying at the
Oasis Estate
. This amazing 8 bedroom rental vacation home in Championsgate provides fun for everyone! Keep playing your favorite games and reminisce on racing around the longest go-kart track in Central Florida — just like Lightning McQueen!
If you're planning a Central Florida vacation and need some help planning where to stay,
contact us today
to get started planning the magical vacation of your dreams! Until the next blog post, we hope you have a magical day!According to AAA Travel, Orlando is the #1 destination for travel this 4th of July! It's easy to see why, especially when we have theme parks known for their awe-inspiring fireworks spectaculars happening nightly! If you're planning a
4th of July in Orlando
at the theme parks or visiting the Orlando area for Independence Day celebrations, we've put together a guide for you!
Our first Magical tip
: the theme parks fill up very fast on the 4th of July, so be sure to keep that in mind when you are planning your day! There will be heavy crowds, so plan for long wait times for rides and characters and make sure to scope out your fireworks spot early!
EPCOT
Epcot is the #1 spot for Independence Day celebrations! Here's an inside look at the special offerings:
Special Fireworks: "The Heartbeat of Freedom" What would a 4th of July celebration be without fireworks? And Epcot has the best show around! It starts at 9 p.m. with a performance of "IllumiNations: Reflections of Earth," which concludes with the addition of a heart-pounding, all-American grand finale. This one-night-only fireworks extravaganza unites music from great American composers with more pyrotechnics than Guests can imagine!
Voices of Liberty – An Epcot tradition for more than 35 years, this legendary a cappella group will perform a series of special evening concerts of great American songs in the America Gardens Theatre at 5:30 p.m., 6:45 p.m. and 8 p.m. Joining the Voices of Liberty on stage will be Mickey Mouse, Donald Duck and Goofy, dressed for the occasion in their special "Spirit of '76" attire. Guests can also catch Voices of Liberty performing special patriotic songs in the rotunda of The American Adventure at 2 p.m. and 3 p.m.
Disney Characters – During the day, Guests will have the opportunity to get a special photo with Mickey, Goofy, Pluto and Chip 'n' Dale, all wearing their patriotic best, right outside The American Adventure pavilion.
Specialty Foods – Guests can add some flavor to their celebration with all-American foods throughout the park. There will be decadent red, white and blue cupcakes available at Fountain View and Sunshine Seasons, where they can also nosh on their yummy BBQ pork sandwich. Refreshment Port will have specially decorated croissant doughnuts (Who can resist those?!) and Liberty Inn has got Guests covered with the all-American burger, southern fried chicken sandwich, apple pie cheesecake and –just for the 4th – a slice of watermelon!
The American Adventure – This epic attraction, another Epcot original, has recently been updated with an all-digital projection system, a new screen, new speakers and an all-new recording of the iconic "Golden Dream" anthem. And look for new faces added to the show's finale including composer John Williams, astrophysicist Neil deGrasse Tyson and noted ballerina Misty Copeland.
Magic Kingdom
Enjoy Disney's Celebrate America – A Fourth of July Concert in the Sky on July 3rd and 4th at 9:15 pm! See beautiful fireworks in the sky and special effects on Cinderella's Castle. Also around the Magic Kingdom will be DJ Hosted dance parties from 7 pm to midnight on both the 3rd and the 4th in Frontierland and Tomorrowland. Dance the night away with both contemporary songs as well as tunes themed to the lands.
Universal Studios Orlando
Starting at 5 pm on July 4th, Universal Studios Orlando will host special entertainment to celebrate, including a live performance from the band Raydio, award-winning DJ M-Squared spinning hits and a special dance party with Universal's beloved characters. Fireworks begin at 9 pm, and the park will stay open until 10 pm to keep the Independence Day fun going until late!
4th of July in Orlando Outside of the Theme Parks
Trying to avoid the busy theme park crowds?
This website
has compiled all of the events happening in the Central Florida area for the 4th! Thinking about planning your Orlando vacation and need some assistance with where to stay?
Contact us today
, our dedicated reservations team is here 7 days a week to help you plan the vacation of your dreams today! Until the next blog post, have a magical day!Soak up some famous Florida sunshine this summer in Orlando! Enjoy the beautiful sunny weather and keep cool at the same time at some of the area's best water parks – conveniently located near our magical rental homes. Keep reading for useful info on the best water parks around. Walt Disney World is home to two award-winning
Orlando water parks
– Blizzard Beach and Typhoon Lagoon. Both offer a unique theme and exciting experiences the whole family can enjoy.
As legend has it, one year a freak snowstorm came to Florida. A ski resort popped up for all of the tourists to enjoy the slopes, but when all of the snow melted, Blizzard Beach water park made its debut! This ski-resort themed water park is home to the thrilling Summit Plummet – a 12 story free-fall body slide. If sliding down one of the highest and fastest water slides on Earth isn't your thing – no worries! A leisurely lazy river winds through the park for total relaxation, as well as a whole kiddie section named Tike's Peak, full of fun for the little ones.
The other Disney water park is Typhoon Lagoon, themed as a tropical paradise after a crazy typhoon-storm. The centerpiece of this park is one of the largest wave pools in the world. This park also features plenty of places to relax along artificial white sandy beaches and family attractions like the Crush 'n' Gusher water coaster and Mayday Falls raft ride. This summer, the park is debuting H2O Glow Nights, staying open at night, for the first time in the 29 years since opening, for a nighttime party with the Toy Story characters.
Universal Studios Orlando debuted its new park in 2017 with the opening of Volcano Bay. The water park is themed around a 200-foot tall volcano named "Krakatau" and features a technology-driven experience with a wearable wristband called TapuTapu. The TapuTapu wristband holds your place in line so you can relax and enjoy the park instead of waiting in long lines for popular attractions. There's a great balance for relaxation and thrills at this gorgeous Polynesian themed park.
SeaWorld Orlando's water park continues SeaWorld's themes of animal education and conservation. The most popular slide in the park takes a plunge through the dolphin pool, and the new Ray Rush family slide promises a thrilling slide, splash and soar with the whole family.
Slide, splash and build all day at the LEGOLAND Water Park! There's some fun for everyone with attractions and slides to the all-new Creative Cove, where you can build and race your own LEGO boat! Beat the heat and still spend some quality time with the whole family at the LEGOLAND Water Park!
You don't even have to go far from your gorgeous vacation rental home to experience a great Florida water park experience! The Reunion Resort Water Park is 5 acres of tropical Florida fun, with three water slides, a lazy river and a kids play park. In order to spend time at this park, please be sure to register in advance as a Reunion Resort House Guest if the option is available for your rental home – if you have any questions about this, please be sure to
reach out to our Care Team
and they will happily answer any questions you may have to ensure your vacation is magical!
Enjoy the brand new community splash park and water slides in Windsor Hills! Windsor Hills Resort is located only two miles away from Disney with all of the amenities of a luxury resort paired with the comfort, convenience, and privacy of a high-end vacation home, at just fraction of the cost! Be one of the first guests to enjoy the brand new pool enhancements when you stay in one of our Windsor Hills properties!
Sometimes, you don't even have to leave your backyard to stay cool and have fun in the sun with your whole family! Relax in privacy with your own backyard pool, soak up some Florida sunshine and spend quality time with your loved ones.
HERE
HERE
I hope you're ready to splash your way through the summer at some of Orlando's finest waterparks! If you're looking for tickets to these exciting experiences, check out
this website
for some great deals! Book your dream vacation with confidence now at
MagicalVacationHomes.com
! Until the next blog post, we hope you have a magical day!It's going to be another exciting summer for theme parks here in Orlando! Earlier this month, Visit Orlando announced a record-setting
72 million visitors to Orlando
, who came to see all of the new attractions and events. Here's an inside look at new happenings this summer:
Walt Disney World
th
, 2018 at Disney's Hollywood Studios. Check out our
blog post
for more details on the new land! Typhoon Lagoon Water Park will be open for select nights for H2O Glow Nights, inviting guests to join the Toy Story crew for an electric glow party celebration with character meet and greets and exclusive dining offerings. Get your tickets for this special nighttime event by calling (407) 939-1872.
Universal Studios 
Fast & Furious – Supercharged
. Guests tour through the Fast & Furious headquarters, past vehicles, and artifacts that were used in the films, before ending up in a high-speed race themselves. A long-awaited new nighttime show is set to premiere this summer to replace Universal's Cinematic Spectacular. While very little has been revealed about the show, it will feature animated characters, a new storyline, lighting, and special effects.
Sea World
Infinity Falls
seeks to combine both experiences with the world's tallest drop on a river raft ride while spreading the message of conservation and connection to the world's rivers. Over at Aquatica, SeaWorld's water park, 
Ray Rush
opened in mid-May to excited reviews. This 60-foot tall family raft ride promises multiple ways to slide, splash and soar like never before. It's not too late to book your
Orlando summer vacation!
Contact us
to book your dream vacation with confidence today. Until the next blog post, we hope you have a Magical day!Join in the Mardi Gras fun at Universal Studios Orlando!  Florida's biggest party doesn't stop and runs every night from February 4 through March 25, 2017. This year's Mardi Gras will have 12 amazing concerts, millions of beads and one over the top parade, and great Cajun food for you to enjoy! The concert series runs on weekends throughout the whole event. Concert dates include: Saturday, February 4th: Trace Adkins Saturday, February 11th: Ne-Yo Saturday, February 18th: Collective Soul Sunday, February 19th: X Ambassadors Saturday, February 25th: Fifth Harmony Saturday, March 4th: Kool & The Gang Sunday, March 5th: Olivia Newton-John Saturday, March 11th: UB40 Sunday, March 12th: Toby Keith Saturday, March 18th: Jason Derulo Sunday, March 19th: Earth, Wind & Fire Saturday, March 25th: The All-American Rejects Enjoy authentic Cajun food including jambalaya, Creole gumbo, Andouille sausage, red beans & rice and beignets. While strolling through the courtyard with your mouth-watering food, you can listen to musicians straight from the streets of New Orleans.
Gather around the streets for a view of the parade running every night at select times. The whole family will be awed by the over-the-top floats, stilt walkers, and performers. Little ones will have their own viewing area so they are sure to see everything! The Little Jester's Parade viewing area is right in front of the Brown Derby Hat Shop. Don't forget to find the perfect vacation villa for your family's February getaway!  Our new 9 bedroom
villa
is the definition of luxury and will give your family enough space and entertainment options. You will even have an 81 ft parameter pool, 2 games rooms, and custom themed bedrooms! Until the next blog post, have a magical day!The holiday season is here and there are a lot of activities happening in Orlando. For the months of November through December, Universal Studios, Walt Disney World, and SeaWorld are offering tons of Christmas fun! The Universal Orlando Theme Parks are featuring The Macy's Holiday Parade, holiday shows for all ages, The Grinchmas Who-Liday Spectacular, and even a New Year's Eve Party at Universal CityWalk. The Macy's Thanksgiving Day Parade will take your breath away with fun balloons and floats just like the parade in New York City. You can also feel the spirit of Christmas with music and festivities of Grinchmas featuring a live retelling of Dr. Seuss's classic holiday tale. From the dates of November 7 through December 22, 2016, Walt Disney World has a special ticketed event, Mickey's Very Merry Christmas Party. It is filled with holiday joy as Mickey and friends celebrate the season for guests of all ages. There are many celebrations happening such as Mickey's Merriest Celebration, Mickey's Once Upon a Christmastime Parade, and the most popular Holiday Wishes Dessert Party. The Holiday Wishes Dessert Party allows guests to have an exclusive view of the Wishes Fireworks with many dessert options to choose from. You do not want to miss this celebration and the beautiful Christmas lights decorating the Castle!
Planning a last-minute holiday vacation? Magical Vacation Homes have brand new luxury homes now available for you to enjoy the holidays in. Our newest luxury rental,
Castle Pine Villa
, is an 8,300 sq. ft home with 9 beds and 10.5 full baths featuring south-west facing 48 ft parameter pool, games room, theatre room and more. Let us help you plan your next magical vacation with our reservations team available 7 days of the week or check out our website with live calendars available 24/7. Until the next blog post, Happy Holidays!