The most magical time of the year has finally arrived. And though this year has been one of uncertainty, one thing you can always count on is our special holiday giveaways. We've partnered with our good friends at
Inside the Magic
to give you the opportunity to win a
7-night stay at Orlando's Designed For Vacation | RVH_320M
as part of Inside the Magic's
25 Days of Magic
. Those interested may enter from now until December 24th at 8 p.m. EST for a 2021 vacation from the available dates: 1/06/21 – 02/28/21 04/12/21 – 05/27/21 08/20/21 – 11/21/21 06/1/21 – 06/9/21 08/20/21 – 09/02/21 09/07/21 – 11/19/21 11/29/21 – 12/18/21
Browse our Condo Rentals Here!
Staying at Designed for Vacation | RVH_320M
Designed for Vacation is our 5-bedroom, 5.5-bathroom villa boasting 3,300 sq. ft. of excitement. From a galaxy-inspired theater and superhero bedroom to a private pool and classic game room, this vacation rental never fails to entertain. This home also features additional kids' rooms like the Ice Princess-inspired bedroom, plenty of bedroom suites for the adults, a spacious living, kitchen, and dining area, as well as an outdoor summer kitchen for backyard grilling. Stay with up to 14 guests in the heart of Reunion Resort and enjoy the plethora of amenities including access to three championship golf courses, Reunion Resort Water Park, multiple tennis courts, and more. This home has truly been designed for the ultimate vacation experience, all while maintaining the ultimate privacy for your family.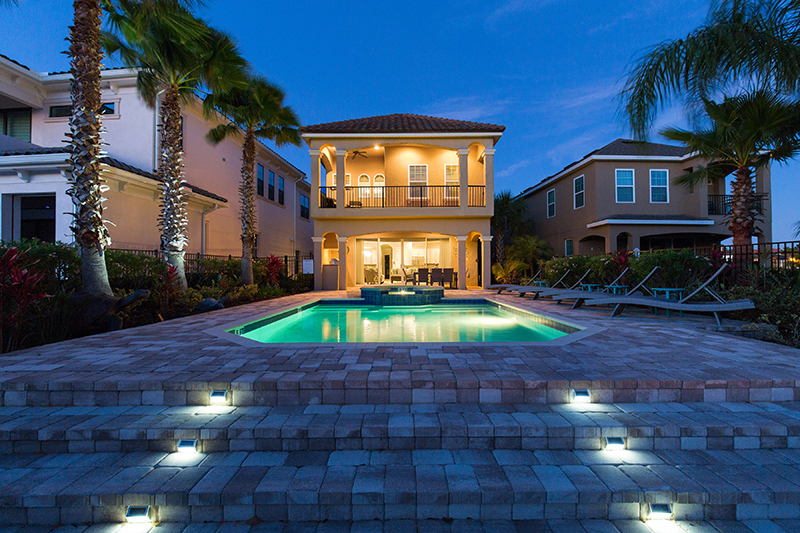 While you're waiting for the giveaway to be drawn, make sure to check out our additional photos and a full description of
Designed for Vacation | RVH_320M
.
Check out our Homes with a Pool Here!
Giving Back to Our Community
As mentioned by Inside the Magic,
A driving force behind our 25 Days of Magic promotion is to bring awareness to the various Children's Hospitals that make up Children's Miracle Network.
Today, December 1st marks the annual,
Giving Tuesday
. Every 1st Tuesday after Thanksgiving, individuals across the United States share their kindness and generosity by giving back to others, including many national charities. By entering this giveaway, not only are you potentially winning a 2021 Orlando vacation, but you're also giving back to your community. For every
25 Days of Magic
entry, $1 is donated to the
Children's Miracle Network
(up to $30,000) with the goal of providing kids a fighting chance at a healthy life. – To learn more about the giveaway and to enter, please visit Inside the Magic's
Day 24 giveaway article
and check out the rest of the giveaways
here
. Until the next blog post, have a magical merry day!
Book one of our Vacation Rentals Here!
Reunion Resort has hit yet another milestone. Condé Nast Traveler has recognized Kissimmee, Florida's largest resort community as one of the "
Top 30 Resorts in Florida
". Part of its
Readers' Choice Awards 2020
, Condé Nast is known for highlighting top global vacation destinations, making this accomplishment paramount for Reunion.
On the list of 30 spectacular resorts, Reunion Resort snagged the 18th spot with a score of 96.21/100.
"Groups of all sizes will feel at home in a condominium, private villa, or vacation home at the Reunion Resort with onsite facilities to accommodate family gatherings and business meetings. With an "amazing water park," three signature golf courses, "excellent, 5-star restaurants," and an "all-around beautiful development," there's plenty for guests of all ages to enjoy." – Condé Nast Traveler
Browse our Reunion Resort Rentals Here!
Reunion Resort Has it All…
As a property management company with over 200 villas at Reunion, we are thrilled over the resort's latest achievement. Reunion's vast variety of villas offer unique rooms ranging from in-home theaters to riveting arcades. And with custom-built bedrooms inspired by everyone's favorite characters, you'll feel immersed in the entire Orlando-area experience. With most properties featuring their own private pool and spacious layouts, Reunion has become overwhelmingly attractive amid COVID-19. This world-class location gives guests the opportunity to vacation, physical distancing style, adding to the comfort of this premier resort.
Beyond its custom-built estates and luxury condos, this magnificent community continues to one-up itself with seemingly endless new amenities. The AAA Four-Diamond rated destination is home to three award-winning golf courses, a water park, 10 resort-style pools, and more. With new additions like the
Reunion Resort Miniature Golf course
and a
water park expansion in the works
, it's no wonder this destination continues to drive in guests to our sunny city of Kissimmee.
Book our Vacation Homes with Pools Here!
Whether you're a Florida local or traveling to the state, Reunion Resort is a must-add to your destination bucket list. For golfers, families, retreats, and everything in between, take a moment to browse
Reunion's leading properties
for your dream vacation. And as always, until the next blog post, have a magical (vacation planning) day.As the sun rises on the Cinderella Castle and the Tree of Life,
Walt Disney World
® Resort welcomes guests to its theme parks once again. With two Disney theme parks now open and two more on the way on July 15, 2020, there have been many changes to ensure the safety of cast members and guests. We knew that the
Magic Kingdom
® Park was going to be a must-visit during the opening weekend, so we wanted to give you guys a glimpse at its nearby neighbor,
Disney's Animal Kingdom
® Theme Park. We had the opportunity to visit and gather some insight on what to expect, and while we were there to bring you the scoop, we realized how much fun the theme parks still are! So what can you expect in your future visit? We broke down some of the key changes you'll notice on your trip to the theme parks.
Book a Luxury Rental Home near Disney Here!
Quick Notes Before Beginning…
Before guests may visit any of the four Disney theme parks, you must reserve your day online.
At this time, guests are only allowed to visit one park per day. The Park Hopper® and Park Hopper Plus® options are on hold until further notice.
The Disney FastPass+ service is on hold until further notice.
For more information on updated policies and procedures, please visit Disney Parks 
Returning to the World of Magic
.
Park Entry and "Health and Safety" Notices
When you reach the park entrance, you'll already begin to notice the stark difference in crowds just by the number of cars that enter. Upon our arrival, we didn't even have to wait to pay for parking. It's a nice change from the usual congestion we see and really does provide that peace-of-mind on arrival.
Once you hop out of your vehicle and make your way to the gates, you'll be greeted with the new Health and Safety Notice sign that helps you determine if you're able to enter the park.
As seen above, the notice notifies that they will be required to wear face coverings, undergo temperature screening, and practice physical distancing of 6 feet (2m) during their visit. The notice also states that "By entering
Walt Disney World
® Resort, you are confirming that you are not experiencing any of the following symptoms:
Cough
Shortness of breath or difficulty breathing
Fever
Chills
Muscle pain
Sore throat
New loss of taste or smell
Nausea, vomiting, or diarrhea
You have not been in contact with someone with confirmed or suspected COVID-19 symptoms without completing a 14-day quarantine
You are not under any self-quarantine orders
If you are unable to confirm all of the above listed, you must not enter
Walt Disney World
® Resort. And while these newly enforced policies do seem a bit strict, they definitely aid in preventing the spread of sickness and we truly appreciate the effort that has been implemented! Once you pass this notice, you will undergo a temperature screening prior to officially entering the park.
As long as your temperature falls below 100.4 after screening with a no-touch thermometer and you are wearing an approved face covering, you are granted entry (with your reserved admission, of course) into the parks! Guests will notice upon entry that all Cast Members will be equipped with two types of face coverings, including protective masks and shields. Guests will also only be asked to scan their admission cards or
MagicBand
rather than scanning your thumbprint for sanitary reasons.
Book an Orlando Resort Rental Here!
Physical Distancing and Inside the Theme Parks
The first thing you'll come to notice when entering the theme parks is the stark difference in crowd size (for the better). Because of capacity limits in all four Disney theme parks, you'll notice that entering the park and maintaining a distance between you and other guests will be a breeze.
This also makes for a fantastic opportunity to take amazing photos inside the theme park! Pose nearly wherever you'd like without interruption or heavy crowds walking by, just like below at
Pandora: World of Avatar
.
Attraction Wait Queues
It would only make sense that if the parks are less crowded, so are the queues, right? Well, that's entirely correct. Over the weekend,
Disney's Animal Kingdom
® Theme Park rarely saw a wait time that jumped over 5 MINUTES.
Yes, we're serious about this one. Most, if not all attractions at the theme park were practically walk-on's, giving guests the chance to complete everything and still have plenty of time to re-ride their favorites. And before you even ask the question, yes, this includes
Avatar Flight of Passage
, which is well-known for being one of the consistently busiest attractions on
Walt Disney World
® Resort property. Have you ever been able to walk onto this ride without a wait? It seemed near impossible in the past, but now it is a completely common occurrence. Time for those back-to-back attraction visits!
We'd also like to note that while fewer guests are riding the attractions, that doesn't stop the Cast Members from ensuring that all rides are properly sanitized throughout the day as a way to minimize bacteria transfer on high-contact surfaces!
Quick Service Dining
Just like the rest of the theme park, the on-site quick service dining options were also extremely low capacity. This made it extremely easy to grab food and a physically distanced table without worry.
Walt Disney World
® Resort is also recommending contactless payment by either paying with a tap debit or credit card, through a smartphone wallet or by completing a mobile order through the
My Disney Experience
app. All of these are additional ways to minimize the handling of high-touch surfaces for both cast members and guests.
Parade Viewings
Unfortunately (for now) parades and character meet & greet sessions have been put on hold in order to ensure guests have the chance to physical distance. BUT, you will have the chance to spot some of your favorite character friends and floats throughout the day! At Disney's Animal Kingdom® Theme Park, guests may see water floats pass by during their visit, just like this one here!
Check out our Vacation Rentals Luxury Collection Here!
And May the Magic Continue…
While things may be a bit different on your future visit to the theme parks, we guarantee that the magic still remains. We hope this overview gave you the insight you need for when you decide to plan your next vacation. And when you do, make sure to
check out some of our extraordinary vacation rentals
that may be ideal for your Orlando family vacation! Thank you for coming along the
Walt Disney World
® journey with us! Until the next blog post, have a magical (and safe) day.
*As to Disney artwork, logos, and properties: ©Disney*