What's not to love about renovations?  We, the Magical Team, asked ourselves this just over a year ago and we immediately got to work. Over the past 12+ months, our staff has slowly begun introducing little changes, from a shiny new logo to exciting new email layouts. And now the day has arrived where we can introduce our greatest reno of all. We are thrilled to finally introduce to all of our guests the stunning new magical website revamp of MagicalVacationHomes.com.
We've taken your comments and suggestions and used these to bring you the best site yet. Rebuilt from top to bottom, our new magical website has been enhanced with a gorgeous modern layout, user-friendly features throughout, and added convenience to the guest booking process. Whether you're browsing our villas on desktop or checking out property availability via mobile, we've worked to make sure that each visit experience is equally fast, convenient, and easy to understand.
Our Newest Features
Flexible Dates
We understand that there are times when you have a general idea of when you're traveling, but you're flexible on the set dates! This is why we've added the "Dates Flexible" tool, giving you the option to, well, weigh out your options! This tool not only allows you to view different check-in/check-out pricing, but it also may provide additional rentals to choose from.
Select from one to three days in flexibility and the timeframe you're looking to travel around, and let our advanced property software do the rest. It's that simple.
The Magical Blog
Read all about it (like you're doing right now)! With so much going on in Central Florida every day, we know it may be challenging to keep up. Add ease to planning your getaway adventures with The Magical Blog, your guide to all things theme park, entertainment, holiday events, and more.
View our most recent posts on the main page for the most up-to-date news in the area and even within our company! Guests can also browse our organized categories to read about particular topics, like Walt Disney World® Resort or Universal Orlando™. We've also implemented a search box for those looking to go back to a blog they've already read.
Ready to read about the magic happening in Orlando? Head to our Magical Blog main page to view our other great posts.
The My Stay Guest Portal, Powered by Happy Stays
For the first time ever, your confirmed reservation will now be accessible through our new online guest portal, My Stay, powered by Happy Stays. Here, guests can view their property documents, booking information, add-on vacation services, and more.
To review an existing reservation on desktop, guests can locate the My Stay portal at the footer of our website. You may also head over directly to https://magicalvacationhomes.happystays.com/visitor-guide/#/login at any time. All you need to log on via desktop is your registered email address and check-in date.
For those using their mobile device, you can download the free Happy Stays app from the App Store and Google Play. Once you've downloaded the app, sign in with the access code provided in your Happy Stays email. You are now on your way to having all the information needed right at your fingertips. It's that simple!
Once you're in, you can click on any existing reservations you have on file and access everything you need to know for your upcoming getaway. From check-in and check-out times to the address and wifi password, you'll be instantly prepared for your journey to Orlando.
Guests may also utilize our remote check-out option. Just let us know through the portal that you are on your way out and our teams will take care of the rest!
Have multiple guests in your party? Not a problem. Invite your family and friends through the "Invite Friends"  tab so everyone can view the reservation whenever they please, keeping all guests in the loop 24/7.
For those deciding that they may want to add special services, such as pool heat, for example, may do so on the portal without having to call or email.
Our Magical Guest Moments
Each year we welcome guests from all over the world, and we are always thrilled when guests share their magical experience with us. With Our Magical Guest Moments, we are able to share with YOU the magical memories these families made.
We are always welcoming more guest experiences and would love to hear and see your vacation experience! If you would like the chance to be featured on our site or social media, just submit your favorite vacation photos and a small story about your getaway at the bottom of the page. We can't wait to hear about your trip!
–
These are only some of the amazing features you'll encounter while visiting our new and improved website, and we cannot wait for you to witness it for yourself! See the best of it all at MagicalVacationHomes.com and while you're here, feel free to book a vacation (or two) with one of our many Book Direct deals and specials.
Until the next blog post, have a Magical rest of your day!
For the past 13 years, we at Magical Vacation Homes have continuously worked to put our people first. Whether its the Magical staff or our thousands of guests from across the world, our top priority has always been to provide a clean and welcoming environment at every vacation rental we manage.
The cleanliness of our vacation rentals has, and always will be, held to the highest standards in the vacation rental industry. Keeping your vacation rental clean amid COVID-19 (and beyond) is no different and it's our top priority to exceed the business standards in order to ensure your home and vacation is a worry-free one.
VRHP/VRMA Cleaning Guidelines
As we are following the recommended cleaning guidelines from the Vacation Rental Housekeeping Professionals (VRHP) and Vacation Rental Management Association (VRMA), we've begun an increasingly rigorous sanitization and disinfection protocol. These protocols protect both our guests and our staff, delivering peace-of-mind to everyone.
To provide our guests with more insight on what we're doing before and during arrival and post departure, we've laid out a guide of our current practices below.
Personal Protective Equipment (PPE) Usage
For the safety of our staff (including housekeepers, inspectors, maintenance technicians, etc.), we are providing them with facemasks and gloves during all vacation rental visits, whether internal or external visits. All staff has been properly trained in correct mask and glove usage.

Gloves will be changed between properties and during any in-property tasks. Our staff will wash their hands as soon as gloves are removed and between glove use.

Any of our team members who arrive at work showing signs of illness, experiencing COVID-19 related symptoms, or have come into contact with a person suspected of having the virus will be sent home and recommended to have themselves tested. Once we receive confirmation that this individual is healthy, we will welcome them back into our offices to continue serving our guests.
Cleaning and Disinfection Procedures
Gloves will be worn at all times while in the home and our staff will sanitize their hands both prior and post home clean in order to ensure no bacteria is spread.
Our team will also pay careful attention to high-touch surfaces including (but not limited to):
Doorknobs

Stair railings

Telephones

Remote controls

Television buttons

Sliding door handles

Touch screens

Kitchen appliances and fixtures

Light switches
All of these surfaces will be cleaned with hospital-grade, EPA-approved disinfectants to ensure that they are disinfected to the highest standards.
Home Inspections
Once these homes have been cleaned, our usual pre-arrival inspections will be performed to confirm that the villa meets the standards we have set. This final inspection confirms if a villa is show-ready and able to welcome its newest guests, making our procedures as thorough as possible.
Virtual Maintenance Assistance and On-site Maintenance
All of our staff who may have to be on-site during your vacation have been properly trained on social distancing procedures, however, we have implemented new ways to lessen the chances that the maintenance team has to visit any properties currently housing guests.

As part of our steps to provide guests the best service while maintaining a social distance, we are now beginning all troubleshooting via Zoom Chat. This will allow our team to troubleshoot any home issues with the guests. If any such case is not resolved from a virtual standpoint, the next steps will be taken for our staff or third-party vendors to visit the property.

If any maintenance staff must enter the home while guests are in-house, maintenance will be protected in PPE throughout the visit. Our maintenance or third-party vendors may ask guests for the room or area to be clear from guests in order to perform their maintenance duties. This is for the safety of both our guests and staff members. 
Virtual Welcome Meet & Greet
It is extremely important to us that guests get full usage of their vacation home. With that in mind, we have implemented a new Virtual Welcome Meet & Greet system via Zoom Chat, designed to give guests the chance to learn about their in-home amenities such as the Sonos music system, in-home theater rooms, and more.
Guests can opt-in for a Virtual Welcome Meet & Greet upon check-in and can choose a time that fits them best. Once scheduled, a member of our Magical Team will reach out virtually during the allocated timeframe to assist the guests with any questions they may have, and most importantly, welcome them to their home away from home.
–
All of these updated rules are being implemented into our cleaning standards to ensure you and your family have a clean and comfortable home upon arrival. We thank you all for your ever-continuing patience and kindness during these times, and we cannot wait to have you back again! From all of us at Magical, we hope to welcome you into one of our clean Magical homes very soon and we wish good health and safety to you and your families.  
For more information regarding any cleaning updates from Magical Vacation Homes, please refer to our VRMA SafeHome page.
There's still a bit of magic in the air! See the BEST of Walt Disney World® and Orlando, virtually, from the comfort of your own couch.
COVID-19 has thrown a curveball at the entire world, leaving many of our favorite happy places at a standstill. As the days continue and the answers to many of our questions seem to be out of reach, we're all beginning to discover ways to create our own joy in the comfort of our homes.
As avid park goers and Orlando lovers ourselves, missing out on the best of Orlando has caused all of us to be homesick in our own city. And with the thought that many travelers had to put a pause on their magical getaways, we wanted to find ways to create a bit of magic for locals and visitors alike, until we're all able to return to the "most magical place on earth".
Virtual Walkthroughs
We can bet that everyone is longing for the days where we can walk down Main Street U.S.A. with a Mickey Bar in one hand and a bucket of popcorn in the other. That feeling of utter childhood joy radiates throughout the parks with every visit and the magic of entering a new land sparks glee as you awe at the sights and sounds around you.
So what if I told you that you could still experience this from home? YouTube has been such a gift these days with virtual walkthroughs, and I wanted to share some of my favorites with you.
Magic Kingdom® Park
Marvel at the Cinderella Castle with a backdrop of endless blue skies in this full walkthrough tour of the Magic Kingdom® Park.
Disney's Animal Kingdom® Theme Park
Embrace the sights of Pandora – The World of Avatar, Africa, Asia and more with this immersive walkthrough of Disney's Animal Kingdom® Theme Park.
Epcot®
Transport yourself to the future or see the world at the World Showcase with an amazing walkthrough tour of Epcot®.
Disney's Hollywood Studios®
Experience the Hollywood Glam, the land of Batuu, or even find yourself caught in "the twilight zone" as you watch this walkthrough of the ever-growing Disney's Hollywood Studios®.
A Little Bonus; Star Wars: Galaxy's Edge at Disney's Hollywood Studios® in 360!
Haven't been to Batuu, yet? Now's your time to visit! This amazing 360 tour of Star Wars: Galaxy's Edge provides you a daytime walkthrough of the newest land on all of Disney Parks' property. Pop on your VR headsets or enjoy on your screen, the choice is up to you!
Virtual Attractions
Look out for that drop! It's time to virtually ride your favorite attractions at Walt Disney World®. Check out the compilation of fan-favorite rides an attractions below that span across all four magical parks.
Magic Kingdom® Park
Splash Mountain®
Seven Dwarfs Mine Train
Peter Pan's Flight®
Disney's Animal Kingdom® Theme Park
Expedition Everest–Legend of the Forbidden Mountain®
Kali River Rapids®
Na'vi River Journey
Epcot®
Frozen Ever After
Test Track® Presented by Chevrolet®
Spaceship Earth
Disney's Hollywood Studios®
The Twilight Zone Tower of Terror™
Slinky Dog Dash
Star Wars: Rise of the Resistance
Special Bonus: Virtual Orlando
Take yourself beyond the parks and walk through all of the Greater Orlando area's most popular sights. With Visit Orlando's newest feature, Orlando Virtual Tour, online visitors can experience the city from their phone, computer or tablet. Stroll through I–Drive or visit Downtown Orlando's Lake Eola Park. With over 10 locations to choose from, you'll enjoy endless viewing of our "city beautiful".
As COVID-19 continues to bring uncertainty to everyone, we hope that these bits of happiness help you get through the hard times we're all facing. Check out YouTube for more of your favorite rides, experiences, walkthroughs, and anything else that sparks joy for you. As always, we continue to wish you and your families the best health and safety during these hard times, and we look forward to the days of exciting travel and making the magic happen.
Love is in the air here in Orlando, The City Beautiful, and Valentine's Day events are no stranger to the area. From Kissimmee to Downtown and from the thrill-seekers to the romantics, there's an endless variety of date ideas for the 2020 holiday.
Valentine's Day is only a day away and we know that there are a few (or a lot) of you who are still trying to choose the perfect place, reserve the best dinner, or book that out-of-this-world Valentine's event that will wow your other half. Not to worry! We've compiled a lovely list of date ideas that are guaranteed to make your partner swoon and, hopefully, love you forever (because we're striving for true love this new decade).
A Valentine's Dinner at Eleven
"Elevate your love to Eleven" at Eleven inside of Reunion® Resort. On Friday, February 14th, dine from 5:30 – 10:00 p.m. with your partner and feast on a delectable four-course prix fixe dinner (view the menu here) prepared by Chef Sabrina Green with wine pairings chosen by Joel Vodola.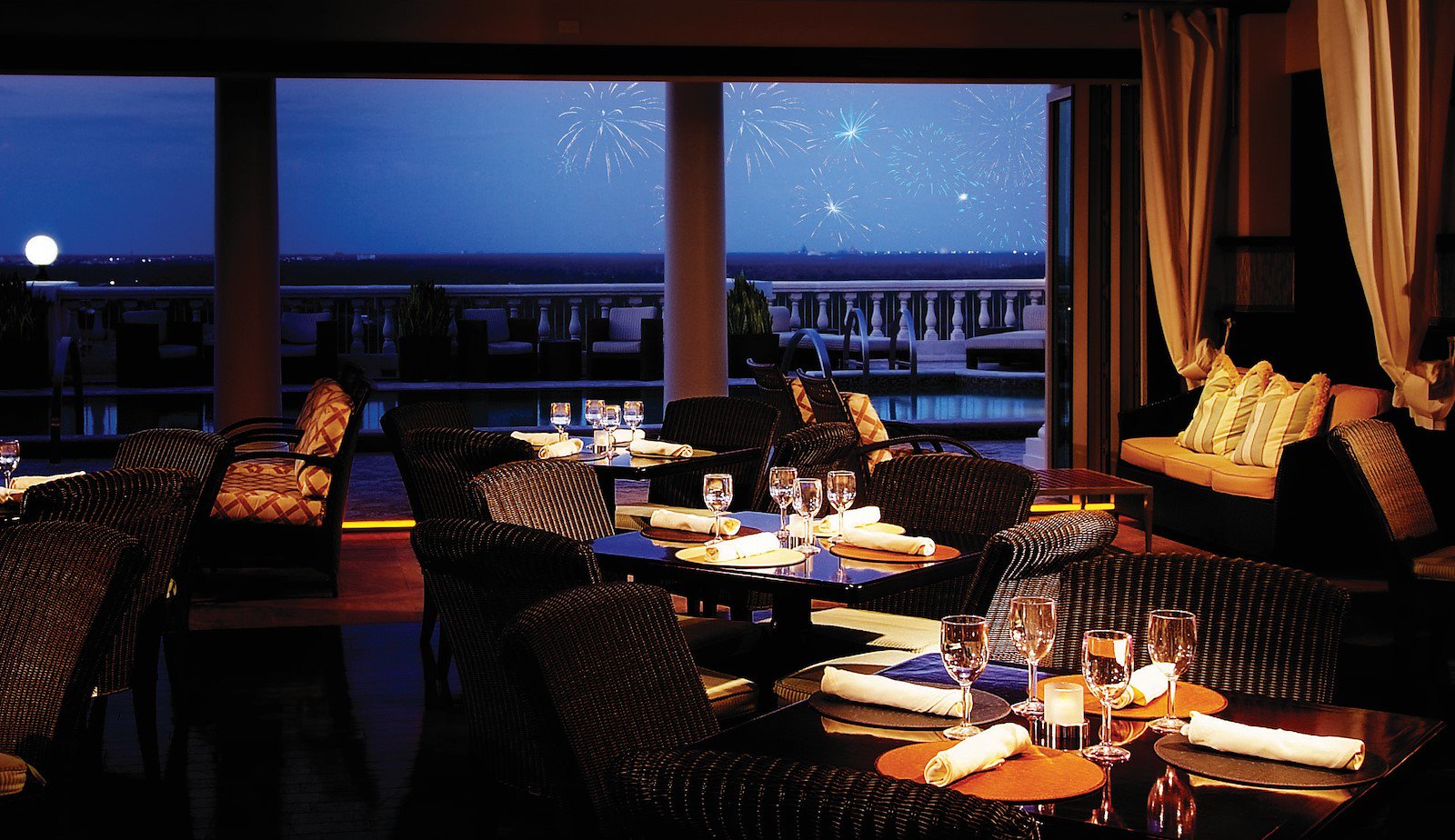 Your dinner will be complemented with breathtaking rooftop views of the entire resort grounds, making for an intimate evening surrounded by the beauty of Orlando. Prices range from $59 to $75 per person, depending on entree choice. Reservations are strongly recommended and can be made online or by phone at (407) 396-5397.
Wine Bar George
Situated in Disney Springs®, Wine Bar George is celebrating a weekend full of Valentine's dishes (view the menu here) for those who can't make it on Valentine's Day. Enter this urban-style bar and restaurant's warm and inviting dim-lit atmosphere and enjoy anything from small plates to fan-favorite charcuterie boards.
Choose from an assortment of over 20 different cocktails, beer, ciders, and frozen alcoholic beverages, or branch off of the Valentine's Weekend menu by trying a wine from Wine Bar George's award-winning list.
Reservations are strongly recommended and can be made online, the My Disney Experience App, or by phone at (407) 490-1800.
Enzo's Hideaway Tunnel Bar
Join Enzo's Hideaway Tunnel Bar in the "Tunnel of Love" this Valentine's Day with a delectable dinner and dessert pairing inside of this intimate Italian restaurant.
Located in Disney Springs®, share a meal for two of a Stuffed Baked Maine Lobster complete with Lumache Pasta and finished off with a Torta Setteveli for dessert. Your date will be amazed by the collection of flavors in this one-of-a-kind Valentine's dinner.
Those who like to dine with a glass of fine wine, Enzo's extensive beverage menu is sure to satisfy all guests that enter.
Reservations can be made online, the My Disney Experience App, or by phone at (407) 560- 3696.
Love Month at ICON Park
Share your love high above the city of Orlando during Love Month at ICON Park. Until February 29th, 2020, surprise your love with one of two romantic Valentine's packages.
The "I'm Sweet On You" Package (starting at $110) lets your special someone know that you're "sweet on them" with its delightful touches of a private capsule for two, a rose, two glasses of champagne, wine or soft drinks, and a box of chocolate truffles to give or share. If you're on a group date, reserve for extra guests in the same capsule for only $25 per person (includes ride and beverage). Want to share a full bottle of wine or champagne? You can do so starting at as low as $30.
Upgrade your night with the Romance Capsule Package (starting at $185) and have your capsule romantically themed with your full bottle of wine or champagne and box of chocolate truffles included with your package. Additional riders can be added as well for $25 including the beverage.
Reserve your romantic capsule online anytime before the end of February to secure your romantic evening with your significant other.
2020 Epcot® International Festival of the Arts
If you're going to visit any theme park during Valentine's Day, you'll have to stop by Epcot® for the 2020 Epcot® International Festival of the Arts.
From now until February 24th, 2020, walk from country to country with your special someone as you try a variety of festival booths with small plates designed for the art enthusiasts of the world. You may even discover a piece of art too beautiful to pass up, making for a memorable and unique gift for your loved one.
Capture the moments with fun and exciting photo-op spots, visit stunning art galleries and so much more at the 2020 Epcot® International Festival of the Arts! Get your tickets with us here and add color to your heart this Valentine's Day.
Cinderella at the Orlando Ballet
Enchant your date with the timeless tale of triumphant love at Cinderella, the ballet performance being held by Orlando Ballet at the Dr. Phillips Center for the Performing Arts. With live music by the Orlando Philharmonic Orchestra, this magical evening will take you back to your childhood while adding a sophisticated twist to the story.
Watch the art of ballet come to life with your partner from February 14th to February 16th, 2020. Times may vary, so please check the website for more details. Tickets start at $24 per person. Book in advance online or by calling (407) 426-1733.
Valentine's Day at Island H2O Live!
While some look forward to a romantic evening, others plan for a day of thrills. Island H2O Live!, Kissimmee's newest Water Park is offering a 2-for-1 special this Valentine's Day.
Purchase a single-day ticket to the park by February 14th and receive one for your date for free! It's a great way to enjoy the sun, relax down the lazy river or zoom down the slides together. Add some spark to your romance by spending your Valentine's Day at Island H2O Live!
With these special places to visit and more beyond words, your Orlando Valentine's Day, weekend, or month is sure to bring the magic of love to the two of you.
Looking to book a long-weekend getaway for your partner as your Valentine's Day present? Make sure to swing by our website and see all of the Magical Vacation Homes we offer for your much-needed romantic vacation.
Until the next blog post, have a magical week and an enchanting 2020 Valentine's Day!
New Disney Theme Park attractions you'll want to visit in 2020? You know we prepared that list just in time for your next Orlando getaway.
With the dawn of a new decade and the welcome of a shiny new year, it's no surprise that Walt Disney World® Resort is working on plenty of exciting theme park magic! It's almost as if every time we log onto the internet we're greeted with new rides, restaurants, and even stage shows. With all of the information to take in, it can be quite daunting when getting down to the nitty-gritty of vacation planning.
In particular, we've seen an endless list of "coming soon"'s from both Disney's Hollywood Studios® and Epcot®! The two of the four lands are planned to introduce added experiences throughout the year which gives guests all the more reason to purchase their multi-day park tickets.
So without further ado, we've put together some of our picks for YOU to visit this year and every year after (because visiting once is never enough)!
Mickey & Minnie's Runaway Railway
Alllll aboard! We bet you didn't expect to see Mickey & Minnie star in their very own attraction, especially one like this! Hop aboard Mickey & Minnie's Runaway Railway, the wackiest train trip any Disney Theme Park has ever seen. This first-of-its-kind adventure welcomes you with unanticipated twists at every turn with no telling as to where your train may be heading, and we think that's the most exciting part!
Find yourself zooming through a world of waterfalls (yes, waterfalls), carnivals and more on Mickey & Minnie's Runaway Railway at Disney's Hollywood Studios®, opening March 4th, 2020 (Mouse rules apply).
Space 220
Unwind and dine in a space station situated 220 miles above planet Earth at Space 220. Set to open this winter, get ready for a journey like no other where you'll feast on mouth-watering American dishes with a collection of fine wines and craft beer.
Visit Space 220 when it opens this winter at Epcot®!
New Epcot Films
January at Epcot® has been a whirlwind as it's introduced FOUR spectacular shows to its guests.
Awesome Planet, which can be found in The Land pavilion, guides you through planet Earth with breathtaking visuals of the land and sea. It's a wonderful show for children as it gives them the chance to embrace the remarkable beauty of the world around us (and it's truly amazing for adults, as well).
The Canada pavilion's classic 360 film that we've all come to know and love was an adventure, but it's time to be greeted with new and improved cinematography. With the dazzling addition of Canada Far and Wide in Circle-Vision 360, you'll have the chance to explore Canada like never before. Take in the scenic views that surround you during this breathtaking presentation.
Warm-up your vocals, head over to the France pavilion, and get ready to sing along some of your favorite songs! Nestled in a cozy French cinema, enjoy a 15-minute film featuring songs from one of our favorite animated classic's, Beauty and the Beast.
Before you leave the World Showcase, make sure to stop by the China pavilion to witness Wonderous China, the new movie that will also feature a 360-degree format with immersive music and eye-catching scenes of China's natural beauty.
Remy's Ratatouille Adventure
Speaking of the World Showcase, you may want to hang around there a little longer because along with the sing-along, you'll have the opportunity to shrink to the size of Chef Remy and take on a WILD adventure.
Race through Gusteau's restaurant with everyone's tiny chef in the thrilling new attraction, Remy's Ratatouille Adventure! We still have a little bit to go until this one opens in the summer, but for those of you waiting for school to finish for the kids, it'll be the perfect time to experience the all-new ride! Get ready for France's first ride attraction coming in summer, 2020.
Roundup Rodeo BBQ Restaurant
The magic of shrinking down to the size of a toy is about to get a touch more magical. Coming this year, Toy Story Land at Disney's Hollywood Studios® will be home to Roundup Rodeo BBQ Restaurant. Get ready for a rootin' tootin' good time at this table-service rodeo surrounded by some of Andy's favorite toys, games, and playsets.
With all of these much-anticipated additions, there's no doubt that this is the perfect year for a visit to the Walt Disney World® Resort theme parks!
So, what are you waiting for? Get that Magical Vacation Home booked, choose the perfect theme park tickets for your family, and pack those bags for the getaway of a lifetime!
Until the next blog, have a magical (and theme park-filled) day!
So we all know that there are two things people tend to bring back from a day at the parks. One, photos to have visual memories of your fun-filled day and two, souvenirs to treasure for years to come. However, there's nothing more special than a souvenir exclusive to where you went!
Recently, we had a night of merry cheer at Mickey's Very Merry Christmas Party 2019 at the Magic Kingdom® Park. While we took plenty of photos to share with family and friends, we also snapped many shots of the EXCLUSIVE merchandise available at the separately-ticketed event. Here's a quick rundown on what we found and what you may find (and take home) on your trip to Mickey's Very Merry Christmas Party 2019!
MVMCP MagicBand
Whether you're an annual pass holder or someone who simply visits on vacation, this MagicBand is definitely a must-have! It's a limited edition of only 3 thousand in the WORLD, and it will be of great use for years to come. I have to say that I myself am a sucker for new MagicBand designs. So if you're going to spend your money on any, spend it on something you can't find every day. It makes it that much more special and, like I said, you can only get this at the party.
MVMCP Spirit Jersey
Hip, hip, hooray! We have been greeted with another adorable spirit jersey to add to everyone's ever-growing collection. Christmas cheer absolutely radiated off of this spirit jersey with all of the detail put into the design. If you're looking for something Christmas-y to wear to the party, head over to one of the gift shops and snag this sweater. It'll look great for Instagram photos, polaroid shots, and anywhere else you'd choose to parade it.
MVMCP Tee's
Need something a bit more light-weight? These exclusive Mickey's Very Mery Christmas Party shirts are just what you need. These are great for those looking for something festive, yet simple and breathable.
MVMCP Holiday Mug
"Cocoa, Cookies, and Christmas Cheer" falls onto everyone that enters the Magic Kingdom® Park, so why not leave with the same magic? This unique holiday mug sports a dome lid to keep your cocoa warm and a festive design that brings you back to classic Christmas. You'll never forget where this mug came from with the Very Merry logo on the backside, and that memory jogger will make each cup of cocoa, coffee, or tea a little more magical.
MVMCP iPhone Cases
iPhone users, rejoice! Spread the holiday cheer year-round with one of three dashing phone cases. This is probably one of the best purchases to make for those who want to keep the joy of Christmas spirit with them each day.
For Mickey, Minnie, and Goofy fans especially, you'll be able to carry your favorite character in their best jolly attire. These cases come in all sizes 6s and above to accommodate most new models, so as long as they're still available, you should be able to find one for your particular phone.
MVMCP Alex and Ani Bracelet
Give the gift of jewelry (to someone or yourself) this holiday season with the exclusive Mickey's Very Merry Christmas Party Alex and Ani bracelet. Touched with a gold band, this bracelet carries the charm of a classic Christmas evening of putting the final touches on your tree (with Mickey and Minnie, of course). This bracelet is a great addition to Alex and Ani's Disney collection that you can wear all season or all year!
MVMCP Limited Release Pin
For the avid collector like myself, one could only imagine the immense joy when discovering the exclusive Mickey's Very Merry Christmas Party limited release pin. I keep mentioning classic Christmas because, for one, that's the obvious theme, but two, it's my favorite kind of Christmas. This pin radiates classic Christmas with the reds and greens and our favorite 1930's mouse. It also holds the year dear to the heart with 2019 printed just under his feet and a single Christmas ornament.
MVMCP Christmas Ornament
Now I know, how did I not get a photo of the best souvenir of them all? Excitement must have gotten the best of me because this was by far my favorite exclusive. Carry on the memory every time you go to decorate your tree with this special limited release ornament!  This stunning classic design flows with the theme of Mickey's Very Merry Christmas Party. It's a beautiful gift to bring home to your family or give away to a loved one.
At Magical Vacation Homes, one of our priorities is to recommend some of the best local attractions and events for your family to attend. Mickey's Very Merry Christmas Party gets our stamp of holiday approval for anyone looking to add festivity to their end-of-the-year getaway.
Want some of these exclusives for yourself? Head over to the party by purchasing your tickets online or at the gate. The select-night event continues from now until December 22, 2019.
Grab your Santa hat, your best smile and your jolly self and hop on a sleigh to the best nighttime Christmas party in Orlando. And don't forget, there's always time to book your Magical Vacation Home for your Christmas vacation!
Until next time, happy holidays and have a magical day!
*As to Disney artwork, logos, and properties: ©Disney*
Can you believe that we're almost at the end of 2019? The holidays are vastly approaching and holiday events in Orlando are popping up at every corner. It's truly the most wonderful time of the year, to travel of course.
We took the liberty of narrowing down the BEST holiday events in Orlando for 2019, so if you're planning your vacation as we speak, keep reading along for your next go-to attraction!
Theme Parks
You didn't think we'd skip our area theme parks, did you? With Walt Disney World® Resort, Universal Orlando Resort, SeaWorld, and more all in Central Florida, there's an ENDLESS list of events that have the sleigh bells ringing and the jingle bells jamming. From Christmas to Haunnakuh, there's something for everyone to get into the holiday spirit.
Walt Disney World® Resort
The most iconic of them all, the Magic Kingdom® Park is hosting its annual Mickey's Very Merry Christmas Party! On select nights from November 8 to December 22, 2019, experience a holly jolly Christmas dazzled with thousands of Christmas lights, a festive holiday parade, a fireworks display that fills the night sky with cheer, and the list goes on. Collect your cup of hot cocoa and stroll down the picturesque Main Street U.S.A. and experience a magical Christmas like no other.
 Lucky for all of us, Epcot® seems to have exciting events year-around! If you're planning on traveling to Orlando within the next month, you can experience the 2019 Epcot® International Festival of the Holidays. At select times nightly from November 29 through December 30, enjoy special kiosks situated around the World Showcase while admiring the lights that decorate the countries and the twinkling Christmas tree.
Learn of the biblical tale of a savior born in Bethlehem from a celebrity narrator as they are accompanied by a choir and a 50-piece orchestra. The spirit of Christmas comes alive on stage through the Candlelight Processional at the world showcase at this yearly Epcot® tradition.
Universal Orlando Resort
 Get ready for the merriest time of the year with Universal's Holiday Parade featuring Macy's! Don't be saddened if you cannot make it to the Macy's Thanksgiving Day Parade in NYC, because Universal Studios Florida is here to share it with you all season long. On select days from November 19 and December 30, gaze at the merry and mayhem as Minions join the infamous Santa Claus and other popular characters as they float down the streets of the park.
If you're more of a "witchcraft and wizardry" kind of human, celebrate the holidays as London and Diagon Alley get dressed in festive décor and deliver seasonal treats that embrace the spirit of Christmas.
 The Grinch, Harry Potter, whichever appeals to you most, you're sure to find it here for the holidays! At the Grinchmas Who-liday Spectacular, travel through Seuss Landing as it dazzles the walkways with Christmas charm, and maybe even meet the Grinch himself for the most "grumpy" Christmas photo and autograph of the season (we mean this in the best way, we promise).

Keep walking toward the back of the park to find yourself surrounded by Christmas galore inside of Hogsmeade. As the sun goes down and the stars are high in the sky, keep looking up at the Hogwarts Castle as you're in for quite the presentation. Revel in the dazzling projection of holiday magic during The Magic of Christmas at Hogwarts Castle. It's definitely one of the merriest shows around.
SeaWorld Orlando
Travel through over 3 MILLION lights, experience six sensational shows, and more at SeaWorld's Christmas Celebration. From November 23 through December 31, see the park transformed into a wonderland like no other as holiday cheer lights the way. Meet Santa Claus and other festive characters and join your friends at Sesame Place for a magical, ALL-NEW Sesame Street Holiday Parade. There's so much to do with so little time, so make every winter wonderland moment count at SeaWorld.
Busch Gardens
 Yes, we know we said Orlando events, but we HAD to throw in Tampa for a second! Every night from November 16 through January 6, experience the magical Busch Gardens Christmas Town, voted USA Today's "10 Best Theme Park Holiday Event". This yearly wonderland features a Christmas Town Village with Yuletide carols, delightful shows with twinkling lights, and exciting meet & greets with some of your favorite holiday characters. Closing times may vary, so be sure to check out the website for all event times!
Around Orlando
If you're looking for something other than a day at the parks, there's plenty around Orlando to enjoy! Despite maintaining a warmer climate, Orlando is a prime place to be to celebrate the holiday season, both budget-friendly and free.
 There's always a magical aura inside the town of Celebration, and during the holidays, the magic truly comes to life. From November 30 through December 31 and just minutes from Walt Disney World® Resort, Now Snowing features hourly presentations of faux snow, holly jolly train and carriage rides, plenty of entertainment, and special photo-ops with both Mr. and Mrs. Claus.
Don't forget your ice-skating techniques because you'll need them here on the synthetic rink. $10 for 30 minutes is one of the few things you'll have to spend any money on at this event, and skates are also included!
On Saturday, December 7 from 11 a.m. to 2 p.m., join The Grove for its free Winter Wonderland celebration full of festive train rides, stilt walkers, face painting from Santa's little helpers, and REAL snow! It's a perfect way to experience the cheer of the holidays without breaking a budget!
We love free! Free parking AND free admission welcome you to travel through an endless sight of festive Disney-inspired holiday trees. This location is wonderful for family photos and decorating ideas for your own tree at home.
Be absolutely wowed inside of Gaylord Palms as you travel through a maze of glistening ice sculptures themed by the beloved classic holiday movie, The Polar Express. Make sure you have your coat and mittens in handy because this chilly experience is one you'll want to spend PLENTY of time in. Tickets start at $14.99 per child and $28.99 per adult!
With all of the holiday activities around Orlando, you're bound to have a holly jolly getaway with the entire family! Make sure you have all the accommodations ready for your vacation by booking your Magical Vacation Home and get ready for the greatest, merriest, most magical holiday season yet.
Until next time, happy holidays, and have a magical day!
With the Orlando-area growing at the speed of light, there's nothing better than discovering new attractions! Recently, we at Magical Vacation Homes got to see all of the excitement inside NBA Experience at Disney Springs in Lake Buena Vista, Florida.
After enjoying HOURS of entertainment inside of this two-story complex, we were ready to get behind the keyboard and type away about all of the activities we enjoyed during our visit. Here's OUR list (in no particular order) of our favorite attractions inside of NBA Experience!
DRAFT COMBINE
This should be your first stop when entering the NBA Experience (after some photo-ops, of course. We'll get to that later). The Draft Combine is where you showcase your "skills and abilities through a series of drills, tests, and measurements". We absolutely loved this spot because it actually helps you learn about yourself!
You run through three tests, wingspan, vertical leap, and shooting. Our personal favorite test was the vertical leap as it shows you how high your reach is when you jump and shoot, which can be well close to 7ft high (mind you, our group was an average of 5'7)!
This spot is ideal to visit before any other engaging basketball activities since it gives you the chance to practice some shots. Once you finish here, you're ready to take on everything else!
SLINGSHOT!
Yes, it's exactly what you think it is. No, it's not as easy as it looks. Situated on the second floor of the NBA Experience, this activity features a row of (you guessed it) slingshots! With these, you'll be timed to make as many shots into the hoop with your basketball as you can while you compete alongside other players.
The concept is simple, place your basketball into your slingshot and aim correctly to make the basket! It takes a lot of concentration with a dash of skill, and I will admit, I could not get a single point!
Why is it one of the best, though? Although it may be one of the harder activities, it's definitely unique and keeps you wanting to come back and play over and over again.
PLAYERS
Newbie to basketball? We were, too! Don't let that discourage you, though. On the first floor, you can learn about practically any team you can think of on a variety of touchscreens inside of the PLAYERS room.
This is the perfect spot to gain plenty of knowledge on wins, losses, team players, team colors, and more!
You're also greeted with the uniforms of nearly every team possible as you walk around the room. It almost feels like a museum of sorts as you're walking around this oval-shaped corner.
NBA Trivia
Wow, we couldn't get ENOUGH of this room. From the moment you walk in, you're surrounded by 25 touchscreens with MagicBand-scanning abilities. Ready or not, here comes the trivia!
Everyone in the room is set to a timer where they have to answer any trivia questions that pop up on the screen. This room not only gets you thinking but gets you extremely engaged with everyone else. We thought this spot was ideal for larger parties, families on reunions, and even a group of friends! It's an awesome way to play with everyone at the same time and track your score. Will you be the MVP of NBA Trivia?
Photo-Ops
Who could EVER pass up a good photo-op? We sure couldn't, and that's why it was one of our favorite things to do! What's so great about your NBA Experience is that you can still utilize Photopass your entire way through. Simply scan your MagicBand or card onto the Mickey, watch it glow green, and get ready to pose.
The particular photo spot pictured above is extra special, as it shows off your customization upon entering the experience! As you begin your NBA journey, your ticket is your customized key to you as a player. There are multiple customization stations inside of the complex that allows you to create your own nickname and select your favorite basketball team. Once these are chosen, it stays with you during your visit and these custom pieces pop up at the best places, like this photo op spot!
Once you scan your card or MagicBand, watch as your favorite team is showcased on the screens behind you, along with your nickname, to show that you have just been drafted! It's a special little touch that we fell in love with and it gives each person a unique photography experience.
We remember seeing four photo spots throughout the experience that were PhotoPass ready, but that doesn't mean you can't take photos anywhere else. There are plenty of locations that are great for memorable pictures for the entire family!
SHOOT!
It wouldn't be an NBA Experience without the crowds cheering you on as you dribble on the court. In SHOOT, get immersed in the world of NBA as an instructor coaches you on the court, helping you with your shots as time drops on the clock. This spot is both exhilarating and challenging as you're being "watched" by everyone in the stands rooting for you to bring points on the board.
Again, this is another spot to notice the small detailing of your favorite team projected onto the floor as you enter! From start to finish, you have the opportunity to represent who you love the most, and what better way to finish it off than by being on a real-life court?
We have to say, as guests who did not know much about basketball, we truly learned a lot and had so much fun doing so. The NBA Experience isn't just for those die-hard fans of basketball as it easily appeals to anyone of all interests and ages. Need a place to have fun with the family before checking into your Magical Vacation Home, after a fun day at the parks, or while spending a day at Disney Springs? Look no further than NBA Experience!
You can purchase tickets online for only $34 (plus tax) for adults and $29 (plus tax) for children ages 3-9. Visit anytime as they are open 7 days a week and from 12 p.m. to as late as 11:30 p.m. on Friday's and Saturday's (Sunday-Thursday, 12 p.m.-11 p.m.).
Keep an eye out as we cover more exciting things from Disney Springs and beyond during this holiday season in Orlando. There are many more exciting things in store, we promise you that.
And as always, until next time, have a Magical day!
Autumn in Central Florida comes with plenty of Halloween excitement at the theme parks. From friendly boo's to frightful scares, people of all ages can find something to enjoy from September to November. We conjured up a list of EVERY Halloween-filled theme park festivity you can attend this Halloween season, so hold on to your headless horseman as we dive into what's in store for Halloween 2019!
Mickey's Not-So-Scary Halloween Party
One of the most popular events you CANNOT miss has to be Mickey's Not-So-Scary Halloween Party hosted inside of Magic Kingdom® Park. On select nights from August 16 to November 1, 2019, get dressed up in your best costume as you trick-or-treat your way down Main Street U.S.A®. Perfect for children and adults alike, this spooktacular event features Halloween-ified attractions, a Halloween parade, spell-binding fireworks, and more! Set your sights on the friendliest frights with the little ones this year and learn more about this exciting evening in our previous blog here!
Universal Studios® Halloween Horror Nights
With the hype around the 1980's nostalgia, Universal Studios® Halloween Horror Nights is perfect for your classic 80's scare. On select nights from September 6 to November 2, 2019, face your fears through Orlando's most intense nighttime event. Experience 10 TERRIFYING haunted houses, 5 hair-raising scare zones, and thrilling entertainment throughout the night. This event is suited for those 13 and over as it may frighten the little ones. Ready to walk through the Upside Down, fight ghosts with the Ghostbusters, and take on some Killer Klowns from Outer Space? Then head over to #HHN29.
Busch Gardens Howl-O-Scream 2019
Get ready for Tampa's premier Halloween event at Busch Gardens Howl-O-Scream! On select nights from September 20 to November 2, 2019, prepare yourself for the endless haunts and thrills throughout your visit. Make your way through 6 haunted houses and 9 chilling scare zones as you are faced with murderous mutants, haunted asylums, and your worst nightmares. It's also the perfect time to hop on one of your favorite roller coaster attractions! This event is suitable for adults as it may be frightening for children. Put on your brave face for the most horrifying attraction in the Tampa-area as it celebrates 20 years in the scare industry.
SeaWorld Orlando's Halloween Spooktacular®
Get the kids ready for exciting dance parties, trick-or-treating, and more with their favorite friends from Sesame Street at SeaWorld Orlando's Halloween Spooktacular®. On weekends from September 21 to October 27, 2019, this kid-friendly Halloween daytime event will be sure to bring joy and plenty of candy to everyone! Enjoy the all-new Sesame Street Halloween Parade with Elmo, Big Bird, The Count, and others as they dress up for the Halloween festivities. There's so much to do and even more to see. So, what are you waiting for? Experience autumn fun today!
LEGOLAND® Florida Resort Brick-or-Treat
(Photo credit above – WINTER HAVEN, FL — Brick-or-Treat at LEGOLAND Florida Resort (PHOTO / LOCK + LAND, Chip Litherland)
On select nights from October 5 to 27, 2019, celebrate the spookiest time of the year with LEGOLAND® Florida Resort Brick-or-Treat! Collect piles of candy in your own Brick-or-Treat candy bag as you trail through the park. Take part in the exciting scavenger hunts, meet exclusive LEGO characters, and even watch the sky light up in fireworks at the end of the night with the tale of Pirate Cove. This event is ideal for children as they can dress up and enjoy all of the Halloween festivities, catered specifically to them.
There's so much to do with so little time in Central Florida, so plan out your trip in advance to make the most of every Halloween festivity! Needing a place to stay while you prepare for scares? Check out some of our available Magical Vacation Homes to complete your ideal Halloween vacation.
Until next time, have a (frightfully) Magical day!
BRIGHT SUNS! It's blog five of our countdown and we're here to show you the best Instagram photo spots at Star Wars: Galaxy's Edge! This new addition to Disney's Hollywood Studios® opens on August 29th, 2019, so read along to make the best out of capturing your visit!
(Haven't read our last blog yet? Make sure you check that out here! Hint: A POV of a long-awaited attraction aboard the Millennium Falcon)
1 – The "Han & Leia" Booth

Famous for the iconic first kiss between Han Solo and Princess Leia, this booth can be found inside of the queue for Millennium Falcon: Smugglers Run. If you're able to have a seat for a moment, take advantage of this stand-out photo spot. It has the perfect combination of cinematic history and photogenic aesthetic for any Star Wars fan!
2 – The Booths At Oga's Cantina
Booths are suddenly a running theme and for good reason. The ambient lighting of Oga's Cantina sets a warmer mood than the previous mention. Gather around with everyone or just yourself, have some drinks from the bar in hand, and snap some shots!
3 – The First Order Wall
For many visitors, finding colorful or simple walls has become a growing trend, so why not have one in Star Wars: Galaxy's Edge? We found a wall under a flag for the First Order, and regardless on which side you're on, it's a pretty rustic photo spot. Take a close-up shot with just the wall! Or. have your photographer stand further to show your connection to the First Order.
4 – In Front of Millennium Falcon: Smugglers Run

Good morning with "Bright Suns" and good evening with "Rising Moons". This is probably the best focal point in all of Batuu.
Whether during the daytime or later on in the evening, you'll capture a beautiful picture with an out-of-this-world backdrop. It's also a great spot to take photos with your newly-built droid or custom lightsaber!
5 – Savi's Workshop
We bet you didn't think of this one! Venture into Savi's Workshop to create your personalized lightsaber. Choose your side and pose with your finished product in this exclusive building, only accessible to lightsaber-builders. It's a great room for pops of color, dim lighting, and presenting your newest creation.
6 – The Stairs by Ronto Roasters
When we were traveling through Batuu, we noticed this set of stairs close to Ronto Roasters that no one was taking advantage of! This spot is AMAZING for its theming and the backdrop that seems to go on forever. The way its layout stands makes Batuu seem to go for miles. We absolutely loved it and think it's definitely Instagram-worthy.
7 – The Market
With the lights from above and the hint of sunlight shining through, the lighting here makes for beautiful photographs. There are so many possibilities for great photos here and with the details throughout, this lands in one of our top favorite spots! Wear your best outfit and get ready to pose at The Market.
8 – First Order TIE echelon
And last (but certainly not least) we have the First Order TIE echelon. The closer you are to this ship, the cooler it looks. If you side with the first order, this will be your go-to place for stunning photos!
Til The Spire
The countdown is nearing its end! It's time to purchase your Disney Theme Park tickets and get ready for the grand opening of Star Wars: Galaxy's Edge. Book your Magical Vacation Home, pack your bags, and prepare for the galaxy NOT so far away.
Until then, Til the Spire, and have a Magical day!
*As to Disney artwork, logos, and properties: ©Disney*